30th anniversary
Celebrating 30 years of research excellence
Can machines think?
Over the past thirty years, we have become an international centre of excellence for training and research in audio and visual machine perception in collaboration with industry. Our research has pioneered new technologies for the benefit of society and the economy, with applications spanning healthcare, security, entertainment, robotics, autonomous vehicles, communication and audio-visual data analysis.
A huge thanks to everyone who joined us for our 30th anniversary celebrations - the showcase of our research during the 'can machines think?' event on Thursday 4th  April and the open house event on Friday 5th April.
Anniversary book
If you'd like to learn more about what research we are doing then take a look through our anniversary book. You can also download our visual recondition app through the Google Play store which provides access to additional digital content.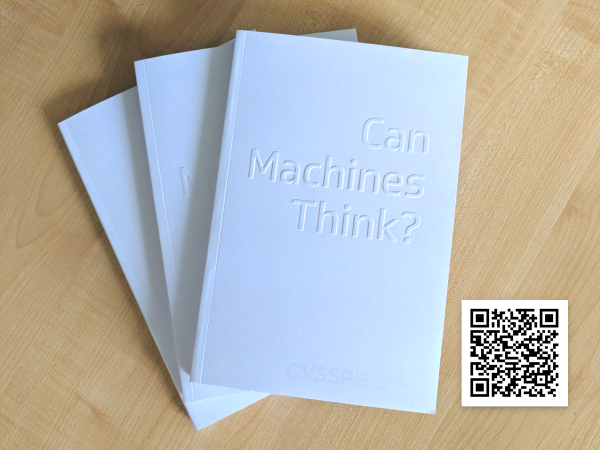 Can machines think? – 4 April 2019
Past, present and future of AI
Take a look at the video below talking about the past, present and future of artificial intelligence.
Keynotes and panel discussion 
Take a look at the video documenting the keynote talks and panel discussion from the event.
Photo gallery
These are images from our 'can machines think?' event. For the full gallery from the event, please go to our Google Photos gallery.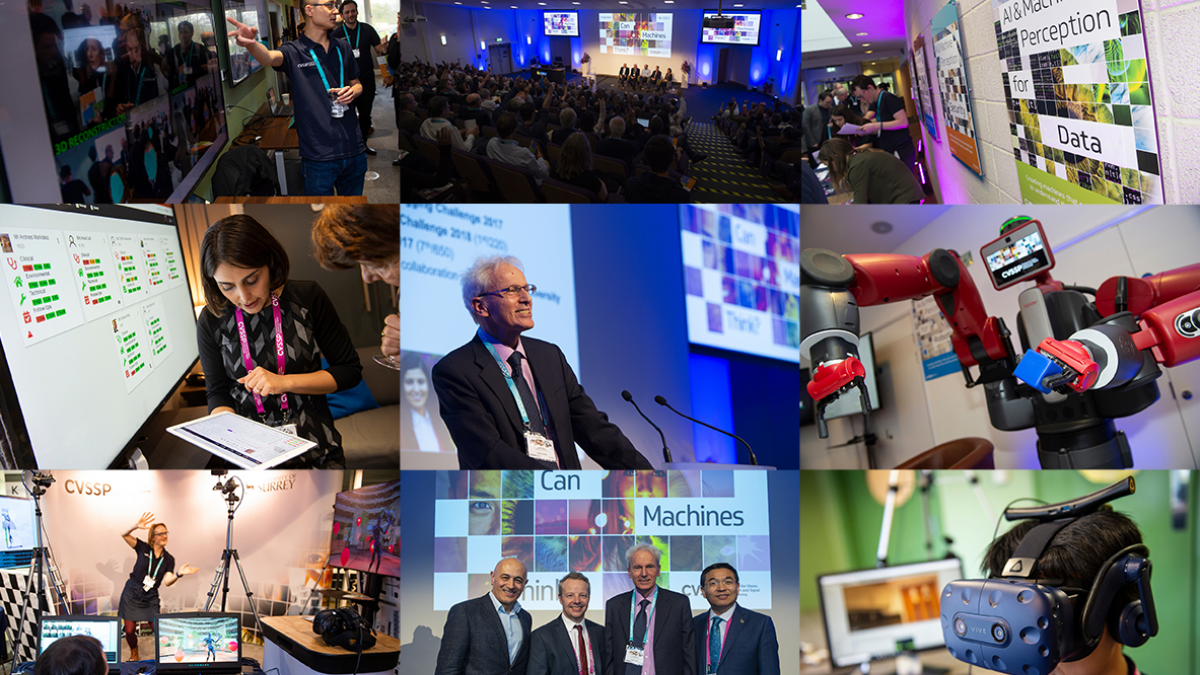 CVSSP open house – 5 April 2019
Photo gallery
These are images from the open house event we held on 5 April. For the full gallery from the event, please go to our Google Photos gallery.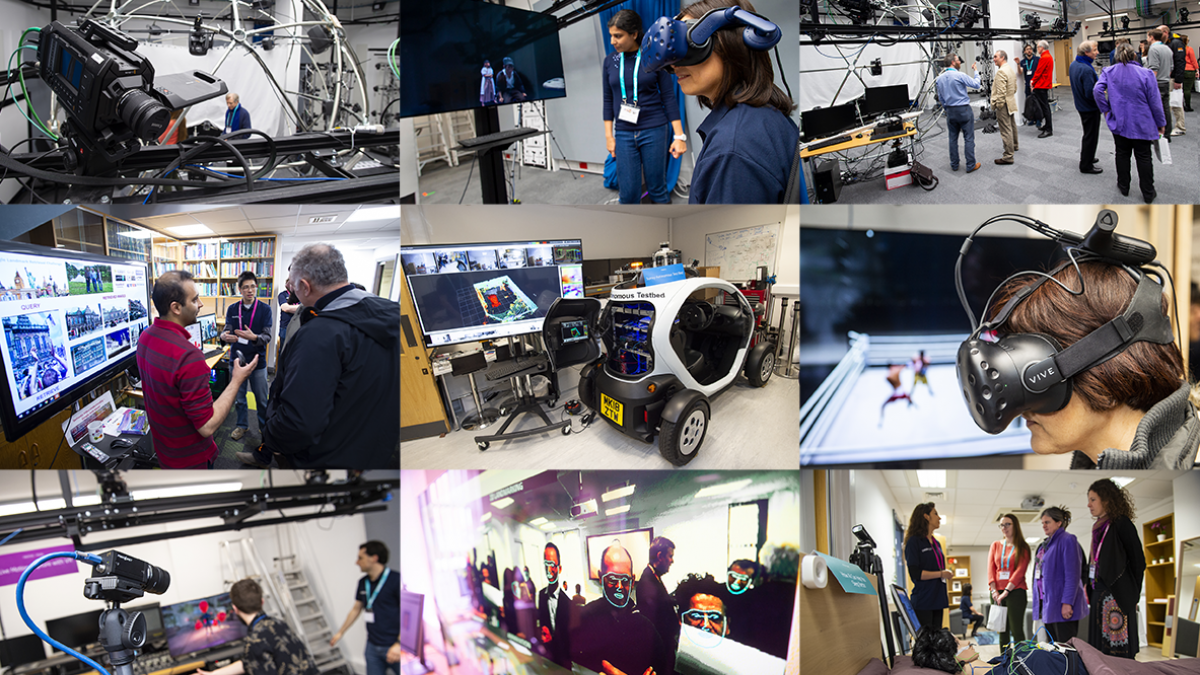 Research demonstrations
We held lots of live demonstrations during our event showing all our exciting research which we have listed below.
Creative - sound
Creative sound works on spatial audio and machine audition, developing audio and signal processing technology related to sound recognition and immersive audio experiences.
AudioCommons
Spatial audio for immersive experience at home
S3A production tools
Acoustic room reproduction in virtual reality
Turning forest virtual reality
Classifying sounds like a human
Sound recognition
Sentimental audio memories demonstrator
Optimising sensor array performance
Creative - visual
Creative visual focuses on machine perception for creative technologies, specialising in 4D immersive virtual reality (VR) content production, performance capture and video based animation for film and games.
Live motion capture VR
Kinch and the double world VR
4D boxing VR and sport broadcasting
Photogrammetry scanning cage
Sketch search
Sketch me that shoe!
Healthcare
Healthcare focuses on medical imaging technologies for cancer detection and machine learning in personalised care for better living and healthier aging.
Technology integrated health management (TIHM) for dementia
How AI can help you sleep better
Improving lives through medical imaging
Data
Data addresses the application of AI for audio-visual information search, understanding and preservation including visual recognition, distributed ledger technologies and the understanding of AI.
Understanding AI systems
Real-time landmark recognition
Understanding video semantics
Real-time fashion analysis
IoTCrawler: A search engine for the internet of things
Security
Security works on biometrics related technologies, specialising in facial recognition and natural language interfaces for human-AI collaboration.
Age estimator
Video face recognition
Visual object tracking
Real-time 3D face reconstruction
Face matching
Person re-identification using vision and language
Robotics
Robotics works on autonomous systems, covering a broad range of technologies related to visual human-machine interaction. these include sign language and autonomous vehicles.
Sign language assessment prototype
Baxter VR experience
Event camera
Surrey autonomous test bed