Specialist Community Public Health Nursing Additional Field of Practice (SCPHN) (Health Visiting)
Key information
Start date:
To be confirmed
(Dates by arrangement)
Attendance dates:
To be confirmed
Venue:
Kate Granger Building, 30 Priestley Road, Surrey Research Park, Guildford, Surrey GU2 7YH
Stag Hill campus, University of Surrey, Guildford, Surrey GU2 7XH
Contact details:
Post-registration Administration team
Level


7 (postgraduate)

Credits


15

Module code


NURM190
Module aims
This module aims to:
Facilitate practice based learning in the additional SCPHN field of health visiting
Enable the development of proficiency in the additional SCPHN field of health visiting.
Study dates
Study dates will need to be arranged with Sarah Roberts (module leader) and your practice manager. 
Please note: A minimum of 50 days in practice is required.
Learning outcomes
On successful completion of the module, you will be able to:
Transfer knowledge and skills from one client group to a different context.
Demonstrate competency in all domains of health visiting practice.
Deliver the healthy child programme as part of your health visiting practice.
Work in partnership with clients and their families to systematically identify their needs and priorities and make referrals to appropriate support services.
Work collaboratively with members of the inter-professional team, statutory and voluntary agencies to provide services and minimise risk.
Gain an insight into strategic planning and commissioning of services in health visiting practice.
Critically reflect on your professional journey.
Identify further continuing professional development needs.
Course content
You will set learning agreements with your practice teacher and receive regular feedback on your progress in achieving competency in the SCPHN domains.
Learning and teaching methods
Learning and teaching methods include:
A minimum of 50 days in practice 
Observation
Participation and demonstration of skills 
Professional conversation and reflection
Clinical supervision
Contribution to inter-professional forums in practice.
Assessment
Attainment of practice proficiencies will be assessed by the practice teacher.
The assessment consists of two parts which must both be passed:
Part A - Portfolio of evidence
Part B - You will submit a reflective account which demonstrates your learning in the field of health visiting:

You will self evaluate your progress and identify your future development needs
You will critically analyse two specific practice experiences to evidence how you have achieved competency in all four domains of health visiting practice.         
Word count: 3,000
Course leader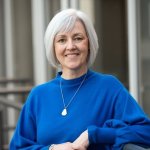 Teaching Fellow, Lead for Student Admissions (Health Sciences)
Entry requirements
Live registration on part 3 of the NMC register as a school nurse.
How to apply
Please download and fill in an application form.
It is important to ensure that you complete all sections and answer all questions, incomplete forms will cause a delay and may result in you missing out on an available place.
Send your completed application back to us at the address or email included on the form.
Terms and conditions
When you accept an offer of a place at the University of Surrey, you are agreeing to comply with our policies and regulations and our terms and conditions. You are also confirming you have read and understood the University's prospective student privacy notice.
If your sponsoring healthcare provider is funding you for this module, by submitting an application you agree to allow all information regarding your module (for example your exam results) to be shared with the sponsoring provider.
Cancellation policy
If you withdraw less than seven days before the module commences or do not attend on the first day (without informing the module administrator) the full cost of the module will be charged. Withdrawals after the module commences will also be charged.
Module availability
Places are confirmed approximately one month before the module start date. Please note that modules may be subject to teaching availability, student demand and/or class size caps. 
Disclaimer
Modules listed are indicative, reflecting the information available at the time of publication. The University of Surrey has used its reasonable efforts to ensure that the information is accurate at the time of publishing, but changes (for example to module content) may occur given the interval between publishing and commencement of the module. It is therefore very important to check this website for any updates before you apply for a module with us. Read more.