Research courses
We are home to around 80 PhD and EngD students, working on projects from computational studies of dark matter, to experimental studies of paints. We recruit around 20 PhD and EngD students every year, with most starting in October.
What we are researching
Within our department we have six research areas with numerous projects in all areas of physics.
Radiation and medical physics
Theoretical nuclear physics
Photonics and quantum sciences
III-V semiconductor emitter and detector physics
Find a course
Our students work on cutting edge projects in both pure and applied physics, and on experimental and computational projects. The PhDs and EngDs are funded by both the UK government and the EU, and by companies. Many of our PhDs are collaborative, where the student works with a partner of the University, such as a company, or National Physical Laboratory.
If you are interested in doing a PhD with us, please look at the interests of our Department's research groups and get in contact with an academic.
Expert support
The Doctoral College supports the academic and professional development of postgraduate researchers to ensure our world-leading research continues to grow. There is also an extensive Researcher Development Programme run at university level.
Employability
Employer mentoring programme
We have a postgraduate research employer mentoring programme to help our PhD students find out about career options for doctorates in business and industry earlier in their PhD, and to better manage the transition from academic research to work outside of university.
Mentors come from a variety of different employer types, sectors and sizes, such as NPL, AWE, Oxford Instruments and SME, Fourth State Medicine.
Graduate network
We are part of GRADnet, a collaborative graduate school of nine South East England physics departments.
Through GRADnet our PhD students benefit from courses on physics research techniques, and courses taught in conjunction with companies, on team-working and working in industry.
Careers after graduation
After graduation, our PhD and EngD students go on to careers in both the private and public sectors such as:
Postdoctoral positions at British or overseas universities
Academics in the UK and overseas
Working in private sector companies making radiation detectors, photonics companies, oil companies etc
Applying their skills in related areas such as data science
Working in public sector companies such as Dstl and AWE.
What our students say
Read our student profiles to discover first-hand what it's like to study with us.
Surrey offers a fantastic study environment; the work is interesting, exciting and new.
Rosh Sellahewa, PhD Nuclear Theoretical Physics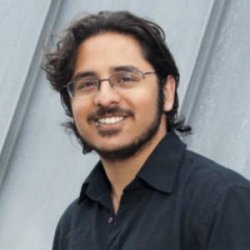 The research I'm conducting could assist and improve procedures for many patients; it's a good feeling to be researching something that could make a difference!
Katie Ley, PhD Medical Physics