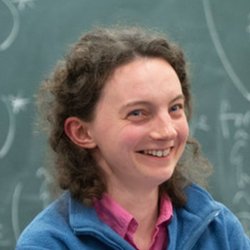 Josephine Solowiej-Wedderburn
"My supervisor is integral to the brilliant PhD experience I'm having. We have weekly meetings to touch base and make sure I'm on track and not veering too far astray."
Research project
Models for cellular force generation and the cell-substrate interface
Choosing Surrey
During my undergraduate and masters degrees, I was struck by the complexity of life forms, building up from simple chemical compounds to cells, tissues, organs and organisms.
This awoke a desire to investigate the behaviour of cells from a mathematical framework and relate this to their net macroscopic functions as parts of living organisms.
One of my supervisors suggested I get in touch with Dr Carina Dunlop at the University of Surrey because she was working in the field. One meeting with Carina was enough to get me hooked on the project and now I'm doing a PhD with her.
My research
Before I started my PhD, I made sure I chose a topic I was genuinely interested in – one I'd be happy to talk to friends about in the pub.
I never cease to be amazed by cells and all their intricate processes, which make whole life forms when put together. Using mathematical models to try to explain just one of these mechanisms is fascinating.
Highlights
Attending Parliament to present my mathematical research to a range of politicians and a panel of expert judges was great. I also met my local MP, Neil Coyle, there. He was enthusiastic about the valuable impacts of scientific research to the wider community.
Generally, I love the daily problem-solving aspect of the PhD: picking apart a problem by asking a few questions, which invariably lead to several more questions along the way.
Facilities
Occasionally, I'll make use of the SCONUL access scheme, which lets me use the libraries of London universities.
In general, though, I enjoy coming into the Department. Its friendly feeling is always a draw, and it's useful to have a set desk to work at where I can leave all of my notes and rough workings.
I've also attended a conference at the Royal Society in London and a summer school in Italy, which were useful for my wider understanding of the field.
My tutor
My supervisor is integral to the brilliant PhD experience I'm having. We have weekly meetings to touch base and make sure I'm on track and not veering too far astray.
She's great at giving pointers, but leaving me enough time and space to think things through, work them out and take ownership of the work. I always leave our meetings feeling invigorated and encouraged and ready to tackle my work.
Life in Surrey
It was a horrid grey and muggy day with the rain pouring down when I came for an interview. My supervisor was deeply apologetic and kept reassuring me the campus is beautiful in the sunshine. She wasn't wrong.
Long lunch breaks with the other PhD students down by the lake, or blackberry picking around Guildford Cathedral definitely make the commute more worthwhile through the summer months.
I don't live in Guildford, but the proximity to London and convenient rail connection means I can easily commute to the University while still living at home, where I play for a local hockey team and regularly go swing dancing.
Find out more about PhD research in our Department of Mathematics.