Covid-19 research
We are drawing on our extensive experience in air quality to support the fight against Covid-19. In collaboration with partners around the world, we are part of the international effort making a case for the recognition of airborne transmission.
Projects
Among other projects, we are studying the impact lockdown is having on air quality in cities around the world, and investigating how different types of face mask offer protection from infection in enclosed public spaces. Read about some specific examples of our Covid-19 research.
A paper published in May 2020 by Professor Prashant Kumar and Professor Lidia Morawska (Vice Chancellor Fellow at Surrey and Director of the International Laboratory of Air Quality and Health at Queensland University of Technology) argues that the lack of adequate ventilation in indoor environments increases the risk of airborne transmission of Covid-19.
Like many viruses, the SARS-CoV-2 virus is less than 100nm in size but expiratory droplets (from people who have coughed or sneezed) contain water, salts and other organic material, along with the virus itself. The research team note that as the water content from the droplets evaporates, the microscopic matter becomes small and light enough to stay suspended in the air, and over time, the concentration of the virus will build up, increasing the risk of infection – particularly if the air is stagnant as in many indoor environments. The study highlights that improving building ventilation is a possible route to tackling indoor transmission of the virus.
Lead author Professor Prashant Kumar said: "An improved indoor ventilation is an important step that can be taken to reduce the risk of infection. However, more must be done to recognise and understand airborne transmission of Covid-19 and similar viruses, to minimise the build-up of virus-laden air in places typically containing high densities of people."
We are continuing our work in this area by studying and developing Covid-19 spread mitigation strategies for enclosed environments such as schools and trains.
See the full paper, 'Could fighting airborne transmission be the next line of defence against COVID-19 spread' and subsequent paper, 'Prioritising indoor air quality in building design can mitigate future airborne viral outbreaks'.
One of the few positive impacts of the Covid-19 crisis and subsequent lockdown measures has been a dramatic reduction of harmful air pollutants across major cities in India.
A recent study carried out by us and published by Sustainable Cities and Society examined the levels of harmful fine particulate matter (PM2.5) originating from vehicles and other non-vehicular sources in five Indian cities – Chennai, Delhi, Hyderabad, Kolkata, and Mumbai – and compared these results with those from other cities across the world.
The research also explored potential factors influencing differences between divergent concentration changes in different cities, as well as aerosol loadings at regional scale (see figure 1).
In addition, the team investigated the monetary value of avoided premature mortality due to reduced PM2.5 concentrations, and calculated that the reduction may have saved 630  people from premature death and $690 million in health costs in five cities across India. They pointed out that the present lockdown situation offers observational opportunities regarding potential control systems and regulations for improved urban air quality.
See our full paper, 'Temporary reduction in fine particulate matter due to 'anthropogenic emissions switch-off' during COVID-19 lockdown in Indian cities'.
This work builds on the NERC-funded ASAP-Delhi project (NE/P016510/1) and the EPSRC-funded INHALE project (EP/T003189/1), and our previous work on pollution strategies in Delhi and other Indian megacities, including its recent long-term assessment of ambient particulate matter and trace gases in the Delhi-NCR region.
We have collaborated with University College Dublin to conduct another study on the effects of lockdown, using both satellite data and surface measurement data to estimate air pollution across 20 cities worldwide.
We have developed a state-of-the-art filter testing rig which can evaluate the performance of different types of facemask when they are exposed to particles ranging from a few nanometers to 10 micron in size.
Our team is collaborating closely in this area with Imperial College London among other partners. This experimental rig (figure 2 and 3) has attracted the attention of the NHS, York Scrubs, and Innovate UK project partners (consultancy works), with a number of potential collaborations in the pipeline.
The rig is being used to evaluate filtration and efficiency performance of different commercial and handmade face masks as listed in Table 1, the results of which will be revealed soon. The non-commercial facemasks being tested replicate well-known commercial brands.
The fast particulate analyser DMS500 is capable of analysing up to 10 samples per second ranging from a few nanometers to 2.5 micron. The solenoid switching system allows the operator to automatically switch and take samples before and after sampled filters (figure 4) in different time intervals. A snapshot of the processed data, which shows filtration performance and efficiency, size distribution, and pressure difference of a facemask filter during the test is shown in figure 5.
As part of the Royal Society's RAMP initiative, we are working with rail industry companies/operators and partners from the University of Cambridge, Imperial College London and others to understand in-cabin aerosol dispersion and risk of airborne Covid-19 transmission inside train compartments. In particular, we aim to identify how aerosols are distributed inside the compartment under different ventilation settings (on/off mode), the exposure of aerosols at different distances from the source, and how long it takes for aerosols to travel across different directions inside the cabin.
The study is designed to evaluate the distribution of fine (≤2.5µm) and coarse (≤10µm) aerosol particles at breathing height of a seated person (see figures 6 and 7). A fog generator was used for aerosol generation and the exhalation of aerosols from a mouth was mimicked by using a nebuliser.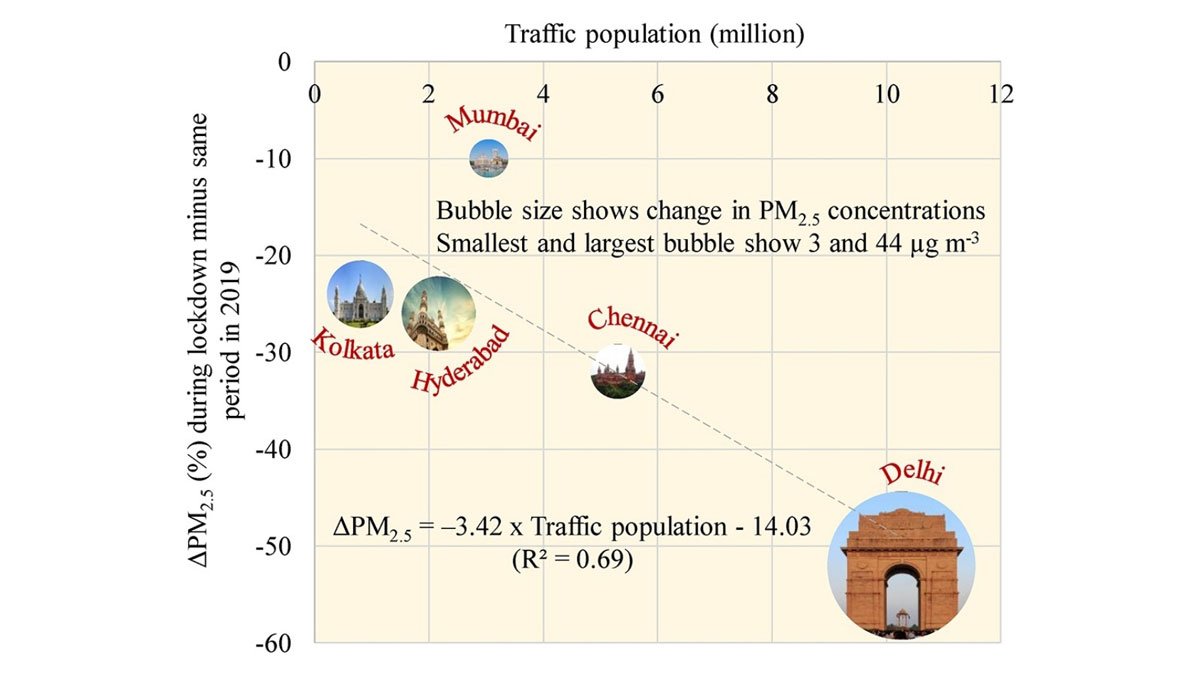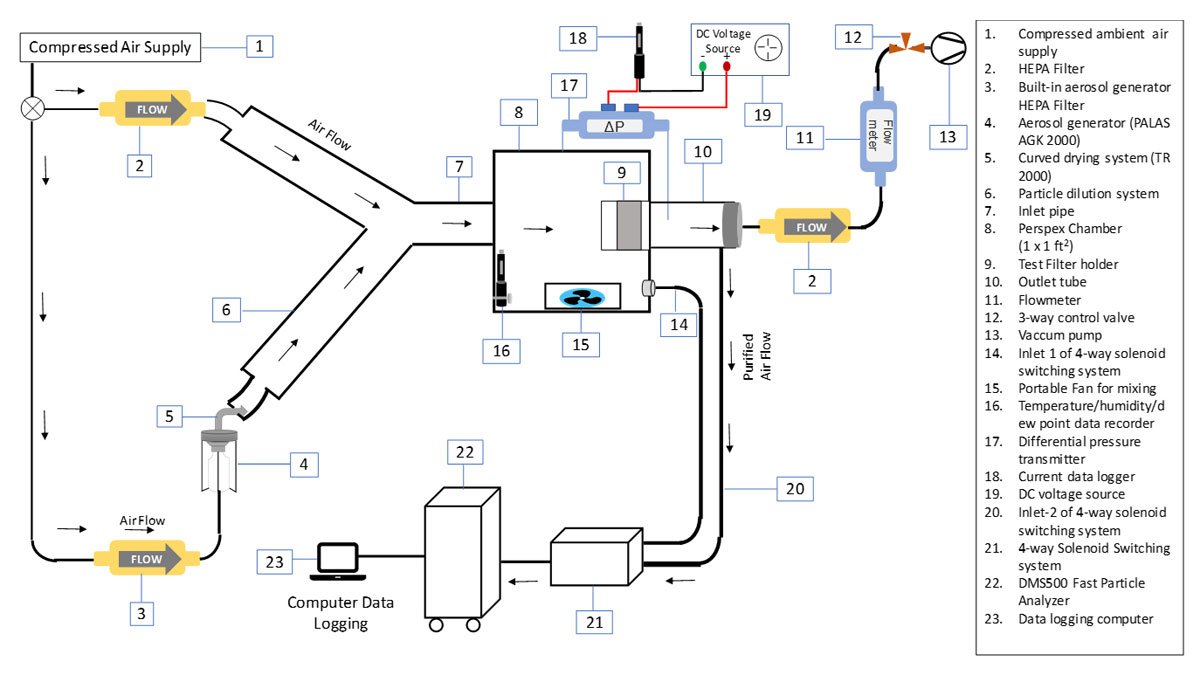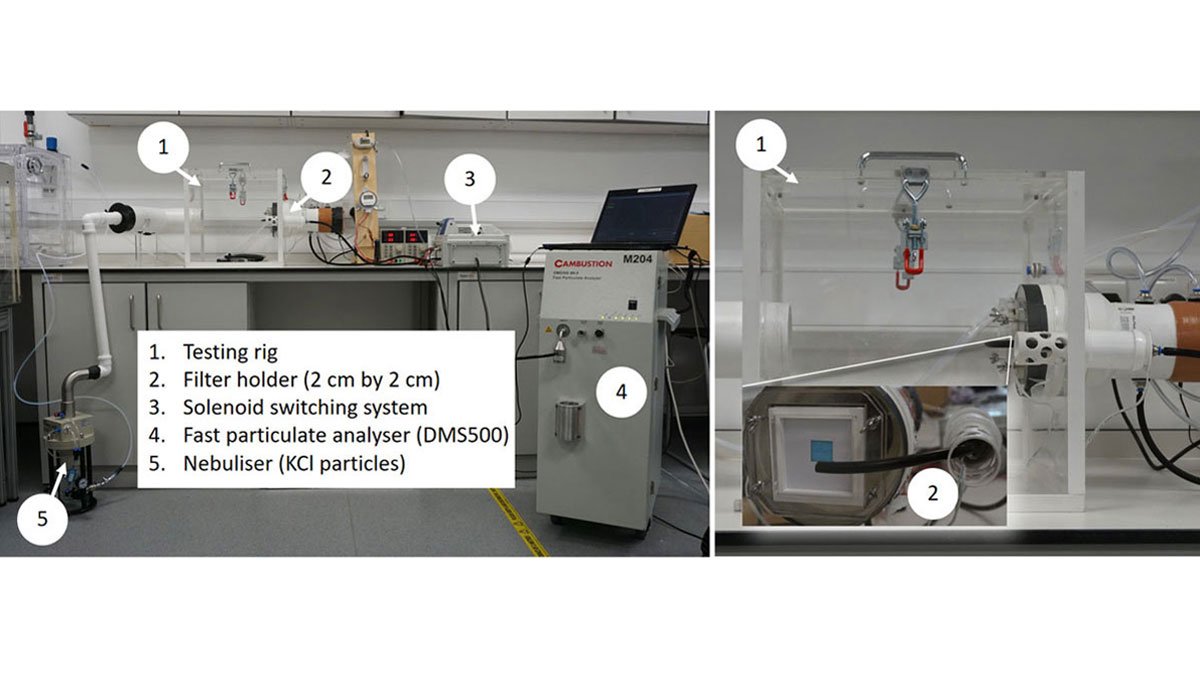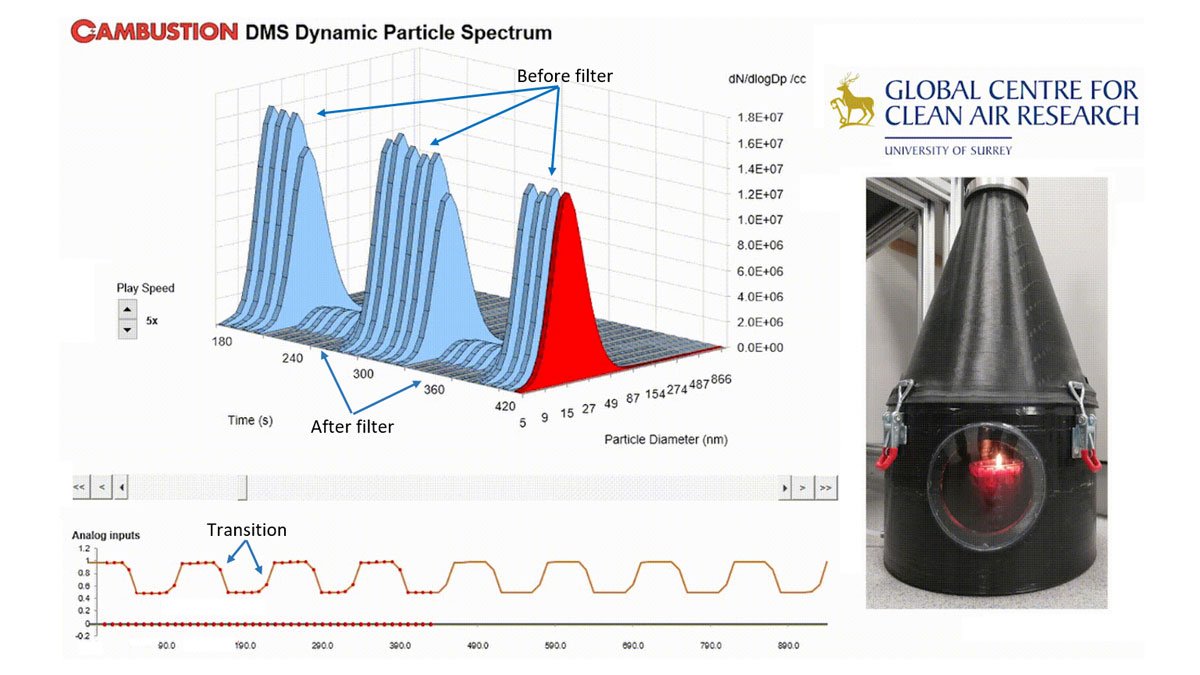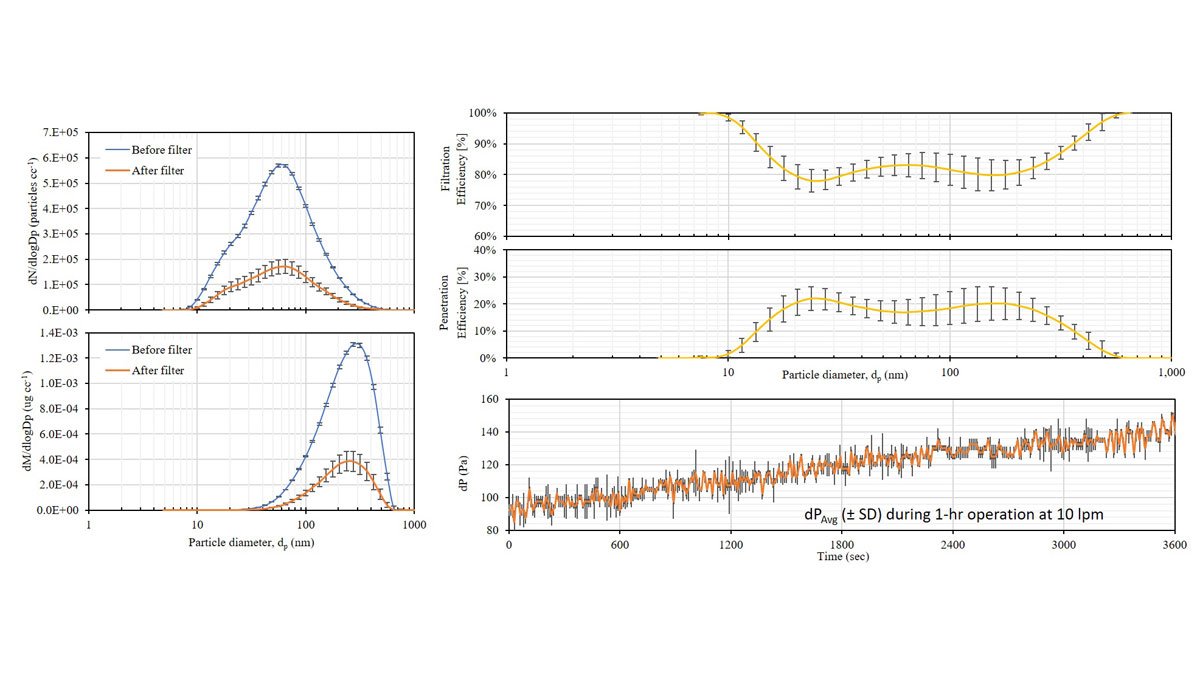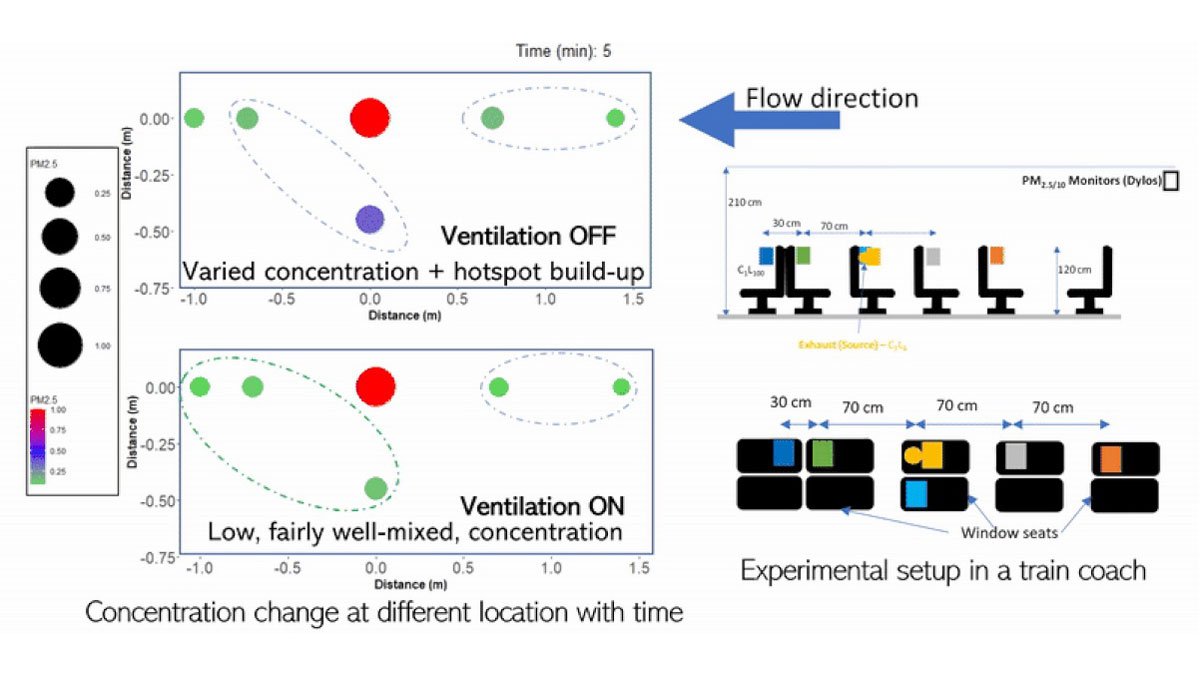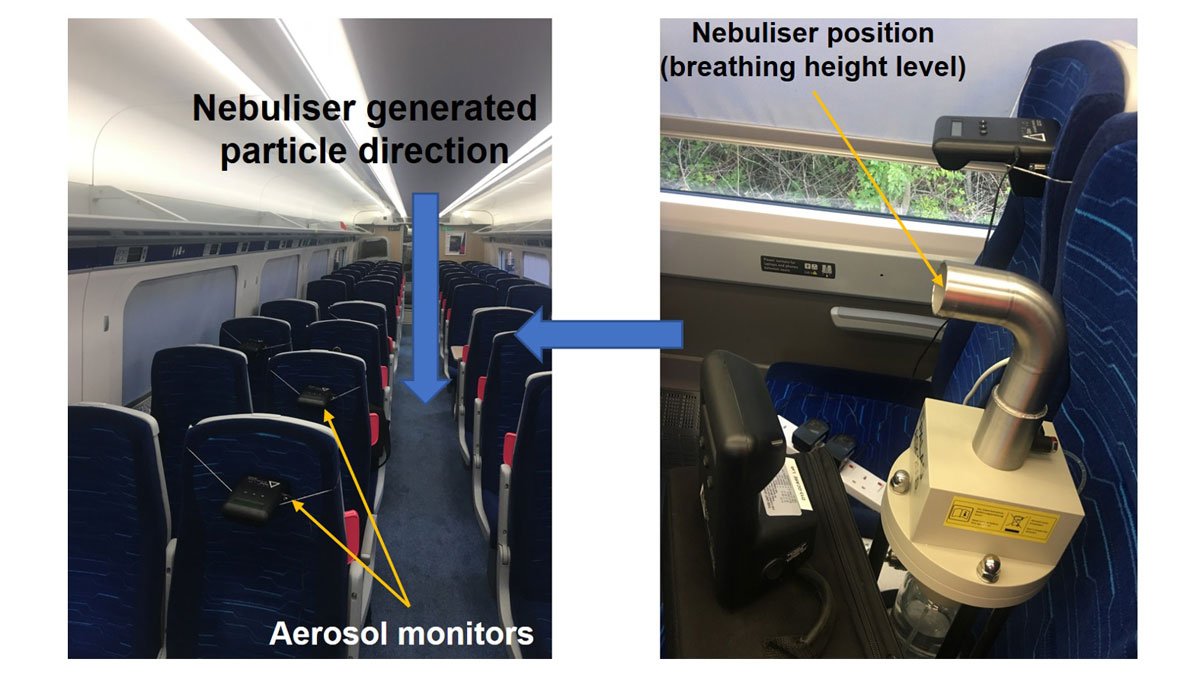 Table 1
Commercial (FFP1/2/3 and 3-ply surgical type) and homemade face masks that have been successfully tested in the filter testing rig.
Related publications
Kumar, P., Omidvarborna, H., Tiwari, A., Morawska, L., 2021. The nexus between in-car aerosol concentrations, ventilation and the risk of respiratory infection. Environment International 157, 106814.
Sharma, A., Omidvarborna, H., Kumar, P., 2021. Efficacy of facemasks in mitigating respiratory exposure to submicron aerosols. Journal of Hazardous Materials 126783.
Feng, Z., Cao, S.J., Wang, J., Kumar, P., Haghighat, F., 2021. Indoor airborne disinfection with electrostatic disinfector (ESD): Numerical simulations of ESD performance and reduction of computing time. Building and Environment 200, 107956.
Ganguly, R., Sharma, D., Kumar, P., 2021. Short-term impacts of air pollutants in three megacities of India during COVID-19 lockdown. Environment, Development and Sustainability.
Burridge, H. C., Bhagat, R. K., Stettler, M. E. J., Kumar, P., De Mel, I., Demis, P., Hart, A., Johnson-Llambias, Y, King, M. F., Klymenko, O., McMillan, A., Morawiecki, P., Pennington, T., Short, M., Sykes, D., Trinh, P. H., Wilson, S. K., Wong, C., Wragg, H., Wykes, M. S. D., Iddon, C., Woods, A. W., Mingotti, N., Bhamidipati, N., Woodward, H., Beggs, C., Davies, H., Fitzgerald, S., Pain, C., Linden, P. F., 2021. The ventilation of buildings and other mitigating measures for COVID-19: a focus on wintertime. Proceedings of the Royal Society A 477, 20200855.
Torkmahalleh, M.A., Akhmetvaliyeva, Z., Omran, A.D., Omran, F.D., Kazemitabar, M., Naseri, M., Naseri, M., Sharifi, H., Malekipirbazari, M., Adotey, E.K., Gorjinezhad, S., Eghtesadi, N., Sabanov, S., Alastuey, A., de Fátima Andrade, M., Buonanno, G., Carbone, S., Cárdenas-Fuentes, D.E., Cassee, F.R., Dai, Q., Henríquez, A., Hopke, P.K., Keronen, P., Khwaja, H.A., Kim, J., Kulmala, M., Kumar, P., Kushta, J., Kuula, J., Massagué, J., Mitchell, T., Mooibroek, D., Morawska, L., Niemi, J.V., Ngagine, S.H., Norman, M., Oyama, B., Oyola, P., Öztürk, F., Petäjä, T., Querol, X., Rashidi, Y., Reyes, F., Ross-Jones, M., Salthammer, T., Savvides, C., Stabile, L., Sjöberg, K., Söderlund, K., Raman, R.S., Timonen, H., Umezawa, M., Viana, M., Xie, S., 2021. Global Air Quality and COVID-19 Pandemic: Do We Breathe Cleaner Air? Aerosol and Air Quality Research.
Kumar, P., Hama, S., Omidvarborna, H., Sharma, A., Sahani, J., Abhijith, K.V., Debele, S.E., Zavala-Reyes, J.C., Barwise, Y., Tiwari, A., 2020. Temporary reduction in fine particulate matter due to 'anthropogenic emissions switch-off' during COVID-19 lockdown in Indian cities. Sustainable Cities and Society 62, 102382.
RAMP guidance document, 2020. The ventilation of buildings and other mitigating measures forCOVID-19: a focus on winter 2020.The Royal Society 'Rapid Assistance for Modelling the Pandemic (RAMP)' project, Task 7: Environmental and aerosol transmission, September 30, 2020.
Sannigrahi, S., Molter, A., Kumar, P., Zhang, Q., Basu, B., Basu, A.S., Pilla, F., 2020. Examining the status of improved air quality due to COVID-19 lockdown and an associated reduction in anthropogenic emissions. medRxiv.
Sloan Brittain, O., Wood, H., Kumar, P., 2020. Prioritising indoor air quality in building design can mitigate future airborne viral outbreaks. Cities & Health, 1-4.
Woodward, H., Kumar, P., Linden, P., et al. 2020. Train paper Air flow experiments on a class 802 train carriage (in preparation).
Kumar, P., Kalaiarasan, G., Porter, A. E., Pinna, A., Kłosowski, M. M., Demokritou, P., Chung, K. F., Pain, C., Arvind, D. K., Arcucci, R., Adcock, I. M., Dilliway, C., 2020. An overview of methods of fine and ultrafine particle collection for physicochemical characterisation and toxicity assessments. Science of the Total Environment 143553.
Kumar, P., Morawska, L., 2019. Could fighting airborne transmission be the next line of defence against COVID-19 spread?. City and Environment Interactions 4, 100033.
Get in contact
Contact us if you would like further information about our research activities in Covid-19, or are interested in collaborating on these projects.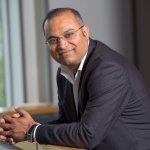 Associate Dean (International), Professor and Chair in Air Quality and Health; Founding Director, Global Centre for Clean Air Research (GCARE)