Covid-19 research
We are drawing on our extensive experience in air quality to support the fight against Covid-19. In collaboration with partners around the world, we are part of the international effort making a case for the recognition of airborne transmission.
Projects
Among other projects, we are studying the impact lockdown is having on air quality in cities around the world, and investigating how different types of face mask offer protection from infection in enclosed public spaces. Read about some specific examples of our Covid-19 research.
Table 1
Commercial (FFP1/2/3 and 3-ply surgical type) and homemade face masks that have been successfully tested in the filter testing rig.
Related publications
Woodward, H., Fan, S., Bhagat, R.K., Dadonau, M., Wykes, M.D., Martin, E., Hama, S., Tiwari, A., Dalziel, S.B., Jones, R.L., Kumar, P., Linden, P.F. 2021. Air Flow Experiments on a Train Carriage—Towards Understanding the Risk of Airborne Transmission. Atmosphere 12, 1267.
Kumar, P., Omidvarborna, H., Tiwari, A., Morawska, L., 2021. The nexus between in-car aerosol concentrations, ventilation and the risk of respiratory infection. Environment International 157, 106814.
Sharma, A., Omidvarborna, H., Kumar, P., 2021. Efficacy of facemasks in mitigating respiratory exposure to submicron aerosols. Journal of Hazardous Materials 126783.
Feng, Z., Cao, S.J., Wang, J., Kumar, P., Haghighat, F., 2021. Indoor airborne disinfection with electrostatic disinfector (ESD): Numerical simulations of ESD performance and reduction of computing time. Building and Environment 200, 107956.
Ganguly, R., Sharma, D., Kumar, P., 2021. Short-term impacts of air pollutants in three megacities of India during COVID-19 lockdown. Environment, Development and Sustainability.
Burridge, H. C., Bhagat, R. K., Stettler, M. E. J., Kumar, P., De Mel, I., Demis, P., Hart, A., Johnson-Llambias, Y, King, M. F., Klymenko, O., McMillan, A., Morawiecki, P., Pennington, T., Short, M., Sykes, D., Trinh, P. H., Wilson, S. K., Wong, C., Wragg, H., Wykes, M. S. D., Iddon, C., Woods, A. W., Mingotti, N., Bhamidipati, N., Woodward, H., Beggs, C., Davies, H., Fitzgerald, S., Pain, C., Linden, P. F., 2021. The ventilation of buildings and other mitigating measures for COVID-19: a focus on wintertime. Proceedings of the Royal Society A 477, 20200855.
Torkmahalleh, M.A., Akhmetvaliyeva, Z., Omran, A.D., Omran, F.D., Kazemitabar, M., Naseri, M., Naseri, M., Sharifi, H., Malekipirbazari, M., Adotey, E.K., Gorjinezhad, S., Eghtesadi, N., Sabanov, S., Alastuey, A., de Fátima Andrade, M., Buonanno, G., Carbone, S., Cárdenas-Fuentes, D.E., Cassee, F.R., Dai, Q., Henríquez, A., Hopke, P.K., Keronen, P., Khwaja, H.A., Kim, J., Kulmala, M., Kumar, P., Kushta, J., Kuula, J., Massagué, J., Mitchell, T., Mooibroek, D., Morawska, L., Niemi, J.V., Ngagine, S.H., Norman, M., Oyama, B., Oyola, P., Öztürk, F., Petäjä, T., Querol, X., Rashidi, Y., Reyes, F., Ross-Jones, M., Salthammer, T., Savvides, C., Stabile, L., Sjöberg, K., Söderlund, K., Raman, R.S., Timonen, H., Umezawa, M., Viana, M., Xie, S., 2021. Global Air Quality and COVID-19 Pandemic: Do We Breathe Cleaner Air? Aerosol and Air Quality Research.
Kumar, P., Hama, S., Omidvarborna, H., Sharma, A., Sahani, J., Abhijith, K.V., Debele, S.E., Zavala-Reyes, J.C., Barwise, Y., Tiwari, A., 2020. Temporary reduction in fine particulate matter due to 'anthropogenic emissions switch-off' during COVID-19 lockdown in Indian cities. Sustainable Cities and Society 62, 102382.
RAMP guidance document, 2020. The ventilation of buildings and other mitigating measures forCOVID-19: a focus on winter 2020.The Royal Society 'Rapid Assistance for Modelling the Pandemic (RAMP)' project, Task 7: Environmental and aerosol transmission, September 30, 2020.
Sannigrahi, S., Molter, A., Kumar, P., Zhang, Q., Basu, B., Basu, A.S., Pilla, F., 2020. Examining the status of improved air quality due to COVID-19 lockdown and an associated reduction in anthropogenic emissions. medRxiv.
Sloan Brittain, O., Wood, H., Kumar, P., 2020. Prioritising indoor air quality in building design can mitigate future airborne viral outbreaks. Cities & Health, 1-4.
Woodward, H., Kumar, P., Linden, P., et al. 2020. Train paper Air flow experiments on a class 802 train carriage (in preparation).
Kumar, P., Kalaiarasan, G., Porter, A. E., Pinna, A., Kłosowski, M. M., Demokritou, P., Chung, K. F., Pain, C., Arvind, D. K., Arcucci, R., Adcock, I. M., Dilliway, C., 2020. An overview of methods of fine and ultrafine particle collection for physicochemical characterisation and toxicity assessments. Science of the Total Environment 143553.
Kumar, P., Morawska, L., 2019. Could fighting airborne transmission be the next line of defence against COVID-19 spread?. City and Environment Interactions 4, 100033.
Get in contact
Contact us if you would like further information about our research activities in Covid-19, or are interested in collaborating on these projects.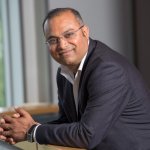 Co-Director, Instiute for Sustainability, Professor and Chair in Air Quality and Health; Founding Director, Global Centre for Clean Air Research (GCARE)