---
news
Published:
15 October 2020
Celebrating our nurses and midwives: Kathryn's story
Kathryn Lawton became a midwife more than 30 years ago and is passionate about helping mothers make informed feeding choices for their babies. This is her story.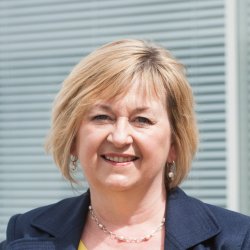 Kathryn Lawton
"I trained as a midwife in 1987 at the Bristol Maternity Hospital (now known as St. Michael's Hospital), after working as a nurse for two years and deciding to get more specialist experience in women's health. Training was still very much on-the-job and apprentice-style, shadowing existing practitioners and learning from them. It was here I found my true calling – I felt like I'd come home, and I knew I needed to be a midwife for the rest of my life.
"After qualifying, I worked in delivery suites and other clinical areas, gaining experience as a risk manager, a Birthrate Plus® data co-ordinator, and a parent education and infant feeding co-ordinator. These roles exposed me to lots of different areas of maternal health and gave me a flavour of what future paths I could take.
"I knew teaching was a route I wanted to explore after my first few weeks as a student; I watched my lecturers in awe and I knew I wanted to be the one standing up there sharing my experiences. Little did I know just how long it would take me to get there!
"Having learnt on the job and completed 25 years of clinical practice, I had no academic qualifications and I knew I needed these to take the next step in my career. So, I got back into education and completed a masters in women's health and a postgraduate certificate in health and social care. 
"Fast-forward to the present and I'm now a Teaching Fellow in Integrated Care (Midwifery) at Surrey, educating future generations of midwives through innovative hands-on teaching. I can honestly say the best part of my job are the students – they're so passionate and unwavering with 'can do' attitudes!
"In my work, I'm particularly passionate about infant feeding. Women often don't get the support they need to make informed choices on how they feed their babies, and they face all sorts of challenges, no matter what they decide. From my experiences, I teach my students to take a pro-active approach to advising their patients about their choices. How a baby is fed influences their future health and their mother's, which has a much wider impact on public health. I believe we need to do more as a society to support women with their choices, overcoming the political issues surrounding these.
"One of my proudest moments at Surrey has been helping the midwifery course gain 'Baby Friendly' status with the Unicef UK Baby Friendly Initiative. This status recognises that the programme gives students all the skills and knowledge needed to apply 'Baby Friendly' principles to their roles in various healthcare settings. Students leave understanding breastfeeding, with the ability to support infant feeding, and nurture close and loving relationships, while promoting communication and managing potential challenges to this.
"My career has taken me from practice to the classroom, but I wouldn't change it for the world!"
Read more of our nurses' and midwives' stories and share your own on Twitter using #YearoftheNurseandMidwife, tagging @UniOfSurrey.
Featured Academics
---
Related content
---