---
news
Civil engineering degrees: beyond the lecture theatre
Our civil engineering degrees are strongly industry-focused and practical, giving undergraduates the chance to try their hand at practical challenges and go on site visits to experience real world projects.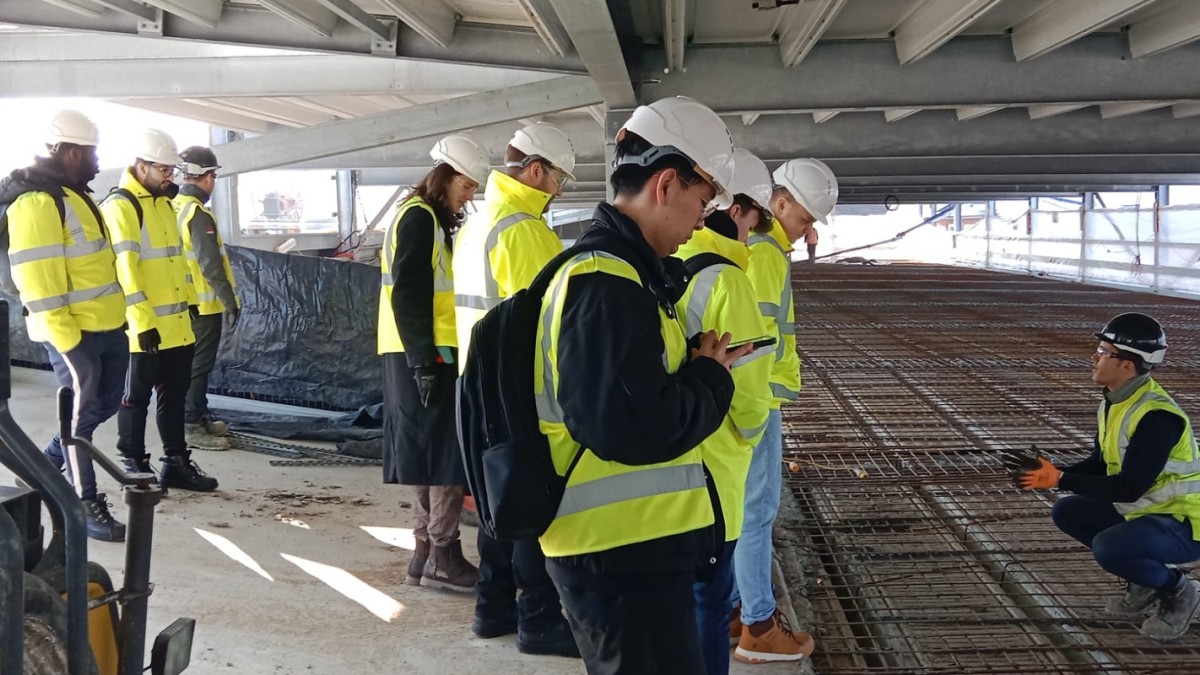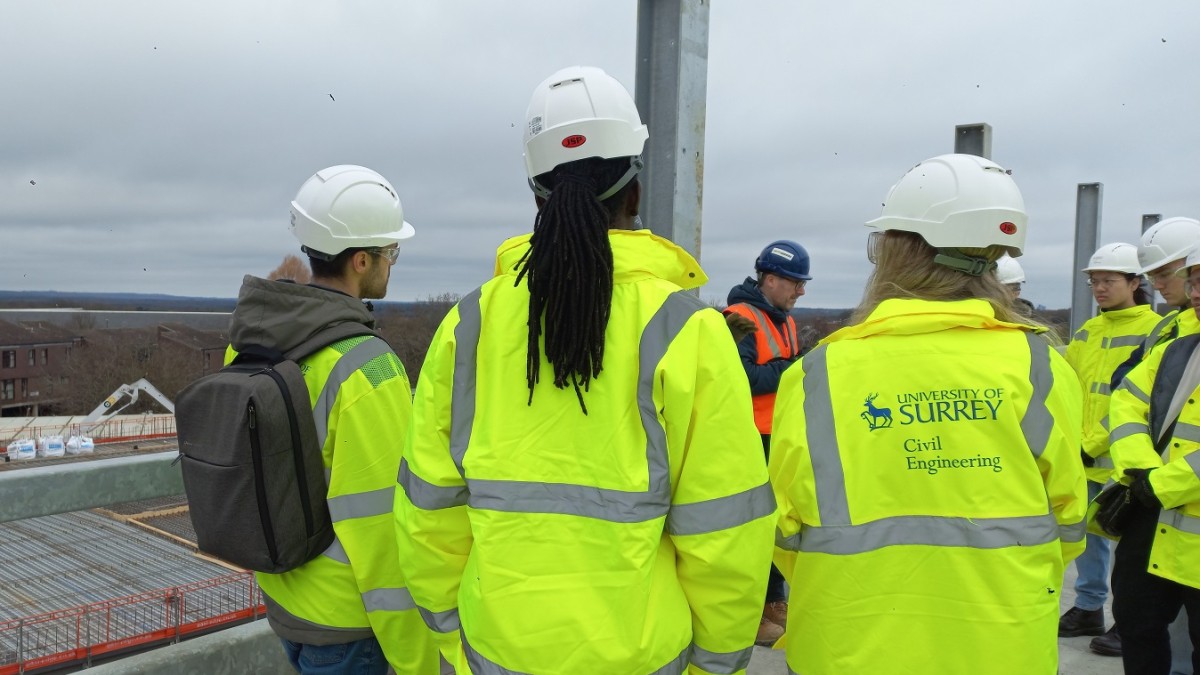 In February, 48 Year 1 students visited a construction site at the Royal Surrey County Hospital as part of the Integrated Design I module. Donning PPE and after an informative briefing session they entered the site to see construction of a multi-storey car park and a cancer treatment building. The steel-framed car park gave them a particularly valuable insight into the logistics of a complex construction project. The cancer treatment building on the other hand handles radioactive material and requires 2.5m wide walls and ceiling to enclose the radioactive area, making it a bunker.
On another visit, students discovered several examples of tensile membrane structures in and around Festival Place Basingstoke. They learned about membrane structures and ETFE (Ethylene tetrafluoroethylene) cushion roofs by seeing real-life applications of these technologies – which provide an elegant and lightweight engineering solution – before proposing their own design to cover the stage by the lake on Stag Hill.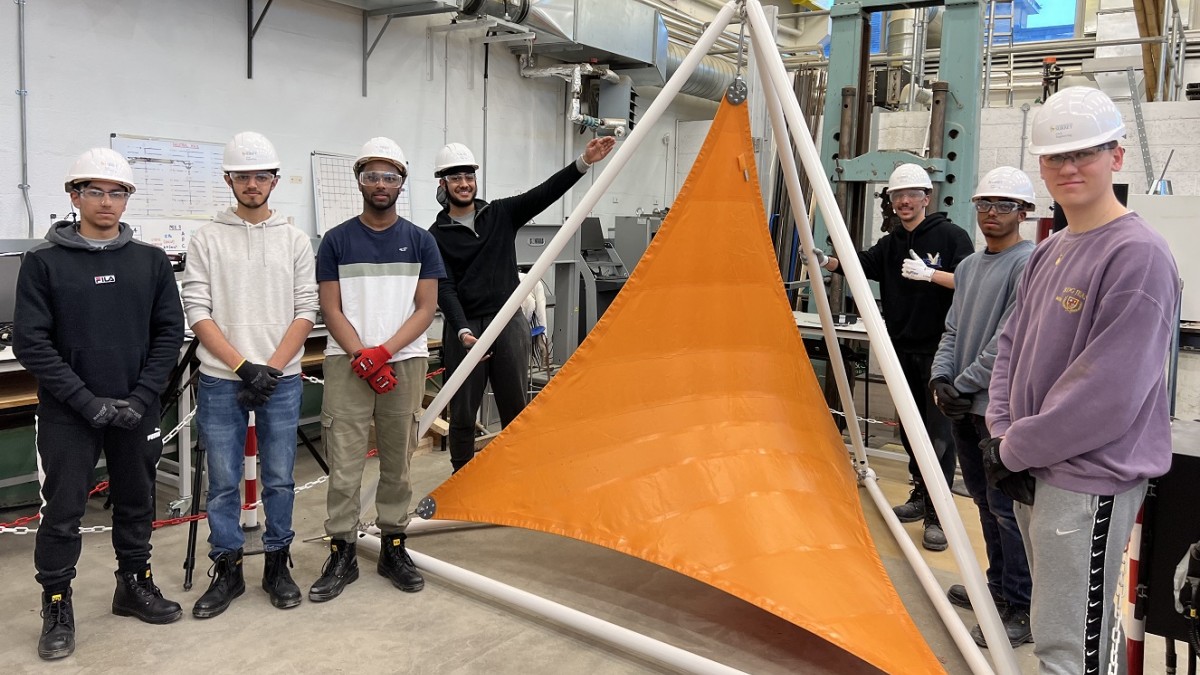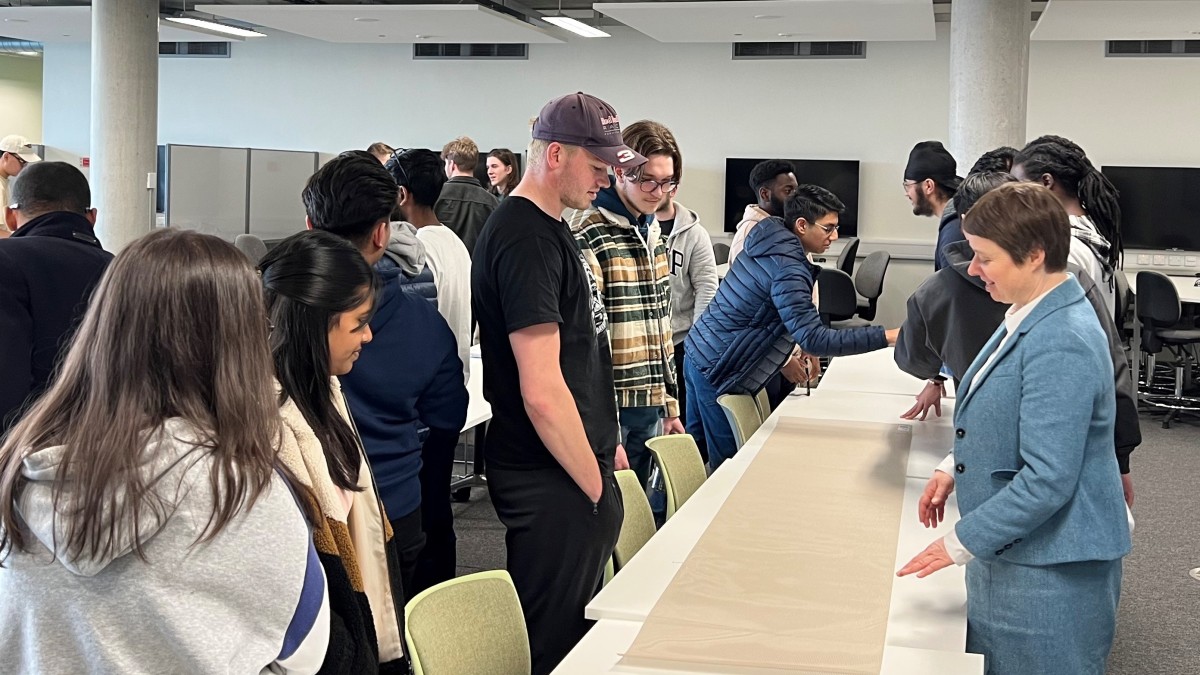 Back on campus, first year students recently attended a hands-on workshop on tensile membrane structures. Working in groups, they were provided with a full-scale membrane kit, and challenged to assemble and dismantle it within three hours. Through the exercise they gained hands-on experience of working with prefabricated lightweight structures and improved their understanding of applying pretension forces and appropriate detailing – while also honing their teamwork and time management skills.
Dr Alireza Behnejad says: "It's crucial to link the theory to real life examples, and site visits and hands-on experience provide an excellent opportunity for students to see the application of what they learn in the lecture theatre.
"I very much like this quote from Chinese philosopher Confucius: 'Tell me and I will forget, show me and I may remember, involve me and I will understand'. What we try to do is provide as many opportunities as possible for students to get involved."
Developed at Surrey by Dr Behnejad, the tensile membrane kit is used on civil engineering and architecture courses at universities around the world. Katja Bernert (textile architecture expert at Mehler Texnology), comments: "The hands-on sessions are so important for the students to get an idea of tensile architecture. Each university should have a kit like yours!"
Find out more about  another hands-on project developed at Surrey, 'Design, Assemble and Dismantle' (DAD project).
Discover our courses in civil and environmental engineering, including our Civil Engineering BEng (Hons)/MEng.