---
press release
Published:
16 September 2019
Cultural activists in Mexico offer female prisoners a chance to publish their writings
Seeking to tackle violence, inequality and stigma in vulnerable communities in Latin America through cultural activism, new action-based research offers a fresh perspective on the problems faced by prisons where so many detainees are functionally illiterate and rates of violence and assault are high.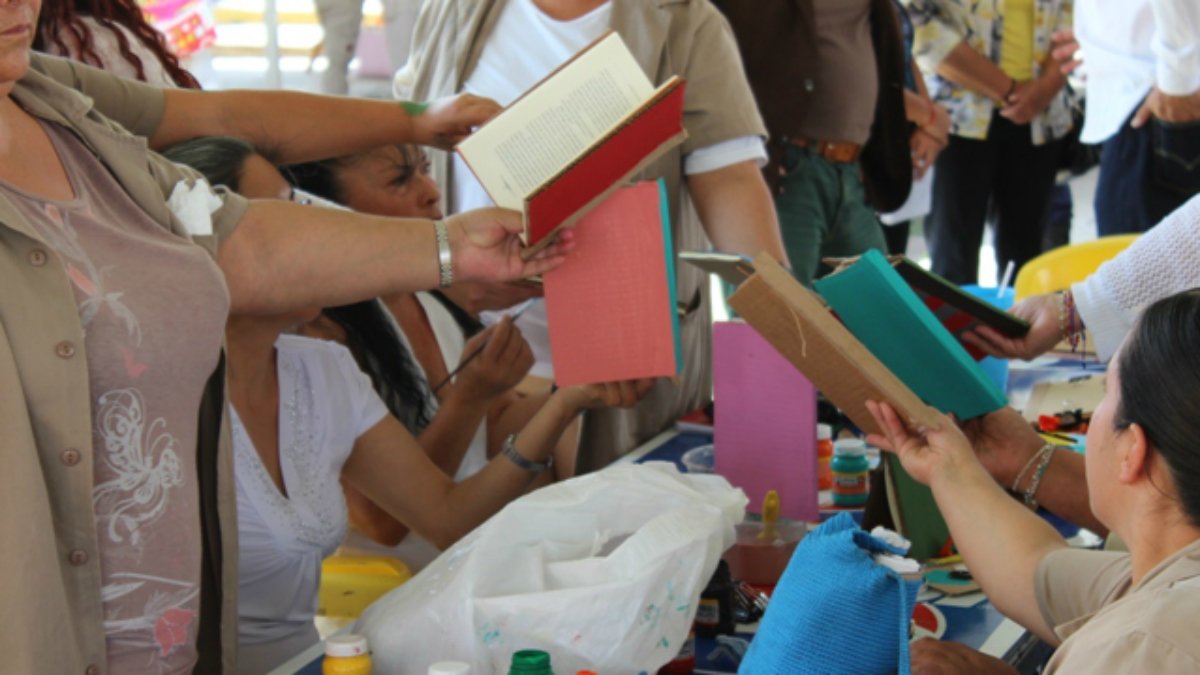 Dr Lucy Bell, Senior Lecturer in Spanish and Translation Studies at the University of Surrey, has worked as a researcher in Mexico for the last decade. Funded by the Arts and Humanities Research Council through the Global Challenges Research Fund, Dr Bell has led the action-based research project Cartonera Publishing project since 2017.
Cartoneras are grassroots publishers who make low-cost books out of litter or recycled materials through community workshops, in an attempt to make both the consumption and production of literature more accessible in places where the cost of a book can exceed a month's minimum wage. 
A Follow-on Funding for Impact and Engagement project, Activating the Arts for International Development, led by Dr Alex Flynn (University of Durham) in collaboration with Dr Lucy Bell, has allowed researchers and practitioners in Mexico and Brazil to work together to design a series of programmes seeking to tackle sustainable development challenges from peace and justice to sustainable cities and communities.
In Mexico the project supported cartonera publishers Sergio Fong and Israel Soberanes to take their programme Cartoneras for Peace and Justice to the women's prison of Puente Grande, Jalisco – Mexico's second-largest prison complex. As a result the book Espejo y viento (Wind and Mirrors) was published and launched in Puente Grande prison in April 2019, featuring stories and poems by women who write about their hopes and dreams, as well as their bleak experiences of corruption and abuse within the Mexican justice system.
This book has played a dual role: the creative process allowed the women to develop key skills from writing to public speaking, but also to reconnect with their families and, according to one participant, "to escape imaginatively from an oppressive system". It also helps readers to understand that imprisoned people are just like them: human beings with weaknesses but also great strength.
The prison administration has now supported the women to create their own publisher Bote Cartonero (or Cartonera in the Clink) demonstrating the sustainability of the programme and allowing other women to benefit.
Dr Bell said: "Our work in Puente Grande prison has illustrated that international development should be – and needs to be – a two-way process. In the UK we have much to learn from such cultural activism, and from a prison administrative division that encourages such transformative activities. Implementing arts-based actions has made a profound difference to the women in these prisons, proving that cultural pathways can make significant progress for justice, education and community-building."
In celebration of the grassroots cartonera publishing movement, the project culminates this week in the first ever London Cartonera Book Festival, offering the public the opportunity to participate in a variety of workshops hosted by the University of London and the British Library from 17 to 20 September 2019. Sign up now for a chance to create your own cartonera book and explore the power of arts-based social justice action.
Featured Academics
---
Media Contacts
---
External Communications and PR team
Phone: +44 (0)1483 684380 / 688914 / 684378
Email: mediarelations@surrey.ac.uk
Out of hours: +44 (0)7773 479911