---
press release
Published:
16 February 2022
The Future Says Surrey: new global philanthropic campaign set to raise millions for new research and student scholarships
An ambitious new global campaign, The Future Says Surrey, was launched today (Wednesday, 16 February) by the University of Surrey. The campaign aims to raise £60 million in three years to help Surrey continue making positive impacts on society and confirm it as one of the UK's leading research and educational institutions.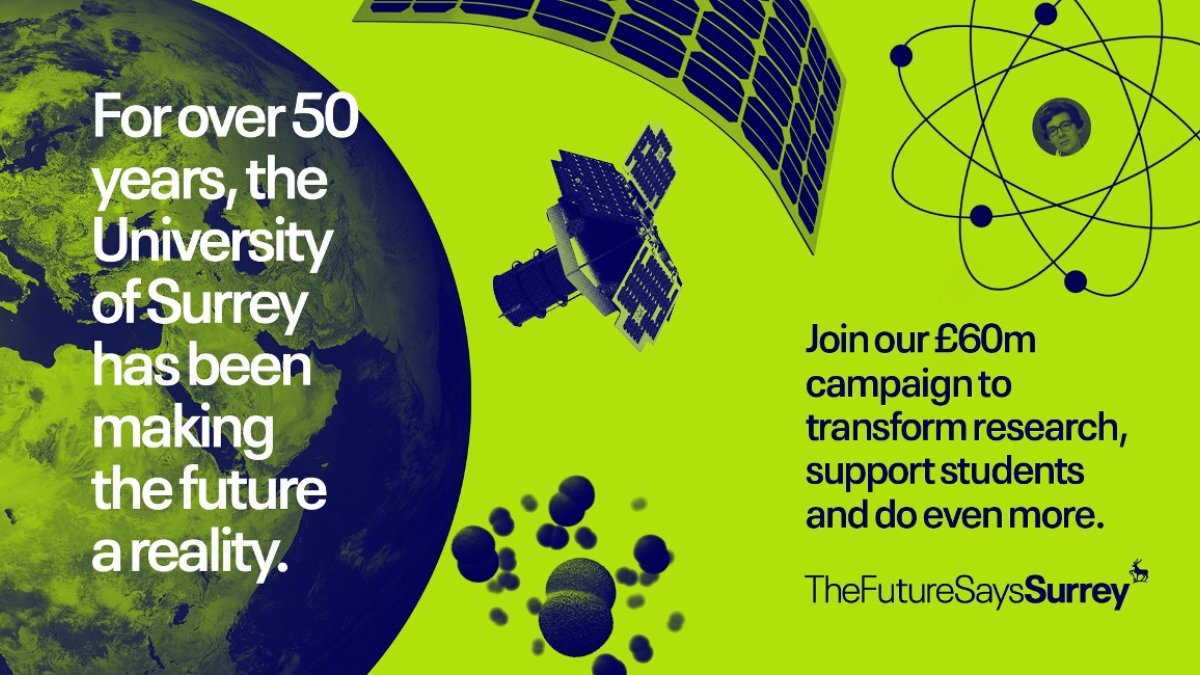 A first for the University in terms of scale and ambition, the outcome of this global fundraising campaign would see significant new funds injected into key areas of research that include people-centred artificial intelligence (AI), sustainability and health.  
Surrey is an established home of cutting-edge research and is the birthplace of innovations that have changed the course of many industries – from the strained-layer quantum-well laser that is the foundation of the internet and barcode technology to affordable miniature satellites that monitor worldwide disasters.  
Students from diverse backgrounds are also set to benefit as the campaign will fund new initiatives to widen participation in education through scholarships, bursaries and additional support for those facing hardship. 
Professor Max Lu, President and Vice-Chancellor of the University of Surrey, said: 
"The Future Says Surrey is an ambitious campaign to cement the University's position as a leader in research that makes a positive impact on communities around the globe. This campaign is also about ensuring that anyone, regardless of their personal circumstances, has the opportunity to come to Surrey, benefit from an excellent education and launch their career. 
"At Surrey, we believe that the world will be even more interconnected, thanks to technologies such as 6G, Web 3.0, Industry 5.0 and artificial intelligence – and our University is ready to shape these advances so they benefit all of society.  
"Philanthropy has played an enormous role since the earliest days of higher education. Universities around the world are fuelled by the generous contributions of alumni and leaders across the fields of industry and science.  Through the power of philanthropy, we can do more – and faster."  
Jim Al-Khalili, Professor of Public Engagement at the University of Surrey, Surrey graduate and host of BBC Radio 4's The Life Scientific, said: 
"The University has been a part of my life for 30 years, and much of my success wouldn't have been possible without its support. Throughout its history, Surrey has proven that it's not scared of thinking outside of the box, particularly when it comes to research – indeed, it encourages maverick thinkers.  
"The future for Surrey is filled with exciting ideas that have the opportunity to redefine industry, provide answers to the world's grand challenges and reconfigure our understanding of fundamental science. I'm proud of the ambition behind this fundraising campaign. It will empower our innovative researchers, enable faster discovery and promote diverse participation in education."  
Examples of the work The Future Says Surrey will support include: 
Harnessing 30 years of research experience and industrial partnerships in machine learning to ensure that all of humanity benefits from the coming era of AI. Funds raised from the campaign will allow the Surrey Institute for People-Centred Artificial Intelligence to undertake research into upskilling the labour force in the AI era, finding ways for AI to automate tedious tasks that free up time for humans to think more creatively, and ensure that AI is trained using tools that reflect all of society. The new Institute will also focus on shaping the ethics and safety protocols around AI so that future technological breakthroughs benefit us all. The application of AI in the field of digital health will be another key area supported by the campaign. 

The University's focus on investigating ways not only to reduce the impact of climate change but to help society live more sustainably in all aspects of our lives. This includes our work creating the next generation of solar energy capture and storage technology, the international efforts of our Global Centre for Clean Air Research in mitigating the effects of air pollution around the world, and our Centre for the Understanding of Sustainable Prosperity. We're also finding ways to track plastics in our seas and oceans and using AI and satellites to monitor and improve the biodiversity of our land.  
The University's focus on health. This includes our research tackling the diagnosis and treatment of those suffering from long-term conditions such as cancer and dementia. Our One Health, One Medicine programme looks to understand the multitude of ways human health is closely connected to that of animals and our environment. Its research will delve into issues such as water safety and security, disease surveillance, antimicrobial resistance and much more.  
 You can find out more, including details of how to donate, at thefuturesays.surrey.ac.uk   
Media Contacts
---
External Communications and PR team
Phone: +44 (0)1483 684380 / 688914 / 684378
Email: mediarelations@surrey.ac.uk
Out of hours: +44 (0)7773 479911