---
news
Published:
26 January 2021
Guildford Living Lab joins forces with local school to improve air quality
Guildford Living Lab has been working with parents and the local community to monitor and improve air quality in and around Sandfield Primary School in Guildford.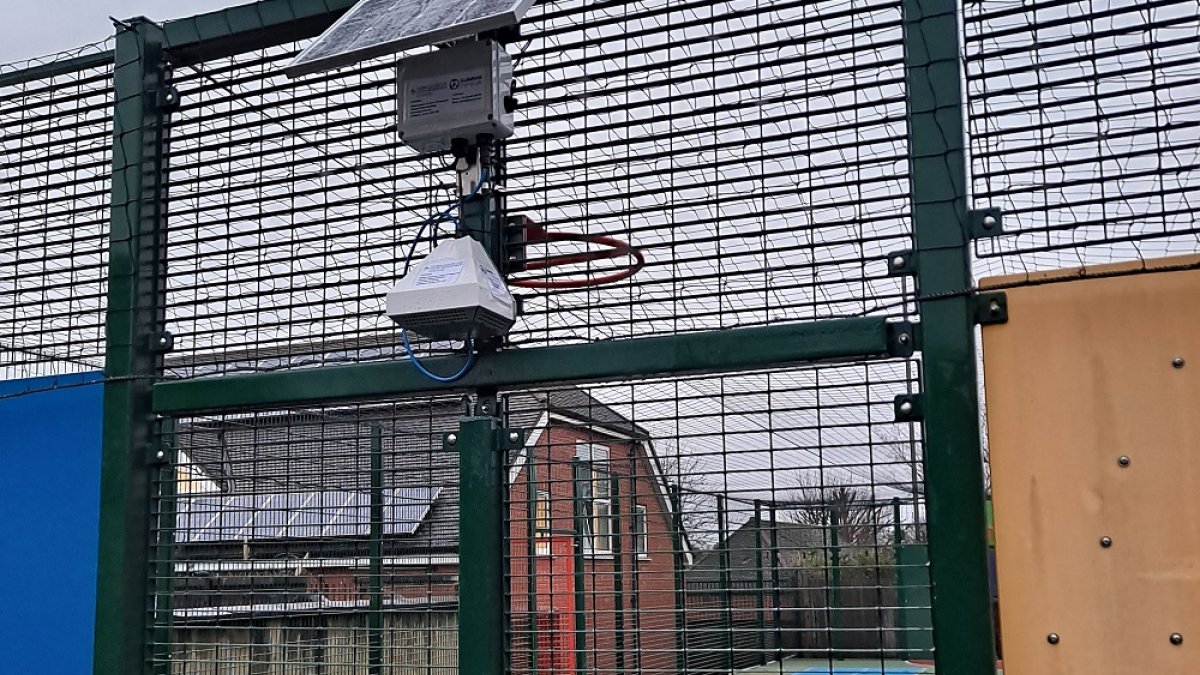 In the unique initiative, Surrey's Guildford Living Lab (GLL) collaborated with Sandfield Primary School, Sandfield Parent Group and the local community to deploy a multi-sensor, mini air quality monitoring unit on the school's premises. GLL is part of the Global Centre for Clean Air Research (GCARE) at the University of Surrey.
The project builds on past research by the GLL team, led by Professor Prashant Kumar, including a recently published study involving St Thomas of Canterbury Catholic Primary School (Merrow, Guildford) and a multi-lingual guidance document on air pollution exposure mitigation in and around schools. What sets this new study apart is that it involves long-term measurements inside the school premises, using air quality sensor technology.
Air pollution is a significant concern at Sandfield Primary School, not only due to the vulnerability of all children to pollution-related ill health, but also because the school is situated on the corner of two busy roads. Following a joint site visit on 16 December 2020 by the GLL team, local parents and school representatives, the monitoring location on the premises was agreed and, two days later, the monitoring unit was successfully attached to one of the vertical support poles of the sports cage, where the unit can use solar energy as an alternative energy source. The GLL team will look after the unit during the sampling period, to ensure that the instrument is working smoothly and transmitting data to the server correctly. Measurements undertaken over the quiet Christmas period will be used later as an indication of background air pollution concentrations in the area.
The monitoring unit found that there was up to a three-fold increase in levels of toxic PM2.5 and PM10 (particulate matter with aerodynamic diameters less than 2.5 and 10 microns, respectively) from the evening of 30 December 2020 to early morning on 1 January 2021. Considering the time of year and the potential negative impacts of New Year celebrations (e.g. fireworks), the local air quality is very clear.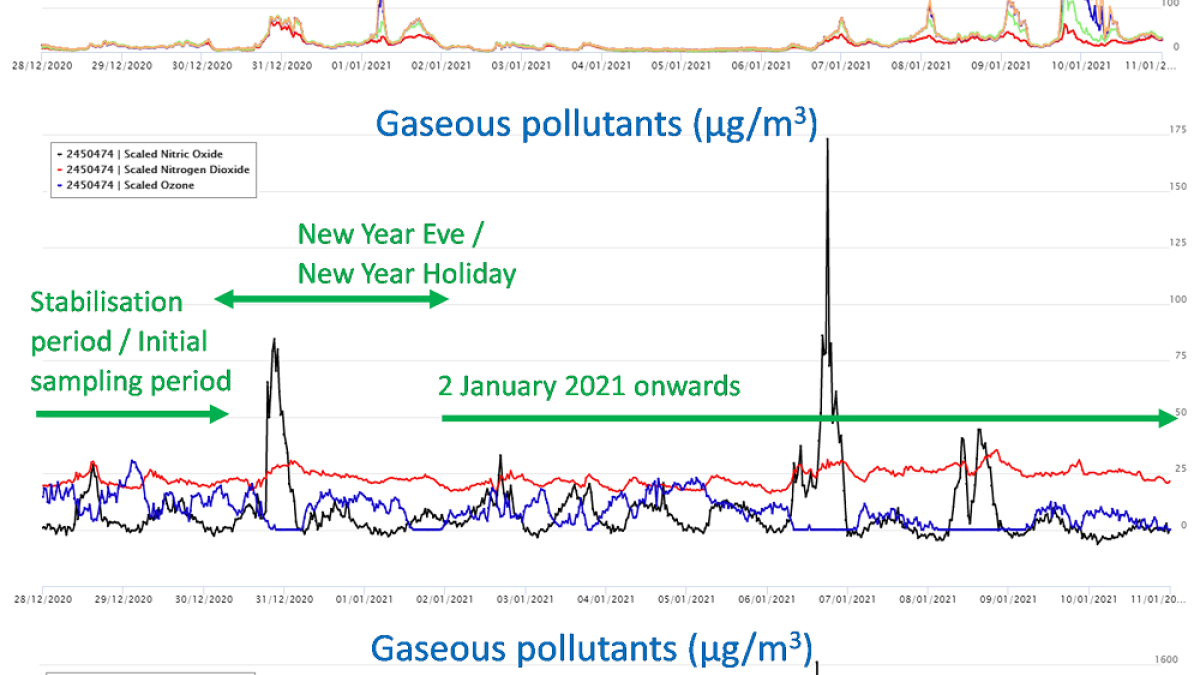 The GLL team is confident that the station will reveal even more interesting information on traffic pollution in the future. In addition, data from the entire investigation will be used to support research on the possibility of planting green barriers around the school to reduce air pollution exposure.
Kate Alger from the Sandfield Parent group said: "We're so grateful to have the help and support of Professor Kumar and his team with this. The majority of children at Sandfield live nearby and unlike many schools, the children often walk to and from school. Many local residents have chosen to live in the town centre so that we're not dependent on cars yet we're very aware that our children must be exposed to high levels of air pollution due to the busy crossroads and the regular stationary traffic at the traffic lights outside the school. We're very excited that we're now able to monitor the air pollution where our children actually play so we can better understand the situation and hopefully be able to pull together as a local community to make a real difference."
Melanie Hancox, Chair of Governors at Sandfield Primary School said: "Sandfield Primary School is looking forward to being able to involve our pupils in this fascinating and important piece of real-life science. We are grateful to Professor Kumar and his team for giving us the opportunity to improve our own environment and to help develop knowledge in this area that may benefit other communities."
Cllr Caroline Reeves, Deputy Council Leader at the Guildford Borough Council commented: "It has been very constructive to work with such knowledgeable people from the Guildford Living Lab at the University of Surrey and to engage real hands-on involvement for residents living near the school, and with children who are impacted by these very serious issues. We can only solve this by working together as part of the all important local community."
Professor Prashant Kumar said: "This unique initiative offers a fantastic opportunity for researchers, Sandfield pupils, parents and school staff to help improve their immediate environment and, in turn, to help other children all over the world to do the same."
Type

Pollutants

Definition

Unit

Known sources in urban areas

Short-term

Long-term

Particulate Pollutants

PM1

PM1 describes extremely fine inhalable particles, with diameters that are generally 1 micron and smaller

µg/m3

Biomass burning, combustion of fossil fuels, road traffic

ND

ND

PM2.5

PM2.5 describes fine inhalable particles, with diameters that are generally 2.5 micron and smaller

µg/m3

Road vehicles and domestic sources of smoke, such as bonfires

ND

25

(annual)

PM10

PM10 describes inhalable particles, with diameters that are generally 10 micron and smaller

µg/m3

Combustion, construction sites, unpaved roads, and dust

50

(daily)

40

(annual)

Total Suspended Particulate (TSP)

Particles ranging from 0.1 micron to about 30 microns

µg/m3

Road traffic, domestic burning (coal, wood, etc.), resuspension of road and construction dust, and other sources

ND

ND

Particle Count

Number of particles in a certain volume

P/cm3

Any of the sources that are mentioned above

ND

ND

Gaseous Pollutants

Nitric Oxide (NO)

A relatively unstable, diatomic molecule comprised of a nitrogen and an oxygen atom

µg/m3

Fossil-fuel combustion

ND

30

(annual)

Nitrogen Dioxide (NO2)

One of a group of highly reactive gases known as oxides of nitrogen or nitrogen oxides (NOx = NO+NO2)

µg/m3

Emissions from any light-/heavy-duty vehicles

200 (hourly)

40

(annual)

Ozone (O3)

Ground level ozone is created by chemical reactions between oxides of nitrogen (NOx) and volatile organic compounds (VOCs)

µg/m3

Indirectly generated by pollutants emitted by vehicles and other sources, which chemically react in the presence of sunlight

100

(8-hour)

ND

Carbon Monoxide (CO)

A colourless, odourless, tasteless gas produced by burning gasoline, wood, propane, charcoal or other fuel

µg/m3

Vehicles or machinery that burn fossil fuels; unvented kerosene and gas space heaters, leaking chimneys and furnaces, and gas stoves

10,000

(8-hour)

ND