---
news
International Women in Engineering Day
To mark this year's ​International Women in Engineering Day, which took place on Sunday 23 June, we caught up with Amy Fitzgerald, a Doctoral Practitioner from the University's Centre for Environment and Sustainability, who is currently working at the National Composites Centre (NCC).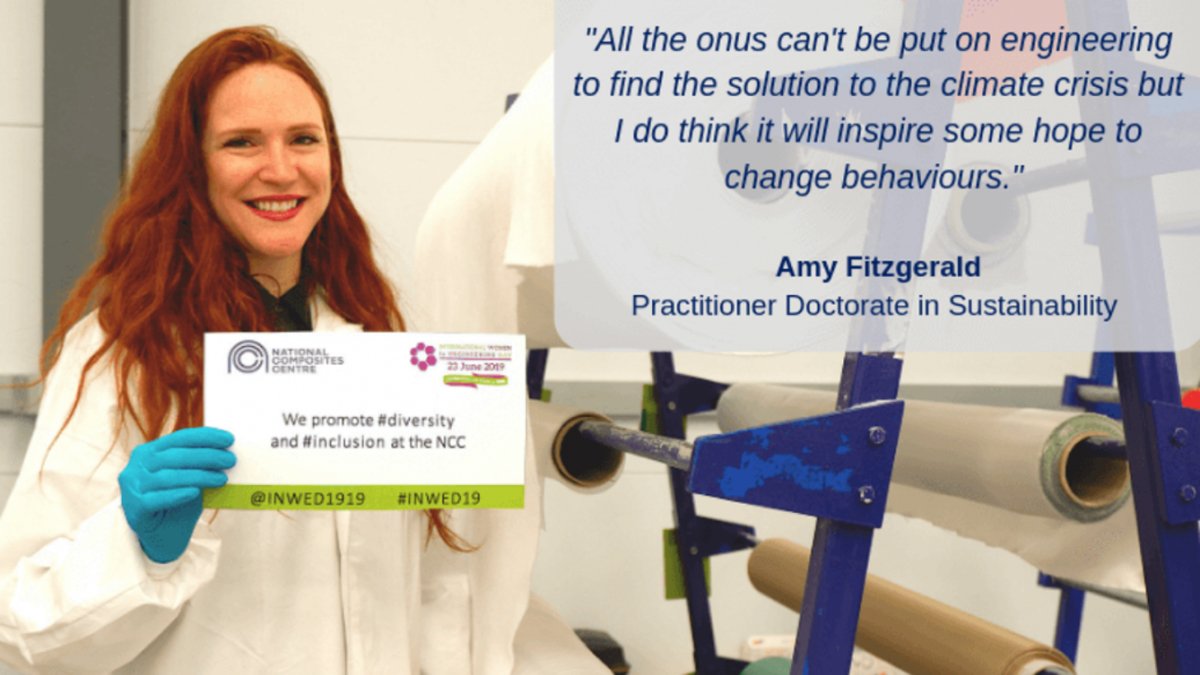 How did you get into engineering? What attracted you to this as a career?
I had a very non-traditional path into engineering. I wasn't one of these people that always knew exactly what they wanted to do from a young age.  At school I took mostly science A-levels, but as a very idealistic teenager I decided I wanted to save the world and earned a place to study law at the University of Surrey, specialising in environmental law and international law in my final year.  
As interesting as these modules were, the practice of law itself was not what I wanted to commit my life's work to so I decided to return to science, environmental science in particular, to undertake an MSc in sustainability at SOAS. The programme had a very international outlook and lots of earth science content which appealed to me as well as also having the opportunity to try placements in industry in other countries. 
Later, the inner teenager still yearning to save the world from itself made a reappearance and around about the same time, I discovered Surrey's Practitioner Doctorate in Sustainability, through the University's fantastic Advancement service. This opportunity has allowed me to conduct applied research in the industrial world, which has the potential to be much more impactful and the biggest plus is that it is 100 per cent industry funded.
If you have one piece of advice for women wanting to break into engineering as a career, what would it be?  
Don't sweat the small stuff. If you don't know what you want to do or where/how to start, don't panic! Start doing something small and make connections…put the phone down and talk to people and ask about things you don't understand - And whatever you do, don't sit at home worrying about not figuring it all out yet. The more you connect and challenge yourself in situations, the more you discover about yourself – what you like, what you don't like, what you are useless at, what you should do again.
Looking to the future, what is the greatest transformation that you believe engineering will achieve?  
We are facing an impending climate crisis on a level that demands immediate attention. Unfortunately, I am a realist (but not a pessimist!) and whilst there are immense technological and engineering breakthroughs across diverse sectors, I think the ability to transform the future will come down to mass behaviour change. There are engineering achievements every day worth shouting about, but if we want to incorporate these changes into our everyday lives, our routines will be disrupted and uncomfortably inconvenient for a while. It is not possible to engineer a magic pill that allows business as usual, so we as one globalised society need to realise this quickly and make the right decisions instead of marching on into oblivion.