---
news
Sir Ed Davey MP visits CES
Surrey's Centre for Environment and Sustainability (CES) was delighted to welcome Sir Ed Davey MP for a visit on 10 July, and talk him through the University's research and teaching on sustainability.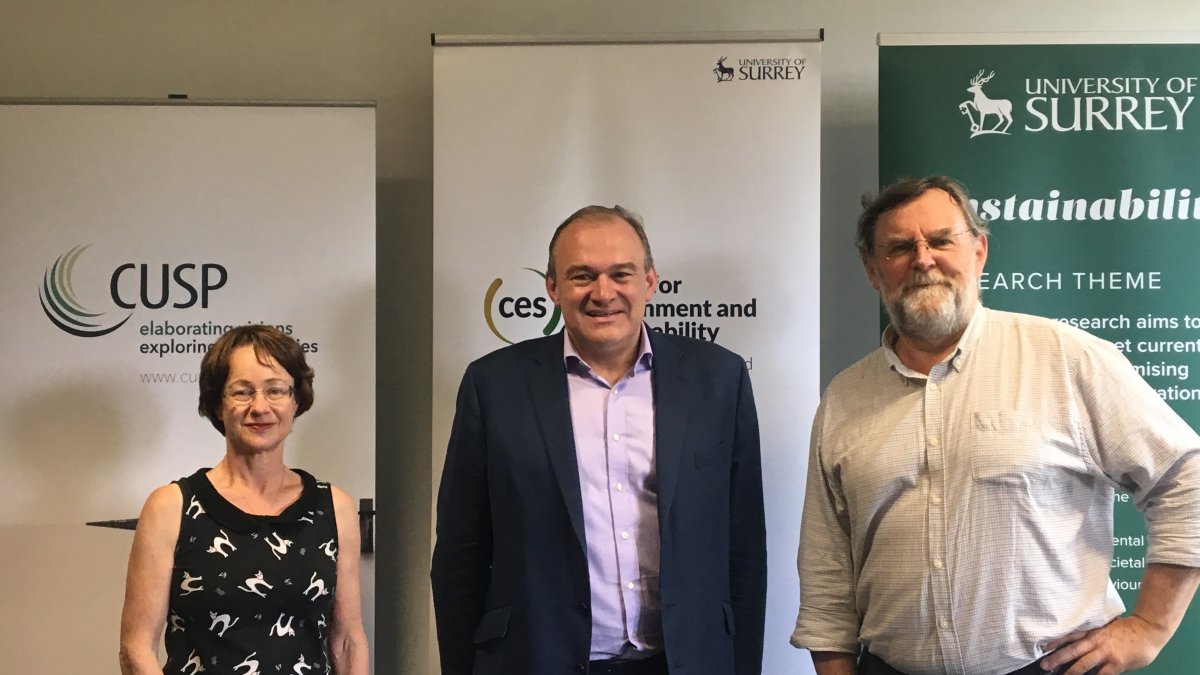 Sir Ed, who is Lib-Dem MP for Kingston and Surbiton and former Secretary of State for Energy & Climate Change (2012-2015), was presented with an overview of the work of the Centre and the ESRC Centre for the Understanding of Sustainable Prosperity (CUSP).
His hosts Professor Richard Murphy (Head of CES) and Professor Angela Druckman (Co-Investigator of CUSP) also talked to him about wider sustainability activities and progress across the University.
Some of the discussion highlights included sustainable infrastructure and housing, and how sustainable finance can help to "decarbonise capitalism" (in Sir Ed's memorable phrase). Other topics included green technology implementation, its support by government and regulation, and the enhancement of training opportunities in sustainability for students.
Professor Murphy said: "Sir Ed complimented us on the range and depth of what we're doing on sustainability at Surrey. It was a great pleasure to have this valuable time with a notable political leader with deep interests in sustainability, and we look forward to maintaining the connection."
After the visit, Sir Ed tweeted: "Earlier I had the privilege of visiting @CES_Surrey – looking at how we can improve sustainability & protect the environment."
Discover our courses in environment and sustainability.