---
news
Published:
14 August 2020
Surrey contributes to major advance in alkaline membrane fuel cells
Professor John Varcoe from Surrey's Department of Chemistry has contributed to a new study showing massively improved performance in alkaline membrane fuel cells, which could pave the way for more sustainable energy conversion.
Credit: Nature Communications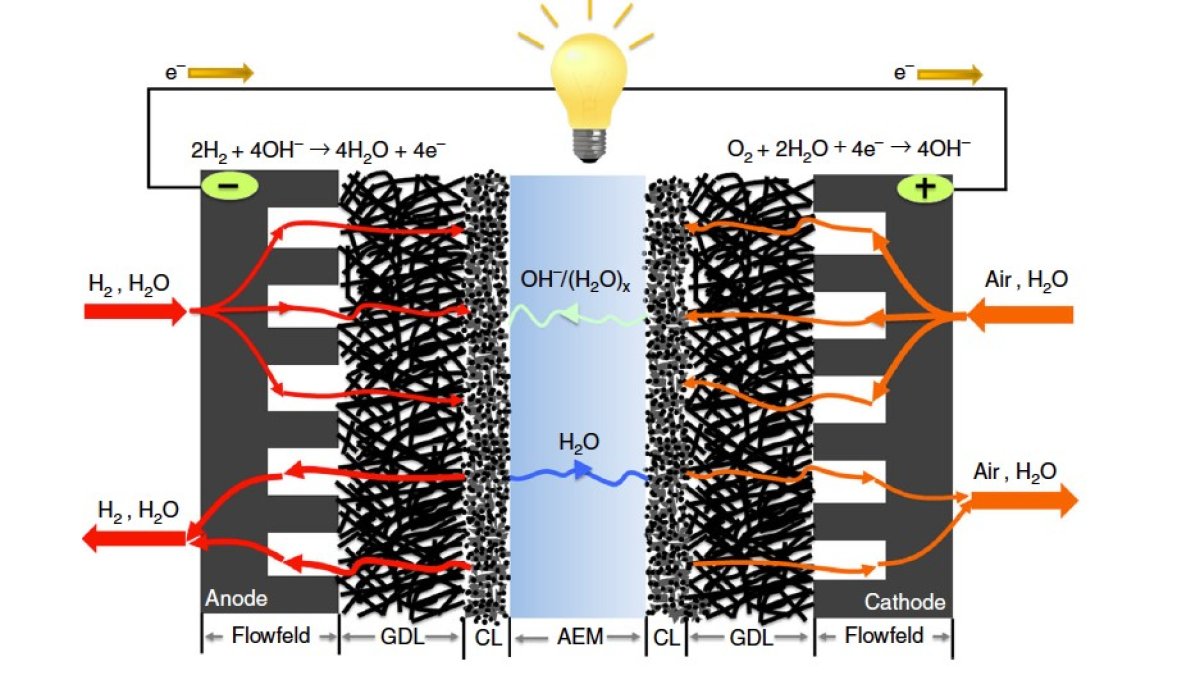 "The driving force behind developing fuel cells is to get carbon and carbon dioxide out of the energy cycle," says John. "The fuel cells currently used in cars also need lots of platinum. But unless we start mining asteroids, there isn't enough platinum on the planet to change every car in the world into a fuel cell car.
"So we're looking at alkaline membrane fuel cells. The good thing about using alkaline is you have more catalyst options to drive the chemical reactions that ultimately produces the energy. This means they don't need so much expensive, scarce precious metal."
Sadly, there are problems operating alkaline membrane fuel cells.
Record performance
John continues: "Every study to date has struggled to get these things operating for more than 100 hours. Scientists initially suspected this limitation was due to the degradation of the polymer materials used.
"But the study an American team has just published, which used polymer electrolyte powders and membranes developed in Surrey, has shown it was probably water flooding inside the system that was causing the problems limiting performance.
"Using our high-performing polymer electrolyte materials, the study basically broke the 1000-hour barrier with a cell operating at quite a high current density."
Much of this research is published in the journal, Nature Communications, which lists John and Dr Lianqin Wang, a Surrey researcher, in its list of authors.
"The idea of the powder came from me and my other role was to supervise two postdoctoral researchers, Lianqin and Simon Poynton," adds John. "Lianqin made breakthroughs in the membrane and Simon initially developed the powders.
"We've also been collaborating with the paper's lead author, Professor William Mustain, for many years. In 2014, he won a Fulbright Scholarship to come to Surrey to work in our labs to help develop these ideas."
Moving forward
There's also another local link, which may ensure this technology makes it to market.
"Opinion is divided as to whether these fuel cells will make it into cars," remarks John. "Ultimately, they need to last tens of thousands of hours, so we're still some way off.  
"But we are working with a local company to explore other markets. One such use could be as a pollution-free and noiseless alternative to portable diesel generators for backup power in recreational vehicles and telecommunications."
Looking to the future, John says the work on this technology is far from finished.
"We've won two major grants to continue this research," John reveals. "We'll be working in collaboration with the University of Newcastle to create a more durable membrane.
"And we're part of SelectCO2, a four million Euro EU project led by the Danish Technical University to investigate creating electrochemical cells to convert carbon dioxide into high value chemicals, which is an important area of inquiry at the moment.
"Could we tailor our membranes for such CO2 conversion cells? We're hoping so…"
Find out more about studying at Surrey's Department of Chemistry.
Featured Academics
---
Related content
---