---
news
Published:
15 September 2023
Surrey's Peryton Space Team is flying high!
A Peryton is a mythological stag with wings. Some say the creature bears an uncanny resemblance to the University's Surrey Stag. However, the Peryton Space team at the University of Surrey is not chasing ancient mythological beasts. Instead, team members are focused on high-tech subjects like rocketry and satellite engineering.
The team consists of around 40 students who take part in a variety of UKSEDS competitions. And although it's a relatively new group, they've done rather well.
"We won two national competitions, both on our first attempt," says Tommy Richards  (Aerospace Engineering MEng), who has led the team since summer 2020. "We won the Mach-23 Rocketry 1.5 km Category and the Best Satellite Award in the UKSEDS Satellite Design Competition."
The first involved designing, building and launching a rocket that had to get as close as possible to an apogee (or maximum height) of 1.5 km, as well as releasing a 1 kg CanSat payload from the rocket. A CanSat, as the name suggests, is a cylindrical payload that, in Peryton's case, contained solar cells to fulfil the competition's sustainable brief.
"We had a successful launch from Machrihanish in Scotland, and managed to fully recover the rocket and CanSat," Tommy says.
The second competition challenged the team to design a small CubeSat to measure the speed and size of small pieces of space debris. After getting selected as among the top five, the team went to the Airbus Defence and Space HQ in Stevenage, where they completed several tests, including solving a mystery room and conducting vacuum chamber tests. Following their fantastic performance in these tests, the team was awarded the Best Satellite Award.
The team is also awaiting news of how it did in the UKSEDS National Rocketry Championship. They achieved two successful launches with their rocket, Geiger Nova, which carried contained a 100g payload holding a Geiger counter to measure radioactive material in the air. Learning from the lessons of their first launch, the second launch resulted in the rocket landing safely in a fully reusable state.
So is there a connection between their successes and the fact that CubeSats have their roots at Surrey Space Centre? Surrey academics have a long history in developing advanced satellite systems and teaching the key skills within Surrey courses. Tommy says:
"I think we did so well because we're dedicated, worked well as a team, and ensured close collaboration between mechanical engineers and electronic engineers, and it certainly helped being able to use the fantastic Surrey Space Centre facilities, which space businesses come in to use too." 
Satellite Design Competition team lead Ieuan Carney (MEng Electronic Engineering with Space Systems) has always been fascinated by space, saying, "Space, stars, and the underlying science behind them. I have always had a desire to tinker and build projects. Combining these two passions fitted perfectly into my degree. Then I joined the Peryton Space team at the start of my final year. I joined to use some of the technical and practical skills that I had learned about over the course of my degree in a real-world setting, as well as some of the leadership skills I had gained. This was a way I could combine these skills with the support of my peers and the University."
Next Ieuan is staying on at Surrey Space Centre to do a PhD researching specialist materials and structures which can be deployed in space.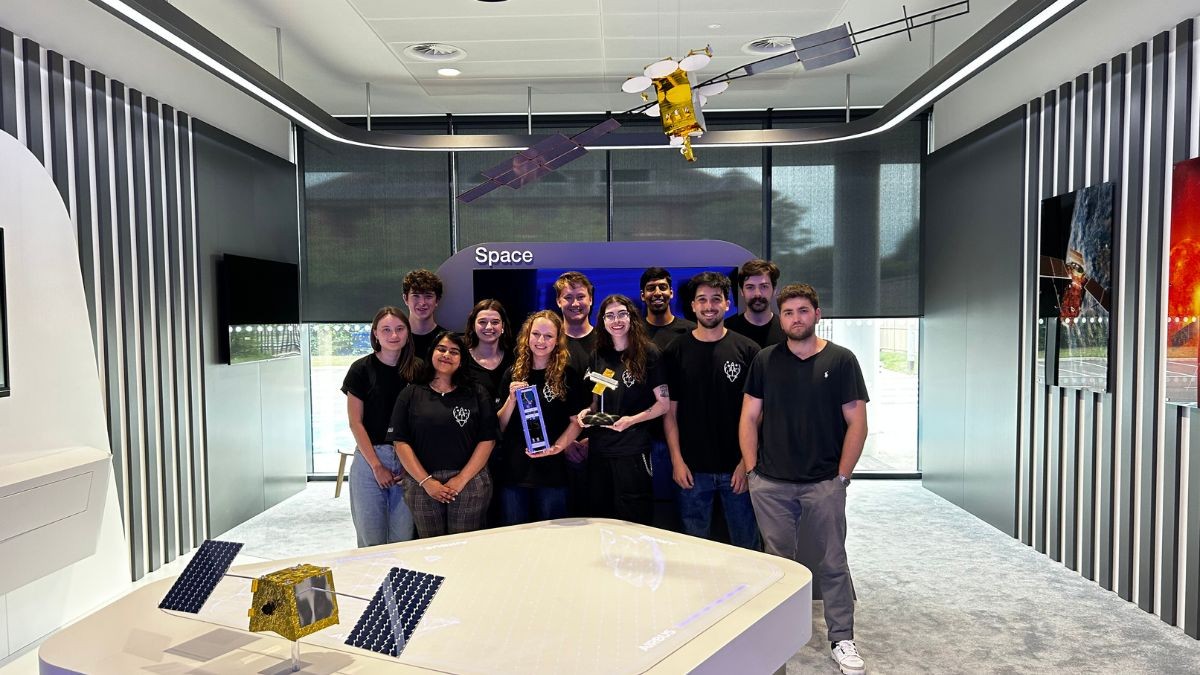 Surrey Space Centre's Dr Chris Bridges supported the Peryton Space team. He says: "Peryton Space has truly excelled. There are fabulous opportunities for students to get extra practical, hands-on experience developing skills needed by the space industry, and to use the specialists and facilities at Surrey Space Centre. They're also a lot of fun!"
With the space industry generating an income of over £3bn in Surrey and Hampshire alone and an acknowledged shortage nationally of people with the specialist engineering skills required, Peryton Space has long term potential for the students involved.
"The decision to take over as the Team Lead of Peryton Space was the best decision I have made at University," said Tommy. "It has opened so many doors. For example, I think it was the main reason I was selected to take part in the ESA (European Space Agency) Academy Spacecraft Testing Workshop in Belgium in 2022."
The Peryton Space team is a great example of how Surrey is preparing students for the future of space engineering. By providing students with the opportunity to participate in challenging competitions and to gain real-world experience, Surrey is helping to ensure that its graduates are the best in the business.
Peryton Space has a sister aircraft design team, Team Peryton, who were Grand Champions at the IMechE UAS Challenge in 2021 and 2022 and were also the best UK team in 2023.
Dr Rob Siddall, the academic supervisor for Team Peryton and Peryton Space says:
"Engineer is a verb, and at Surrey we want to give our students the freedom and resources to build and test challenging projects – there's just no substitute for seeing something you built yourself take to the sky. The teams have done incredible work this year and have big plans for next year, which I'm very excited about!"