---
news
Published:
09 November 2021
A week in the life of a Business Management student
Toby pictured in the second row, bottom from the right.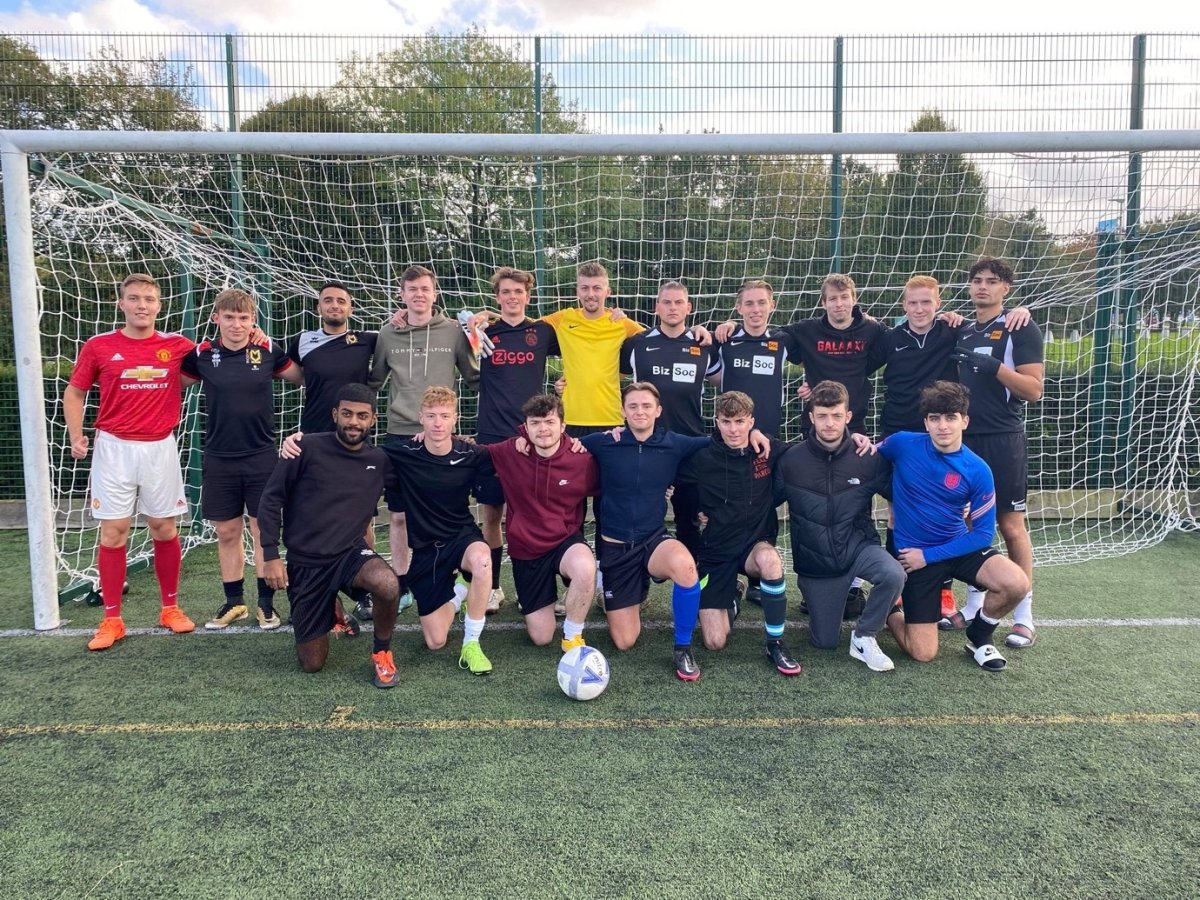 Mornings
I always have lectures and seminars scheduled for the early mornings, who doesn't love a 9am! These are currently taking place in a hybrid learning model, this means that the pre-recorded videos and slideshow content are available for students to watch in advance. These are followed by online lectures and in-person lectures or seminars which are a great opportunity to go through the content with the lecturer and a great chance to meet new people, which wasn't possible in the first year due to Covid-19. Both in-person and online lectures are interactive and engaging with my lecturers constantly open to questions and discussions.
I personally prefer completing all my work in the library rather than at home, as this means I'm away from distractions, whether that's my housemates or my PlayStation! The library is a great study space, and it has five levels to choose from depending on whether you're doing silent study or group work sessions. It also has the University shop SimplyFresh underneath it, so it's great to pick up snacks, lunch or even a coffee to get that extra caffeine in to give you the boost to complete your work. If you don't like the library, there's also plenty of chilled and comfy study spots around campus like the Hive, Nest and even study spaces within the Business School itself (which not many people know about).
Afternoons
Every afternoon for me is different, but it's usually a time to complete upcoming work and get prepared. But of course, there are afternoons where I do take a break from work, which I think is essential for everyone to do.
As many know, Wednesday afternoons are kept free for sport and socials. I currently play for the Business School's football team 'BizSoc'. I highly recommend being part of a society, at Surrey's Students' Union, there are over 100 societies so there's something for everyone! It's a great way to get away from your laptop and textbooks and do something you love, even if it's only for an hour or two, it acts as a brilliant distraction and will benefit your mental health immensely.
Other afternoons consist of going into town to browse the great selection of shops, grabbing a bite to eat or a coffee from one of the many choices of restaurants and hidden coffee shops. I also enjoy going on walks around Guildford. Guildford has some amazing views like the Mount, where on a clear day you can see London!
Evenings
I try to spend my evenings away from the library, instead, evenings for me are about spending them with friends. With nightclubs open, Wednesday at the Rubix nightclub is 'Citrus' so that's a definite must! On other evenings we have movie nights and go to TopGolf which is only a twenty-minute drive from Guildford, also there is Bowling and Ice Skating at Guildford Spectrum for those who may not want to travel as far. The Marquee on Pats Field also hosts weekly Harry's Quiz night, so if you're ever stuck for ideas on what to do with your flatmates or course mates go along for a good laugh and a few drinks to bring out your competitive side.
On the weekends I work in retail, thankfully my job is very flexible, so it fits perfectly around my other commitments and my studies and being a nice break from university work. Even with the second year being a step up from the first year, there is still a lot of time to be spent doing the things you enjoy.
I absolutely love my course and am so glad I chose to study at Surrey. The facilities are purpose-built and our teaching staff are some of the best!
Find out more about the Business, Marketing and Management courses at Surrey Business School.