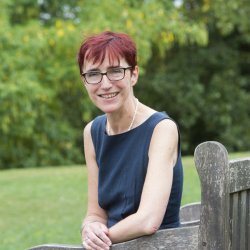 Professor Abigail Bristow
---
Head of Department of Civil and Environmental Engineering
BSc, MA, PhD, FCIHT, FIOA, FRSA, MASA
About
Biography
Abigail Bristow is Head of the Department of Civil and Environmental Engineering and Professor of Civil and Environmental Engineering at the University of Surrey. She moved to Surrey in 2016 from Loughborough University where she was Professor of Transport Studies in the School of Civil and Building Engineering where she led the Transport Studies Group until 2015.
Before moving to Loughborough in 2005 she was a senior lecturer at the Institute for Transport Studies at the University of Leeds. She is a Fellow of the Institute of Acoustics, the Royal Society of the Arts and the Chartered Institution of Highways and Transportation. She is also a member of the Acoustical Society of America.
She chaired the Research Coordination Committee of the Institute of Acoustics (2016-2020) and is a member of the EPSRC Peer Review College, she was a Board Member of the Low Carbon Vehicle Partnership (2007-2011). Professor Bristow has extensive experience in the conduct and management of research in the areas of transport management and policy and most notably appraisal of the environmental effects of transport with particular focus on noise and climate change.
Research

Research interests

Work on the economic valuation of transport noise has involved the application of stated choice techniques to value road transport noise nuisance in Edinburgh, Kunming and Lisbon and aircraft noise nuisance in Athens, Bangkok, Bucharest, Lyon and Manchester. Recently completed work includes the first meta-analysis of stated choice valuation studies in the context of transportation noise and contribution to a study of the impacts of noise on productivity for defra. Now beginning to focus on the economic value of positive aspects of sound and the environment including contributions to work on the economic value of local environmental factors and quiet areas for defra and a current stream of research exploring the nature and value of restorative space on the University campus.

Research on carbon emission reduction includes: studies exploring ways of achieving significant reductions in passenger transport emissions in the UK by 2050 and freight transport emissions in London by 2050; transport in the hydrogen economy; cost effective carbon mitigation in the transport sector; the potential role of personal carbon trading in delivering emissions reductions in transport and domestic energy and LCV_GRID, a project exploring the market for gas powered vans in the UK. A recently completed PhD student project explored the potential for the use of CNG in transport in Nigeria.

Another research stream relates to the provision and appraisal of passenger transport services notably: exploring the role of a potential freight tram in Barcelona; the influence of soft factors in demand for bus services; assessing the performance of innovative support mechanisms, such as kickstart in the bus industry; value for money in bus subsidy; quality bus partnerships and the value of bus attributes in Dhaka.