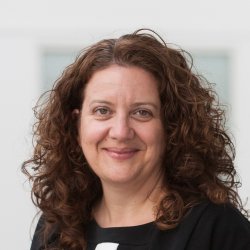 Amy Dopson
---
Head of Continuing Professional Development (CPD); Director of Studies Integrated Care (Nursing); Principal Teaching Fellow
Biography
As the Lead for the Child Field Nursing BSc Programme, Amy is a duel qualified nurse with a clinical background of almost 25 years healthcare experience, specialising in Emergency Care. Maintaining her clinical role as an Advanced Paediatric Nurse Practitioner within a local children's Accident and Emergency Care department is something she remains passionate about.
Driven by a strong commitment to professionalism and excellence in healthcare practice, Amy is keen to ensure the school leads nationally, providing innovative healthcare programmes that inspire and motivate our students to question and develop practice.
Having initially trained as a Registered General Nurse at The Nightingale Institute, Guys Hospital, Amy then completed her Children's Nursing programme here at Surrey, her MSc in Advanced Practice at City University, and has recently started her PhD.
University roles and responsibilities
Module Leader (Professional Preparation)
Research
Research interests
Parents experiences of witnessing invasive treatment (MSc)
Teaching ethics in nursing: combining forum theatre and simulation
Decision-making processes of parents accessing urgent healthcare services (PhD)
Prevention of injury in children
My teaching
Main areas of interest:
Assessment of the Unwell/Deteriorating Child
Paediatric Emergency Care
Paediatric Resuscitation
Pre-hospital care of the infant/child
Advanced Paediatric Assessment
Safeguarding Children
Ethics in healthcare
Development of clinical practice in healthcare - in particular the use of simulation
Development of professionalism
My publications
Highlights
Conference presentations
"Exploring Ethical Issues Through Performance Simulation – A Collaboration between Performance and Practice"
Panel on Nursing Education, 1-4 May 2017, Athens, Greece as part of the 3rd Annual International Conference on Nursing.  Athens Institute for Education and Research (ATINER) 
"Facilitating Students' Confidence in Dealing With Challenging Situations in Practice"
3rd Nursing World Conference (NWC), Rome 2018
Published work
Jones F, Whitehouse A, Dopson A, Palaghias N, Aldiss S, Gibson F, Shawe J (2019) Reducing unintentional injuries in under-fives:  Development and testing of a mobile phone app, Child Care Health Development, 1-10.  DOI: 10.1111/cch.12729
Dopson A, Colliety P., Andrews S., Hughes T & Markless S., (2017) "Terrifying but Amazing": The Use of Supported Performance Simulation to Enhance Student Nurse's Ability to Learn and Articulate Ethically Sound Practice,  Athens Journal of Health, 5(1): 37
Action Research Project, evaluating cross-faculty learning and teaching project to enhance ethical understanding and practice for student nurses
Dopson, A., Colliety, P., Andrews, S., Hughes, T. and Markless, S. (2017). ""Terrifying but Amazing": The Use of Supported Performance Simulation to Enhance Student Nurse's Ability to Learn and Articulate Ethically Sound Practice", Athens: ATINER'S Conference Paper Series, No: NUR2017-2260.
[Paper above, initially published as conference paper]
Dawson P, Cook L, Holliday L & Reddy H Eds. (2012)  Clinical Skills in Children's and Young People's Nursing. Oxford University Press, Oxford
Contributed following six sections:
Cardio vascular system: History taking and assessment
Cardio vascular system: Cardiac monitoring
Cardio vascular system: 12 lead ECG
Cardio vascular system: Positioning of electrodes
ENT System: Removal of foreign body from nose  
ENT System: Removal of foreign body from ear
Currently revising for 2nd Edition due out 2020
Glasper EA, McEwing G, Richardson J Eds.  (2011)  Emergencies in Children and Young People's Nursing  Oxford University Press, Oxford.
Contributed following four sections:
Sudden Unexplained Death in Infancy
 Witnessed Resuscitation
Unexpected Death 
Dopson A (2008) Competence and Confidence in Paediatric Drug Calculations  Nurse Prescribing 6(5)
Clinical article aimed at supporting qualified nurses with drug calculation competency.
Dopson A (2001) Penetrating Trauma: a case of the unexpected  Emergency Nurse 9(1) 36-40
Clinical article discussing the implications and consequence, through a case study, of the downsizing of Accident and Emergency departments.
Removal of foreign body from nose vii.ENT System: Removal of foreign body from ear
Publications
Background: Unintentional injuries are a leading cause of preventable death and a major cause of ill health and disability in children under five years of age. A health promotion mobile phone application, ?Grow up Safely?, was developed to support parents and carers in reducing unintentional injuries in this population of children.
Methods: A prototype of the mobile application was developed to deliver health education on unintentional injury prevention linked to stages of child development. In order to explore the usability of the app and refine its content, three focus groups were conducted with 15 mothers. Data were analysed using thematic analysis.
Results: The majority of participants reported previous use of health apps, mainly related to pregnancy, and recommended by health professionals. The app was considered user?friendly and easy to navigate. Participants in two focus groups found the app informative, offered new information and they would consider using it. Participants in the ?young mum's? group considered the advice to be ?common sense?, but found the language too complex. All participants commented that further development of push?out notifications and endorsement by a reputable source would increase their engagement with the app.
Conclusion: The ?Grow Up Safely? mobile phone app, aimed at reducing unintentional injuries in children under five, was supported by mothers as a health promotion app. They would consider downloading it, particularly if recommended by a health professional or endorsed by a reputable organisation. Further development is planned with push?out notifications and wider feasibility testing to engage targeted groups, such as young mothers, fathers and other carers.