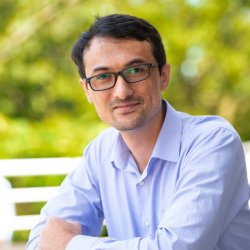 Dr Anup Basnet
---
Lecturer in Finance
Ph.D. in Business Administration (Finance)
Biography
Dr Anup Basnet joined the Surrey Business School as a Lecturer in Finance in September 2021. He completed his PhD in Business Administration (Finance) from Concordia University, Montreal, Quebec, Canada. He holds a MSc in Finance from Hanken School of Economics, Vaasa, Finland. He has teaching and research interests in the areas of corporate finance.
Areas of specialism
Venture Capital, Initial Public Offering, Mergers and Acquisitions, Litigation
University roles and responsibilities
Second Year Programme Leader, Accounting and Finance BSc
My qualifications
2021
PhD in Business Administration (Finance)
Concordia University
2015
MSc in Finance
Hanken School of Economics
Affiliations and memberships
Research
Research interests
Corporate Governance, Empirical Corporate Finance, Entrepreneurial Finance, Litigation, Sustainable Finance
My teaching
MAN2089: Business Finance
Previous courses taught: Introduction to Finance, Theory of Finance
My publications
Publications
Anup Basnet, Frederick Davis, Thomas Walker, Kun Zhao
(2021)
'The effect of securities class action lawsuits on mergers and acquisitions. Global Finance Journal, 48, 100556
This paper investigates whether shareholder class action litigation affects the takeover candidacy, premium, and completion rate of mergers and acquisitions involving defendant target firms. We use a comprehensive dataset of publicly traded U.S. firms that became the targets of takeover bids between 1998 and 2016 and find that firms subject to shareholder class action lawsuits within the previous two years are more likely to be targeted for acquisition while commanding a significantly higher premium. Firms that face such litigation after a takeover announcement experience a significant decrease in takeover completion.
Sergey Barabanov, Anup Basnet, Thomas Walker, Wangchao Yuan, Stefan Wendt
(2021)
Firm- and country-level determinants of green investments: An empirical analysis. Managerial Finance, 47 (11), 1672-1692
The authors find that larger firms tend to invest more in green projects, whereas firms that are highly valued or more profitable are less likely to go green. In terms of country-level determinants, we find that the gross domestic product (GDP) per capita and population are positively related with GI, while GDP growth and surface area are negatively associated with GI. Additionally, firms in common-law countries and English-speaking countries make fewer GI than firms in other countries.