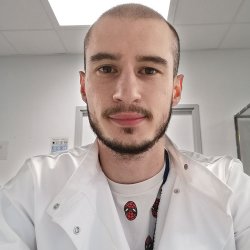 Cedric Vallee
---
Postgraduate Research Student
MSc, Toxicology & Ecotoxicology
My research project
Exploration of ion selectivity in the Epithelial Sodium Channel
Ion channels in living cells are examples of where quantum effects can play a role in biology. These proteins provide a selective conduction of ions across cellular membranes, which is crucial for cell survival. They are so important that they rank as the second most important target for the development of pharmaceutical drugs. However, the mechanisms behind their selectivity - e.g. how these proteins can perfectly discriminate between ions - is poorly understood.
The aim of this exciting PhD is to investigate selectivity of sodium (Na+) within a specific channel: the Epithelial Sodium Channel (ENaC). Studies will be driven by two different but related approaches: simulation via computer modelling and experiments via electrophysiology. I will mainly be focused on the selectivity filter of the channel, which is the part where the channel can discriminate different ions, even those of identical charge, allowing only the right one to pass through, in this case Na+. The motif in the ENaC is (G/S)XS, where X is a different residue in each subunit and also in other channel of the same family like ASIC for example.
It has been stated that residues of the selectivity filter create an energy barrier that ions have to cross. The aim of my project is to simulate the ion flow through these energy barriers, whilst experimentally measuring ENaC kinetics. To investigate the mechanism, several parameters can be tested: different ions (Li+, K+, Ca2+), isotopes (24Na, 40K, heavy water), flow direction and phospholipid composition of the membrane.
Supervisors
My qualifications
2017
BSc, Molecular and Cellular Biology
Le Mans Universite, France
2019
MSc, Toxicology and Ecotoxicology
Le Mans Universite, France
2019
MSc Thesis Project:
Pharmacological characterization of CDX, a Candoxin-inspired antagonist of nicotinic acetylcholine receptors.
Supervisor: Prof. Kini R. Manjunatha
Protein Science Laboratory, National University of Singapore