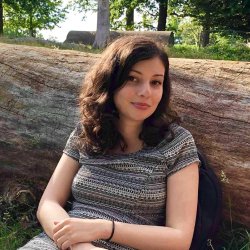 Delia Ciobotaru
---
Postgraduate Research Student
BSc, MSc
My research project
Altering cognitive and affective control in rumination through personalised neurostimulation
My research interests lie in personalised neurocognitive interventions that manipulate the interaction between cognition and emotion in populations at risk for depression and anxiety. I first aim to investigate the cognitive and emotional challenges faced by high ruminators through qualitative and quantitative research methods. Then, my goal is to enhance the well-being of young adults prone to rumination through non-invasive brain stimulation, neuroimaging, and machine learning techniques.
Supervisors
My qualifications
2020
MSc Educational Neuroscience (Distinction)
UCL & Birkbeck, University of London
2019
BSc (Hons) Psychology
UCL
My publications
Publications
Delia Ciobotaru, Ryan Jefferies, Ludovica Lispi, Nazanin Derakshan
(2021).
Rethinking cognitive training: The moderating roles of emotional vulnerability and perceived cognitive impact of training in high worriers
View abstract
View full publication
Trait worry is a hallmark feature of anxiety and depression, interfering with  and impairing cognitive performance. Previous research has shown the adaptive dual n-back training is effective in improving attentional control and reducing emotional vulnerability, but not for everyone. The current randomised controlled trial explored the role of baseline emotional vulnerability and perceived cognitive impact in training-related cognitive and emotional improvements in 60 high worriers randomly assigned to 10 sessions of the adaptive dual n-back training or non-adaptive 1-back training. Pre-training, post-training and one-month follow-up measures of cognitive performance were assessed using an emotional Flanker task, a cued task-switching task, and the MaRs-IB task. Self-report questionnaires assessed worry, anxiety, depression, somatisation, and self-efficacy, as well as participants' perceived cognitive impact of the training. Participants with higher levels of baseline emotional vulnerability presented the largest improvements in non-verbal reasoning and emotional vulnerability one month after the training, as well as the greatest perceived cognitive impact. Perceived cognitive impact was predicted by working memory improvement on the adaptive n-back training at high baseline levels of anxiety. These results suggest that the adaptive n-back training presents the greatest emotional and cognitive benefits for individuals experiencing severe levels of emotional vulnerability.