Dr Devendra Saroj
---
Reader and Head of Centre for Environmental Health and Engineering (CEHE), Fellow of Institute for Sustainability, University of Surrey
PhD, CEnv, MSOE, FHEA
About
Biography
Devendra Saroj was awarded PhD in Environmental Engineering from University of Trento (Italy). Prior to joining Surrey, Devendra worked at UNESCO-IHE (Delft, Netherlands) as a Lecturer in Wastewater Engineering. Devendra graduated in Civil and Environmental Engineering, with B.Tech. from Indian Institute of Technology (IIT)-Roorkee (India) and M.Tech. (Environmental Engineering) from IIT-Kanpur (India).
His work covers wide area of water/wastewater treatment, water reuse, protection of aquatic environment, and various aspects of water-food-energy-environment nexus. His recent works include: Sustainable sanitation and nutrient recycling in agriculture, water reuse in hydroponic agriculture, nutrient pollution of freshwater bodies, membrane assisted bioreactors for domestic and industrial wastewater treatment, membrane technology for water reuse, decision support in water supply, reuse and sanitation, adaptation of wastewater treatment works for biological nutrient removal, removal of organic micro-pollutants, biofilm biotechnology for advanced wastewater treatment, microbial communities in bioreactors for wastewater treatment, recovery of fertliser from wastewater and anaerobic biodegradation of organic waste materials, sanitation and public health. Additionally, he has led projects in Southeast Asian region on wetlands for the protection of ecosystem, adaptation to climate change and resilience - including disaster resilience (Islands: environment and communities).
Affiliation: Head of Centre for Environmental Health and Engineering, a designated World Health Organization (WHO) Collaborating Centre for the protection of water quality and human health.
News: UK-Philippines Newton Prize awarded to project NEXCITIES: PIs: Dr Devendra Saroj and Professor Michael Promentilla 
Philippines- UK Science Partnership: Standing Among Giants
UK-PHILIPPINES: Boosting prosperity and health by turning sewage into fertiliser
Resource-Oriented Sanitation: On-Farm Septage Treatment and Nutrient Recycling for Sustainable Agriculture in the Philippines
Sustainable Sanitation- How Can We Improve Sanitation Systems in the Global South?
Visit to French NGO project site:  Life Project 4 Youth at Calauan, Laguna (Philippines)
Webinars: Circular Nutrient Economy:  https://bit.ly/3e2IIhI
Wastewater Based Epidemiology (WBE):
UK-India Sewage-Surveillance Research Partnership
Article: Sewage Epidemiology Can Critically Strengthen, Save Lives
Webinar: UK-India Webinar on Covid-19 and Wastewater (Video)
RCUK-Philippines project:
NEXCITIES- Water-Energy-Nutrient Nexus in Cities of the Future (EP/P018513/1)
In this project a new concept of Water – Energy – Nutrient nexus in cities of future has been proposed for a systematic study. The concept Water – Energy – Nutrient nexus for future cities would help in identifying factors involved in energy and resource efficient wastewater management for improved water resources, enhanced water quality, sustainable food production using recycled nutrients and positive social impact. The project (NexCities) aims to establish new research collaboration among Universities of Surrey, Nottingham, UK and De La Salle University (DLSU), Philippines.
British Council-Philippines project (Newton Fund):
Impact of nutrient recovery for improving wastewater management and protecting water quality- case study of Laguna de Bay, Philippines
The research project focuses on developing a novel approach by integrating a lake model with the life cycle sustainability assessment (LCSA) to evaluate the environmental, social, and economical impacts of integrating a nutrient recovery system with wastewater treatment systems on water resources, using Laguna de Bay (Laguna Lake), Philippines as a case study.
News: Circular nutrient economy concept in agri-food systems by recycling wastewater nutrients: PhD research at University of Surrey
British Council-Philippines project (Newton Fund):
Resilience of Island Community and Environment- Philippines
In this project a disaster risk management and recovery planning approach for the protection of infrastructure and environment will be developed (funded by British Council-Newton Fund and CHED, Philippines), focusing on a case-study of an island community in Batanes, Philippines.
News: Resilience of Batanes Island (Philippines) for disaster risk and recovery
Work on Southeast Asian region on adaptation to climate change and resilience - including disaster resilience (Islands: environment and communities).
RCUK-India project:
SMArt CitIES Network for Sustainable Urban Futures (SMARTIES Net)
The aim of this SMARt ciTIES Network is to establish a consortium of multidisciplinary, international researchers with expertise spanning education and social science, cultural heritage and urban planning, science and engineering, ecology and environmental sciences and information technology to develop new collaborative solutions to the multi-layered challenges of rapid urbanisation. The UK-India Consortium of researchers will meet in different cities in India to brainstorm solutions to the challenges faced by urban dwellers, policy makers and governors of those locations. Future Cities reports will be created based on the discussions and key innovations identified.
Areas of specialism
Water-Energy-Food-Environment Nexus;
Water and Environmental Engineering;
Biological Wastewater Treatment;
Water Reuse ;
Urban Water Management;
Sanitation;
Resource recovery from wastewater and organic waste
My qualifications
2008
PhD Environmental Engineering
University of Trento, Italy
2004
MTech Environmental Engineering
Indian Institute of Technology (IIT), Kanpur, India
2002
BTech Civil Engineering
Indian Institute of Technology (IIT), Roorkee, India
Previous roles
2007 -
2008
Post-doc Research Associate
University of Trento, Italy
2007 -
2007
Visiting Researcher
EAWAG (ETH System), Switzerland
2008 -
2010
Lecturer, Urban Water and Sanitation
UNESCO-IHE Institute, Delft, Netherlands
Affiliations and memberships
EPSRC
Member: EPSRC Peer Review College
Newton Fund
Member: Reviewer Panel
Higher Education Academy
Fellow, Higher Education Academy
Commonwealth Scholarship Commission
Member: Commonwealth Scholarship Commission Panel of Advisers
UK-Philippines Newton Prize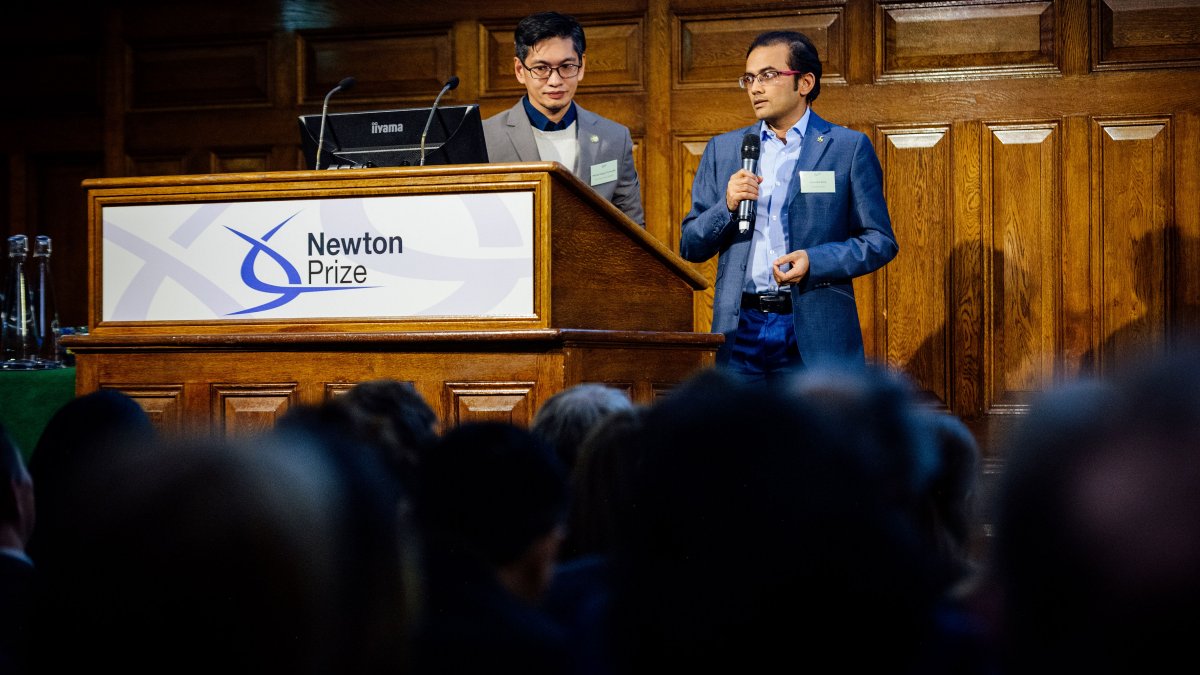 Research

Research interests

Dr Saroj's work covers wide area of water/wastewater treatment processes for water reuse and protection of aquatic environment. His recent works include: Sustainable sanitation and nutrient recycling in agriculture, water reuse in hydroponic agriculture, nutrient pollution of freshwater bodies, membrane assisted bioreactors for domestic and industrial wastewater treatment and recycling, membrane technology for water reuse, decision support in water supply, reuse and sanitation, adaptation of wastewater treatment works for biological nutrient removal, removal of organic micro-pollutants, biofilm biotechnology for advanced wastewater treatment, microbial communities in bioreactors for wastewater treatment, recovery of fertliser from wastewater and anaerobic biodegradation of organic waste materials. Additionally, he has led projects in Southeast Asian region on adaptation to climate change and resilience - including disaster resilience (Islands: environment and communities).

UK-Philippines Newton Prize awarded to project NEXCITIES: PIs: Dr Devendra Saroj and Professor Michael Promentilla 

Philippines- UK Science Partnership: Standing Among Giants

UK-PHILIPPINES: Boosting prosperity and health by turning sewage into fertiliser

Resource-Oriented Sanitation: On-Farm Septage Treatment and Nutrient Recycling for Sustainable Agriculture in the Philippines

Sustainable Sanitation- How Can We Improve Sanitation Systems in the Global South?

Whose resilience matters? A socio-ecological systems approach to defining and assessing disaster resilience for small islands

Practitioners' Participatory Development of Indicators for Island Community Resilience to Disasters

Notice:

Prospective PhD students who are in the process of their own fellowship applications/funding can contact via e-mail to discuss research topics, admission process or a letter for support. International researchers (post-doc) who are interested in applying for competitive fellowships are welcome to discuss a topic/proposal in my area of research. 

Research projects

STFC Food Network scoping Projects:

STFC Food Network supported research on applying electron beam for wastewater treatment and reuse in agriculture

InRoot project addresses the challenge of growing water demands in the agri-food sector, contributing to adaptation to climate change, global food security and the long-term sustainable use of water resources. InRoot focuses on nutrients wastewater, phosphorus in agricultural soils, nutrient pollution and management. InRoot also looks into the potential of novel methods in advanced treatment of complex wastewater to make suitable for reuse in growing crops and vegetables, and identify any potential contaminants. The project is supported by STFC Food Network+ as one of the scoping studies.

Newton Fund (EPSRC)-Philippines project:

In this project a new concept of Water – Energy – Nutrient nexus in cities of future has been proposed for a systematic study. The concept Water – Energy – Nutrient nexus for future cities would help in identifying factors involved in energy and resource efficient wastewater management for improved water resources, enhanced water quality, sustainable food production using recycled nutrients and positive social impact. The project (NexCities) aims to establish new research collaboration among Universities of Surrey, Nottingham, UK and De La Salle University (DLSU), Philippines. 

Resilience of Island Community and Environment, Batanes, Philippines

British Council-Philippines project:

Resilience of Island Community and Environment- Philippines

In this project a disaster risk management and recovery planning approach for the protection of infrastructure and environment will be developed (funded by British Council-Newton Fund and CHED, Philippines),

focusing on a case-study of an island community in Batanes, Philippines.

RCUK-India project:

The aim of this SMARt ciTIES Network is to establish a consortium of multidisciplinary, international researchers with expertise spanning education and social science, cultural heritage and urban planning, science and engineering, ecology and environmental sciences and information technology to develop new collaborative solutions to the multi-layered challenges of rapid urbanisation. The UK-India Consortium of researchers will meet in different cities in India to brainstorm solutions to the challenges faced by urban dwellers, policy makers and governors of those locations. Future Cities reports will be created based on the discussions and key innovations identified.

Newton Prize: Clean water project is fertile ground for UK-Philippines team

By converting wastewater into nutrient-rich fertiliser the winning Newton funded project is leading the way on improving the health and prosperity of rapidly urbanising areas in the Philippines and Southeast Asia.   

In the Metropolitan Manila region of the Philippines, around three quarters of all sewage flows untreated into the local rivers and lakes. This pollution creates major health risks and has a damaging effect on the local people and the economy.

The Water-Energy-Nutrient Nexus in the Cities of the Future project, led by the University of Surrey and De La Salle University, Philippines and their cross UK-Philippines team, has created a solution to convert wastewater into fertiliser. 

The success of this project in improving sanitation and providing clean water will have both economic and social benefits, improving the health of the population, creating jobs and providing encouragement and motivation for other cities in the Philippines to invest in sanitation for all.

UK-Philippines Newton Prize

Newton Prize: Clean water project is fertile ground for UK-Philippines team

By converting wastewater into nutrient-rich fertiliser the winning Newton funded project is leading the way on improving the health and prosperity of rapidly urbanising areas in the Philippines and Southeast Asia.   

Credit: Dr Devendra Saroj

Dr Devendra Saroj

Dr Devendra Saroj