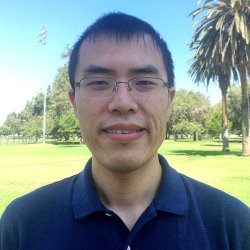 Dr Haomiao Jin
---
Lecturer in Health Data Sciences
About
Biography
I am a health data scientist who is interested in developing and applying machine learning, computational statistics, and systems engineering methods to model complex biomedical data for understanding and improving mental and behavioral health, chronic disease care, and healthy aging. Although my research works have been based on a variety of data, I am particularly interested in dealing with complex self-reported data such as ecological momentary assessment, daily diary, digital survey, and population-based panel data. I also conduct research in health information technology assessment, such as the evaluation of comparative effectiveness, validity and reliability, and user behaviors and acceptance of technology-facilitated assessment and intervention in healthcare.
I have published more than 20 papers on both health informatics journals (e.g. Journal of Medical Internet Research, Journal of Biomedical Informatics, and Methods of Information in Medicine) and clinical and public health journals (e.g. Public Health, Preventing Chronic Disease, Body Image, and Journal of Substance Abuse Treatment).
In prior to joining Surrey, I was a Research Scientist in Data Science and Machine Learning at the Centre for Economic and Social Research and a Research Assistant Professor in Adult Mental Health and Wellness at the School of Social Work in University of Southern California (USC). I received my PhD in Industrial and Systems Engineering, MS in Operations Research, and postdoctoral training in Social Work from USC too.
My qualifications
2018
Postdoctoral Training in Social Work
University of Southern California
2016
Ph.D. in Industrial and Systems Engineering (focus: health data sciences and information technology assessment)
University of Southern California
2015
M.S. in Operations Research
University of Southern California
2012
M.S. in Industrial Engineering
Zhejiang University
2009
B.S. in Industrial Engineering
Zhejiang University
Research

Research projects

Emotional well-being and everyday life function are important outcomes for people with type 1 diabetes (T1D) and are robust contributors to overall quality of life. Various indicators of emotional distress (e.g., negative mood, depressive symptoms, diabetes distress) are elevated in people with T1D. Likewise, function, or the ability to perform necessary or desired daily life activities, is also adversely impacted: symptoms of hypo- and hyperglycemia and T1D self-management tasks can disrupt participation in everyday work, leisure, and social activities among people with T1D. While acute blood glucose levels and variability are thought to contribute to diminished function and well-being in people with T1D, these relationships are poorly understood. Diabetes research to date has primarily relied on global, retrospective measures of blood glucose, function and emotional well-being that cannot capture their complex dynamic relationships as they unfold in everyday life contexts. To overcome this limitation, the Function and Emotion in Everyday Life with Type 1 Diabetes (FEEL- T1D) study is the first large-scale study to integrate continuous glucose monitoring (CGM), accelerometry, and ecological momentary assessment (EMA) to disentangle the short-term dynamic relationships between blood glucose, function, and emotional well-being in adults with type 1 diabetes. In the FEEL-T1D study, 200 adults with T1D will complete a baseline survey battery followed by 14 days of intensive longitudinal data collection using blinded CGM coupled with EMA surveys, ambulatory cognitive tasks, and accelerometer wear. These tools will be used to assess blood glucose, emotional well-being (stress, positive and negative affect, diabetes distress), function (self-reported activity performance, objective cognitive function, physical activity), and covariates that may moderate or confound the relationships of interest. Multiple metrics characterizing blood glucose (acute glucose level, glycemic excursions, glycemic variability, and % time in glycemic ranges) will be derived from CGM data to determine which have the most pronounced relationships with well-being and function on both a short-term and day-to-day basis. By clarifying which metrics of blood glucose are most closely related to clinical and patient-reported outcomes, these analyses will be foundational to the individualization of treatment recommendations and lead to the development of innovative just-in-time adaptive interventions to address the most potent predictors of health and well-being. The study's specific aims are as follows: Aim 1: Understand within-person dynamic relationships between blood glucose metrics, function, and emotional well-being through multi-level time-series analyses using CGM, EMA, and accelerometer data. Aim 2: Examine moderators of short-term and daily relationships, such as demographics, clinical characteristics, and HbA1c, between blood glucose metrics, function, and emotional well-being. Aim 3: Understand how short-term dynamics between blood glucose metrics, function, and emotional well-being are predictive of global function, well-being, and quality of life.

Discovering preclinical markers of cognitive and functional decline in mild cognitive impairment and dementia is fundamental for treatment development and to delay disease onset and progression. Subtle functional deficits on cognitively demanding activities often foreshadow dementia onset, but these early deficits are difficult to assess objectively with conventional methods. The proposed studies aspire to develop and validate performance-based indices for measuring functional deficits at older ages that are cost-effective, unobtrusive, and that could serve as early markers of subsequent cognitive decline and dementia. Specifically, we propose to develop indices of functional deficits that can be derived from participant response behaviors in existing population representative surveys. Completing a survey is a complex and cognitively demanding task that taxes a respondent's neuropsychological capacity. By focusing on how individuals complete surveys, we aim to derive a series of indices of functional deficits using two approaches: (1) The first approach consists of indices that are directly computed from participants' response patterns in questionnaires to capture invalid, incoherent, or erroneous responding on rating scales (examples include agreeing or disagreeing with statements regardless of content, skipping questions, or giving contradictory responses). (2) The second approach considers indices derived from individuals' computer use behavior in online surveys to measure the efficiency, speed, and consistency of behaviors during the completion of online surveys (examples include the proportion of corrected/changed answers, average response time, and response time variability). To evaluate the validity and clinical utility of the indices, we will systematically examine their associations with conceptually related constructs (concurrent cognitive test scores, instrumental activities of daily living, financial wellbeing, frailty), their sensitivity to change with age, their ability to predict subsequent cognitive decline, and their ability to predict the subsequent onset of mild cognitive impairment and dementia. Self-report surveys administered regularly in 16 existing longitudinal panel studies (>50,000 participants) will provide a rich basis for developing and testing indices derived from response patterns in questionnaires. An ongoing population representative Internet panel will provide the opportunity to test computer use behavior indices that are unobtrusively recorded "in the background" of online surveys. Marshalling multiple datasets and aggregating results across diverse samples and survey measures using identical data-analytic models will greatly enhance generalizability and test the breadth of applicability of each index. Examining the predictive accuracy of the indices alone and in concert will allow us to identify those indices that contribute substantial prognostic information and those that provide irrelevant or redundant information. This research has potential to broaden the repertoire of available tools that could signal cognitive and functional decline in older ages and allow for advanced study of dementia.