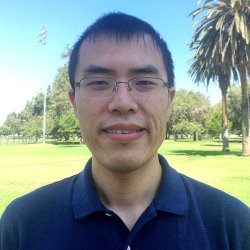 Dr Haomiao Jin
---
Lecturer in Health Data Sciences
About
Biography
Dr Haomiao Jin has an interdisciplinary background in health systems engineering and social work. He holds a PhD in Industrial and Systems Engineering from the University of Southern California, where he gained expertise in information technology, data science, and health. Since then, he has built a career in the field of health informatics, with a particular interest in digital survey methdology and machine learning modelling of complex health survey data.
Currently, Dr Jin's research focuses on two areas. Firstly, he develops and evaluates technology solutions for health self-monitoring and longitudinal assessment with a particular emphasis on long-term conditions, healthy ageing, and mental and behavioural health. This work aims to support individuals in taking a more active role in their own health management and to facilitate early detection and intervention when health problems arise.
Secondly, Dr Jin works on machine learning and advanced statistics techniques to model health-related data, particularly longitudinal and intensive longitudinal data. By leveraging these approaches, this work can generate insights that support better prediction, stratification, and intervention in the context of clinical and public health.
Dr Jin has published over 30 academic papers on health informatics and clinical and public health journals, including the Journal of Biomedical Informatics, Journal of Medical Internet Research, Journal of Official Statistics, Diabetes Care, American Journal of Preventive Medicine, and Journals of Gerontology, Series B. He is the University of Surrey PI of three subaward grants from the US National Institutes of Health and is actively building an Informatics Lab on Longitudinal Health Assessment and Modelling Technologies at Surrey.
My qualifications
2018
Postdoctoral Training in Social Work (focus: primary data collection, ageing, mental health)
University of Southern California
2016
Ph.D. in Industrial and Systems Engineering (focus: information technology, data science, and health)
University of Southern California
2015
M.S. in Operations Research
University of Southern California
2012
M.S. in Industrial Engineering
Zhejiang University
2009
B.S. in Industrial Engineering
Zhejiang University
Research

Research projects

Function and Emotion in Everyday Life with Type 1 Diabetes: FEEL-T1D

University of Surrey PI - Subaward from US NIH/NIDDK

Project PIs: Pyatak, Spruijt-Metz, Gonzalez

Testing early markers of cognitive decline and dementia derived from survey response behaviors

University of Surrey PI - Subaward from US NIH/NIA

Project PI: Schneider

Diagnostic Assessment of Dementia in the Longitudianl Aging Study in India (LASI-DAD)

University of Surrey PI - Subaward from US NIH/NIA

Project PI: Lee