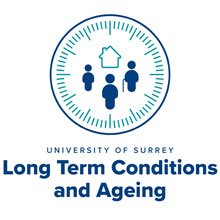 Long-term Conditions and Ageing research cluster
Our vision is to ensure provision of high quality, values-based health and social care research across the life-span.
Research interests
Effective management of people with long-term conditions is a priority within health care and an ageing population. Our research activities are designed to develop and strengthen local, national and international collaborations enabling the delivery of high quality, values-based health and social care practice across the lifespan.
Our research focuses upon dementia care, frailty and multi-morbidity in older people, non-medical prescribing, self-management of long-term conditions, workforce preparation and models of care.
The mission of the Long-term Conditions and Ageing Cluster is to ensure provision of values-based care for service users by advancing knowledge in health and social care across the lifespan.
Research areas
Our research falls into five main areas:
Dementia care
Frailty and multimorbidity in older people
Non-medical prescribing
Self-management of long-term conditions
Workforce preparation and models of care
Research methodologies
Realist synthesis and evaluation
Randomised controlled trials
Intervention studies
Participatory research
Ethnography
Grounded theory
Phenomenology
Systematic review
Delphi technique
Mixed methods
Longitudinal and cohort studies
Our studies
Some of our current studies include:
Cross-cultural perspectives on roles, responsibilities and future care for older adults.
Evaluation of the implementation of "Freedom to Speak up Local Guardians" in NHS Acute hospital trusts and Mental Health trusts in England
Evaluation of supplementary prescribing by dietitians and independent prescribing by therapeutic radiographers
Developing an innovative healthcare system for palliative care in Ethiopia: co-design and user testing of a mobile phone based remote monitoring system (E-PC)
Improving Early Detection of Infection in Nursing Home Residents - Implementing the Early Detection of Infection Scale (EDIS) in UK Nursing
TIHM for Dementia - UK RCT study, Technology Integrated Healthcare Management (TIHM) for Dementia
TiME Matters – study exploring design and acceptability of using a digital story-based communication system for care home settings
Binocular vision, visual function and pupil dynamics in people living with dementia
DAFNEplus: Developing and trialling the DAFNEplus (Dose Adjustment for Normal Eating) intervention.
BEAT Diabetes – An online, digital platforms, accessed through primary care, to encourage and support people with type 2 diabetes to make positive lifestyle changes
Melting the Snowy White Peaks of the NHS: Overcoming barriers to career progression for BME nurses  
Generation Z's Views of Care and Care Careers: An International Comparison
RIPE Project: Researching Interventions that Promote Ethics in Social Care
Does the current pre-registration nursing curricula meet the needs of newly qualified nurses who are recruited directly to community nursing?
Time for Dementia - involving health care professionals visiting people with dementia and their family
MDTea podcasts - Developing open access series of podcasts for all healthcare professionals working with older adults
CHHiP linkage - Extracting primary care records for patients enrolled to a RCT called CHHiP to investigate the effect of comorbidity on recovery from cancer and its treatment
Ethnic differences in type 2 diabetes medication adherence
Story-telling and occupational wellbeing in health-care: a process evaluation of Schwartz Centre Rounds® using an interactional framework
What do patients want from online access to their primary care record? A qualitative investigation into patients' reported needs and expectations regarding online access
Sleep, shifts and napping: the implications of shift working on nurses' wellbeing and on the quality and safety of patient care
Developing Wellbeing Online - online platform for digital mental health and wellbeing interventions for University of Surrey students and staff
PhD studies:
Karen Cook: Developing undergraduate curricula to facilitate nurses' ability to support self-management amongst people with long term conditions (Supervisors: Dr Debbie Cooke, Dr Nicola Carey)
Judith Edwards – The role of medicines management and non-medical prescribing in implementation of the paramedic advanced practitioner role. (Supervisors: Dr Nicola Carey, Prof Melaine Coward. Co-supervisor: Mr Andy Collen)
Olivia Luijnenburg: ETHoS Project: The Ethical Implications of 'Spirituality' in Residential Care for Older People. (Supervisors: Professor Ann Gallagher, Dr Freda Mold)
Areas of interest for doctoral study
The Long-term Conditions and Ageing cluster welcomes approaches from people wishing to undertake PhD study here with us. We particularly welcome enquiries in the following areas:
Frailty and care homes- admissions avoidance, recognizing deteriorating patients
Implementation and evaluation of non-medical prescribing, medicines optimisation
Workforce development: extended roles, advanced clinical practice
Self-management of long-term conditions
Learning Disabilities
Quality improvement
Please contact Freda Mold (Freda.mold@surrey.ac.uk) and Debbie Cooke (d.cooke@surrey.ac.uk) our Health Sciences, Postgraduate Research Directors if you are considering PhD study.
Recent publications
Arthur, A., Aldus, C., Sarre, S.J.C., Maben, J. (2017) Can Health-care Assistant Training improve the relational care of older people? (CHAT) A development and feasibility study of a complex intervention: CHAT Final Report. https://dx.doi.org/10.3310/hsdr05100
Bakosh, L., Mortlock, J., Querstret, D., & Morison, L. (2018). Audio-guided mindfulness training in schools and its effect on academic attainment: Contributing to theory and practice. Learning and Instruction, 58, 34-41.
Banks, C.A. (2018). Working through ethical and emotional concerns and uncertainties in ethnographic research with people with learning disabilities. In Ethnographies and Health: Reflections on Empirical and Methodological Entanglements. E. Garnett, J. Reynolds & S. Milton (eds.). Palgrave macmillan
Chidiebere H, Carey N, Shawe J (2017) Exploring the acceptability and feasibility of a preconception and diabetes information app for women with pregestational diabetes: a mixed methods study protocol, Digital Health 3 pp. 1-11 SAGE Publications DOI: 10.1177/2055207617726418
Chrysanthaki T, Fernandes B, Smith S (2017) Can Memory Assessment Services (MAS) in England be categorized? A national survey., Journal of Public Health DOI: 10.1093/pubmed/fdx018
Cross C, Hindley J, Carey NJ (2017) Evaluation of a formal care worker education intervention on pressure ulceration in the community, Journal of Clinical Nursing Wiley DOI: 10.1111/jocn.13688
Edwards J, Mold F, Knivett D, Boulter P, Firn M, Carey N (2017) Quality improvement of physical health monitoring for people with intellectual disabilities: an integrative review, Journal of Intellectual Disability Research 62 (3) pp. 199-216 Wiley DOI: 10.1111/jir.12447
Groom N, Kidd T, Carey N (2018) Urgent care centre redirection: evaluation of a nurse-led intervention, Emergency Nurse 25 (9)pp. 25-30 Royal College of Nursing DOI: 10.7748/en.2018.e1768
Kidd T, Carey N, Mold F, Westwood S, Miklaucich M, Konstantara E, Sterr A, Cooke D (2017) A Systematic Review of the Effectiveness of Self-Management Interventions in People with Multiple Sclerosis at Improving Depression, Anxiety and Quality of Life., PLoS ONE 12 (10) e0185931 Public Library of Science DOI: 10.1371/journal.pone.0185931
Lemanska A., et al. (2019) The Siconolfi step test: a valid and reliable assessment of cardiopulmonary fitness in older men with prostate cancer. Eur Rev Aging Phys Act
Mold F, Raleigh M, Alharbi NS, de Lusignan S. The Impact of Patient Online Access to Computerized Medical Records and Services on Type 2 Diabetes: Systematic Review. Journal of Medical Internet Research. 2018;20(7):e235. doi:10.2196/jmir.7858.
Williams ED, Park CM, Chaturvedi N, et al. Associations Between Left Ventricular Dysfunction and Brain Structure and Function: Findings From the SABRE (Southall and Brent Revisited) Study. J Am Heart Assoc 2017;6(4)
Querstret, D., Cropley, M., & Fife-Schaw, C. (2018). The effects of an online mindfulness intervention on perceived stress, depression and anxiety in a non-clinical sample: A randomised waitlist control trial. Mindfulness, 9(6), 1825-1836.
Stanulewicz, N., Mansell, P., Cooke, D., Hopkins, D., Speight, J. and Blake, H. (2019) PAID-11: a brief measure of diabetes distress validated in adults with type 1 diabetes. Diabetes Research and Clinical Practice, 149, pp. 27-38
Stenner K, Edwards J, Mold F, Otter S, Courtenay M, Moore A, Carey N. Medicines management activity with physiotherapy and podiatry: A systematic mixed studies review. Health Policy. 2018 Dec;122(12):1333-1339. doi: 10.1016/j.healthpol.2018.10.004. PMID: 30337160.
Gallagher, A., Bousso, R. S., McCarthy, J., Kohlen, H., Andrews, T., Paganini, M.C., Abu-El-Noor, N.I., Cox, A., Haas, M., Arber, A. and Abu-El-Noor, M.K. (2015). Negotiated reorienting: a grounded theory of nurses' end-of-life decision-making in the intensive care unit. International Journal of Nursing Studies, 52(4), 794-803.