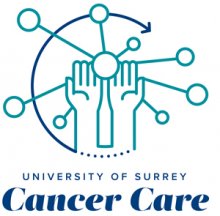 Cancer research cluster
Our mission is to improve cancer care for all. We work with experts from diverse disciplines - technology, science, engineering, psychology - alongside NHS professionals, and patients and their families, from the very young to the very old. When we work together, we create innovative ways of being diagnosed quicker and living well, with and beyond cancer. Our work helps optimise cancer outcomes and impacts positively on experiences of care.
Research interests
Evidence shows that people with cancer have unmet needs, particularly at the point of diagnosis, end of treatment and longer term. Whilst some people feel well, others are struggling with the consequences of cancer treatment, creating a burden of illness that impacts on quality of life, patient outcomes and family life. Early diagnosis is considered a cornerstone of improving cancer survival- and is importantly related to improved patient experience and quality of life.
Our work focuses on changing the way we diagnose and support people with cancer – and families managing cancer – in order to meet increasing demands and care needs. We work across the age span and disease course - from diagnosis to survivorship and palliative care.
Research areas
Early diagnosis
Cancer as chronic condition
Influence of cancer treatment on people, informal carers, parents, siblings and other family members. Specific interests include:

Symptom assessment and management
Psychological support needs
Multi-morbidity
Survivorship
End of life care.

Digital health/connected health, supportive technologies and web-based programmes to support mental and physical health for people with cancer.
Research methodologies
Participant co-design
Mixed methods
Development and evaluation of complex interventions
Film technologies
Creative arts based approaches.
Areas of interest for doctoral study
We welcome approaches from people wishing to undertake postgraduate research with us. We particularly welcome enquiries in the following areas:
Prevention and early diagnosis
Supportive care and innovations
Cancer in children, teenagers and young adults
Digital health.
Please contact Freda Mold (freda.mold@surrey.ac.uk) and Jenny Harris (jen.harris@surrey.ac.uk), our postgraduate research directors, if you are considering postgraduate research.
Current PhD research 
Publication highlights
Archer, S., Holch, P., Armes, J., Calman, L., Foster, C., Gelcich, S., MacLennan, S. & Absolom, K. (2020) 'No turning back' Psycho-oncology in the time of COVID-19: Insights from a survey of UK professionals. Psycho-Oncology https://doi.org/10.1002/pon.5465
Cheevers, K., Armes, J., Harris, J. & Rafferty, A.M. (2020). Adaptation and preliminary testing of the registered nursing forecasting (RN4CAST) nurse survey for use in the ambulatory chemotherapy setting. European Journal of Oncology Nursing, 47:101794
Cheng, K.K-F., Siah, R.C-J., Ream, E., Kanesvaran, R., & Armes J. (2020). Protocol for a scoping review of digital health for older adults with cancer and their families. BMJ Open 10:e038876.doi:  http://dx.doi.org/10.1136/bmjopen-2020-038876
Cockle-Hearne, J., Reed, E., Todd, J., Ream, E. (2020). The dying parent and dependent children: a nationwide survey of hospice and community palliative care support services. BMJ Supportive & Palliative Care. 2020;bmjspcare-2019-001947. doi:10.1136/bmjspcare-2019-001947
Green, R. (2020). The Forms and Uses of Acquired Prostate Cancer Expertise Among Prostate Cancer Survivors. Sociological Research Online. doi:10.1177/1360780420905840
Hannaford, P.C., Thornton, A.J, Murchie, P., Whitaker, K.L., Adam, R., et al. (2020) Patterns of symptoms possibly indicative of cancer and associated help-seeking behaviour in a large sample of United Kingdom residents—The USEFUL study. PLOS ONE 15(1): e0228033. https://doi.org/10.1371/journal.pone.0228033
Jones,D., Neal R.D.,  Duffy, S.R.G., Scott, S. E., Whitaker, K.L, Brain,K. (2020) Impact of the COVID-19 pandemic on the symptomatic diagnosis of cancer: the view from primary care.  Lancet Oncology, doi: 10.1016/S1470-2045(20)30242-4
Koo, M.M., Lyratzopoulos, G., Herbert, A., Abel, G.A., Taylor, R.M. Barber, J.A., Gibson, F., Whelan, J., Fern, L.A. (2020) Association of self-reported presenting symptoms and timeliness of help-seeking among adolescents and young adults with cancer. JAMA Network Open. 2020;3(9):e2015437. doi:10.1001/jamanetworkopen.2020.15437
Lemanska, A., Byford, R.C., Cruickshank,C., Dearnaley, D.P., Ferreira, F., Griffin, C., Hall, E., Hinton, W., de Lusignan, S., Sherlock, J., Faithfull, S. (2020) Linkage of the CHHiP randomised controlled trial with primary care data. A study investigating ways of supplementing cancer trials and improving evidence-based practice. BMC Medical Research Methodology, doi: 10.1186/s12874-020-01078-9
McHale, C.T., Cruickshank, S., Torrens, C., Armes, J., Fenlon, D., Banks, E., Kelsey, T. and Humphris, G.M., (2020). A controlled pilot trial of a nurse-led intervention (Mini-AFTERc) to manage fear of cancer recurrence in patients affected by breast cancer. Pilot and Feasibility Studies, 6,1, 60. https://doi.org/10.1186/s40814-020-00610-4
Pearce, S., Gibson, F., Whelan, J., Kelly, D. (2020) Untellable tales and uncertain futures: the unfolding narratives of young adults with cancer. International Journal of Social Research Methodology, 23 (4), 377-390
Ream, E., Hughes, A.E., Cox, A., Skarparis, K., Richardson, A., Pedersen, V.H, Wiseman, T., Forbes, A., Bryant, A (2020.  Telephone interventions for symptom management in adults with cancer. Cochrane Database of Systematic Reviews, Issue 6. doi: 10.1002/14651858.CD007568.pub2.
Taylor, R.M., Lobel, B., Thompson, K., Onashile, A., Croasdale, M., Hall, N., Gibson, F., Martins, A., Wright, D., Morgan, S., Whelan, J.S., Fern, L.A. (2020) BRIGHTLIGHT researchers as 'dramaturgs: creating There is a Light from complex research data. Research Involvement and Engagement. 6: 48. 10. doi: 10.1186/s40900-020-00222-5
Aldiss, S., Fern, L.A., Phillips, B., Callaghan, A., Dyker, K., Gravestock, H., Groszmann, M., Hamrang, L., Hough, R., McGeachy, D., Morgan, S., Smith, S., Upadhyaya, S., Veitch, H., Veitch, L., Williamson, M., Whelan, J., Gibson, F. (2019) Research priorities for young people with cancer: a UK priority setting partnership with the James Lind Alliance. BMJ Open, 9(8):e028119.
Aldiss, S., Rose, L., McCutcheon, D., Cass, H., Ellis, J., Gibson, F. (2019) Gathering expert opinion to inform benchmarks to support transitional care. Journal of Child Health Care, 23(1):131-146.
Amelung, D., Whitaker, K.L, (joint first author), Lennard, D., Ogden, M., Sheringham, J., Zhou, Y., Walter, F.M., Singh, H., Vincent, C., Black G. (2019) The influence of doctor-patient conversations on behaviours of patients presenting to primary care with new or persistent symptoms: A video observation study. BMJ Quality Safety, doi.org/10.1136/bmjqs-2019-009485.
Bryan, G., Bluebond-Langner, M., Kelly, D., Kumpunen, S., Oulton, K., Gibson, F. (2019) Studying children's experiences in interactions with clinicians: identifying methods fit for purpose. Qualitative Health Research, 29 (3): 393-403
Franklin, P., Arber, A., Reed, L. Ream, E. (2019) Health and social care professionals' experiences of supporting parents and their dependent children during, and following, the death of a parent: A qualitative review and thematic synthesis, Palliative Medicine, 33(1), pp.49-65.
Kyte, D., Retzer, A., Ahmed, K., Keeley, T., Armes, J., Brown, J.M., Calman, L., Gavin, A., Glaser, A.W., Greenfield, D.M., Lanceley, A., Taylor, R.M., Velikova, G,. Michael D. Brundage., Efficace, F., Mercieca-Bebber, R., King, M.T., Turner, G., Calvert, M. (2019) Systematic evaluation of Patient-Reported Outcome protocol content and reporting in cancer trials, JNCI: Journal of the National Cancer Institute, jz038, doi.org/10.1093/jnci/djz038
Lea, S., Gibson, F., Taylor, R.M. (2019) The culture of young people's cancer care: A narrative review and synthesis of the UK literature. European Journal of Cancer Care 28 (3):e13099 doi.org/10.1111/ecc.13099
Lemanska, A., Poole, K., Griffin, B., Manders, R., Saxton, J.M., Turner, L., Wainwright, J., Faithfull, S. (2019) Community pharmacy lifestyle intervention to increase physical activity and improve cardiovascular health of men with prostate cancer: a phase II feasibility study, BMJ Open 9 (6) e025114 DOI: 10.1136/bmjopen-2018-025114
Marcu, A., Muller, C., Ream, E., Whitaker, K.L. (2019). Online information-seeking about potential breast cancer symptoms: Capturing online behaviour with an internet browsing tracking tool. Journal of Medical Internet Research, 21, e12400, doi.org/10.2196/12400.
Martin Payo, R., Harris, J., Armes, J. (2019) Prescribing fitness apps for people with cancer: a preliminary assessment of content and quality of commercially available apps, Journal of Cancer Survivorship, doi.org/10.1007/s11764-019-00760-2
Pearce. S., Whelan, J., Kelly, D., Gibson, F. (2019) Renegotiation of identity in young adults with cancer: a longitudinal narrative study. International Journal of Nursing Studies 102, 103465
Poole K., Ogden J., Gasson S., Lemanska A., Archer F., Griffin B., Saxton J., Lyons K. and Faithfull S. (2019) Creating a teachable moment in community pharmacy for men with prostate cancer: A qualitative study of lifestyle changes. Psycho-Oncology, doi.org/10.1002/pon.4983
Skrobanski, H., Ream, E., Poole, K., Whitaker, K.L. (2019) Understanding primary care nurses' contribution to cancer early diagnosis: A systematic review. European Journal of Oncology Nursing, 41, 149-164, doi.org/10.1016/j.ejon.2019.06.007
Stay connected
Latest tweets
@CancerAtSurrey