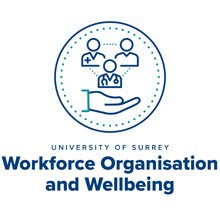 Workforce, Organisation and Wellbeing (WOW) research theme
Our vision is to lead high quality research and educational innovation that will inform practice and support the wellbeing of the healthcare workforce to ensure optimal staff and patient outcomes.
We do this by working with a number of professional groups – including medicine, nursing, midwifery, paramedics, psychology, and public health – alongside patients, families, carers and health services researchers with expertise in quantitative, qualitative and mixed methods methodologies.
Research interests
The healthcare workforce is large in number and reach and accounts for a significant percentage of healthcare expenditure. It is vital that best evidence is generated and used in the optimal organisation and delivery of healthcare which is fundamental to high quality patient care delivery in the NHS, private healthcare and third sector organisations.
We investigate policy, practice and education related to the healthcare workforce. We also develop and evaluate workforce and educational tools and interventions to improve care delivery for patients. Research and scholarship in healthcare workforce, organisation and wellbeing underpins clinician, manager and support staff's decision making and supports students and staff to care well.
Research areas
Workforce staffing and policy implementation
Supporting the healthcare workforce to care well (staff wellbeing and resilience) and improve care delivery: understanding organisational determinants
Student, employee and patient wellbeing: development and evaluation of interventions
Systems that support staff to raise concerns and speak up
The impact of the built environment on care delivery and patient experience
Describing, assessing and improving teamwork in healthcare (multi/inter-disciplinary teamwork).
Methodological expertise
Realist evaluation and synthesis
Systematic and scoping reviews
Quantitative, qualitative and mixed methods designs
Survey design and evaluation
Randomised controlled trials
Ethnography; interpretative research
User-led co-design of interventions
Organisational case studies
Development, implementation and evaluation of interventions
Secondary data analysis (systematic reviews/meta-analyses).
Covid-19 resources
During the Covid-19 crisis in the UK in April 2020, Professor Jill Maben and Dr Cath Taylor of the workforce organisation and wellbeing theme together with Professor Jackie Bridges of the University of Southampton developed evidence informed guidance to support nurses psychological and mental health. The guidance is equally relevant to staff wellbeing when the pandemic is over; highlighting peer and team support and outlining what managers, organisations and leaders can do to support nurse well-being.
Download our Covid-19: Guidance to support nurses' psychological well-being (PDF).
Duncan Hamilton, a respiratory nurse, and Ann Gallagher, an ethics in care professor discuss how nurses can approach ethical dilemmas, particularly during Covid-19.
Areas of interest for doctoral study
We welcome approaches from people wishing to undertake postgraduate research with us.
We particularly welcome enquiries in the following areas:
Healthcare staff, student and patient health and wellbeing
The impact of workforce policy changes on healthcare staffs' ability to care effectively
Impact of teamwork and organisational structure on staff wellbeing, clinical outcomes and care quality
Supporting healthcare staff to deliver compassionate care
Investigating the use of reflective practice to support staff to care well.
Please contact Freda Mold (freda.mold@surrey.ac.uk) and Debbie Cooke (d.cooke@surrey.ac.uk), our postgraduate research directors, if you are considering postgraduate research.
Our studies
Some of our current studies include:
Improving the effectiveness of cancer multidisciplinary team meetings (MDTMs) in Surrey and Sussex: implementation and evaluation of an intervention package comprising of two validated tools (MDT-FIT and MDT-QuIC) designed to improve MDT working in routine clinical practice (in collaboration with the Surrey and Sussex Cancer Alliance) - Cath Taylor [PI]; Marcano-Belisario Jose; Eunice Aroyewun; 2020-2021).
Coping with COVID19: perceptions of and strategies used by nurse, midwife and paramedic academics teaching to these frontline workers. Professor Desley Hegney and colleagues in Australian consortium with Jill Maben University of Surrey and Stirling University.
The COVID19 pandemic: A descriptive, cross-sectional, longitudinal study of the professional and personal impact on Nurses, Midwives and Allied Health Professionals and students of these disciplines. Professor Janie Brown and colleagues in Australian consortium with Jill Maben University of Surrey.
ICON Study: the psychological wellbeing of nursing and midwifery staff and students during and after Covid-19, development of intervention guidelines for prevention and recovery. Professor Keith Couper and UK RCN research Society Consortium with Jill Maben and Ruth Abrams, University of Surrey.
Enabling nurses to deliver compassionate care joint proposal NIHR HS&DR- Enhanced dissemination Funding Joint PIs; Professor Jill Maben; Ruth Harris; Jackie Bridges and Anthony Arthur.
Care Under Pressure 2: Caring for the Carers – a realist review of interventions to minimise the incidence of mental ill-health in nurses, midwives and paramedics. NIHR HS&DR Jill Maben (Co-PI) with Dr Cath Taylor; Professor Karen Mattick, Dr Daniele Carrieri and Mr Simon Briscoe.
Supporting Health Care professions Registrants: how best to provide support for HCPC registrants in their day-to-day work and when experiencing fitness to practice processes. Health Care Professions Council. Jill Maben (PI); Cath Taylor; Dawn Querstret; Ellie Reynolds.
Delegation of insulin administration to non-registered healthcare workers in community nursing teams: an evaluation of care and practice for older people with diabetes. Jill Maben and Karen Stenner. Dunhill Medical Trust.
Story-telling and occupational wellbeing in health-care: a process evaluation of Schwartz Centre Rounds® using an interactional framework (Jill Maben in collaboration with Laura Thompson, Birkbeck University of London; 2018)
Evaluation of the implementation of "Freedom to Speak up Local Guardians" in NHS Acute hospital trusts and Mental Health trusts in England (in collaboration with Aled Jones et al, University of Cardiff; Jill Maben; Carys Banks; 2018-2020)
Evaluating the Care Certificate: A Cross-Sector Solution to Assuring Fundamental Skills in Nursing (in collaboration with Louise Thomson, University of Nottingham; Jill Maben; 2016-2018)
Evaluating the 10 year impact of the Productive Ward at the clinical microsystem level in English acute trusts (in collaboration with Glenn Robert et al, Kings college London; Jill Maben; 2015-2017)
A longitudinal National Evaluation of Schwartz Centre rounds®: an intervention to enhance compassion in relationships between staff and patients through providing support for staff and promoting their wellbeing (Jill Maben [PI]; Cath Taylor; 2014-2016)
The RA Standard Study: Reducing variation in early rheumatoid arthritis care (in collaboration with Dr James Galloway [PI], Kings College London; Cath Taylor; Magda Zasada; 2018-2020)
Sleep, shifts and napping: the implications of shift working on nurses' wellbeing and on the quality and safety of patient care (Jill Maben [PI]; Dawn Querstret; 2018-2019)
Developing Wellbeing Online: Development of a digital platform for housing mental health and wellbeing resources for students and staff (Dawn Querstret; 2016 - current)
Medical Emergency Teams (METs) and factors influencing their effectiveness: A Comparative Study in Finland and the UK (in collaboration with University of Eastern Finland; Carin Magnusson; 2017-2019).
Theatre Team Surrey Crisis Resource Management (SCReaM): A pilot study exploring the impact of using a newly developed cognitive aid during simulation crisis training. (Carin Magnusson; 2017-2019)
Exploring students representations of the 'patient voice' in reports of, and reflections on, placement learning events related to patient safety (in collaboration with Northumbria University; Carin Magnusson; 2019)
The use of Schwartz Rounds within healthcare undergraduate settings - a realist synthesis and evaluation. What works, for whom, in what circumstances, and why? (Duncan Hamilton; supervised by Professor Jill Maben and Dr Cath Taylor).