Development and validation of a blood cancer awareness measure
Improving our understanding of public awareness of cancer.
Start date
01 February 2021
Overview
Cancer Awareness Measures help to monitor public awareness of cancer and can help us understand barriers and enablers to seeking medical help. Despite challenges with diagnosing blood cancers early, they've received less attention than other cancers. In response, Blood Cancer UK funded work to develop and validate a blood cancer awareness measure (Blood-CAM).
Aims and objectives
To develop and validate a blood-specific version of the Cancer Awareness Measure (Blood-CAM) 
To assess the level of blood cancer symptom awareness in the general population using the Blood-CAM
To explore the association between patient factors (e.g. patient empowerment) and outcomes of the Blood-CAM, including blood cancer awareness and barriers to medical help-seeking.
Funding amount
£78,000
Funder
Team
Research team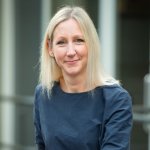 Professor Katriina Whitaker
Professor of Psychology and Lead for Cancer Care - School of Health Sciences, University of Surrey
Biography
Katriina Whitaker is Lead for Cancer Care in the School of Health Sciences at the University of Surrey. Katriina was awarded a prestigious Cancer Research UK fellowship to explore cancer symptom appraisal in everyday life. Her ongoing programme of work focuses on early diagnosis and cancer, with a particular interest in healthcare-seeking and health inequalities.
Katriina is a Chartered Psychologist and was made a Fellow of the British Psychological Society in 2017. Katriina is an expert review panel member for Cancer Research UK's Early Diagnosis & Detection Trials, Behavioural Health System and Health Economics research panel and Tenovus Cancer Care Psychosocial Advisory Committee. She also sits on the Editorial Boards for the European Journal of Cancer Care and acts as a Review Editor for Frontiers in Psychology.
Outputs
Publications
Whitaker, K.L, Boswell, L., Russell, .J, Black, G.B, Harris, J. The relationship between patient enablement and help-seeking in the context of blood cancer symptoms. Psychooncology. 2023; 1- 8. https://doi.org/10.1002/pon.6170
Black, G. B., Boswell, L., Harris, J., & Whitaker, K. L. (2023) What causes delays in diagnosing blood cancers? A rapid review of the evidence. Primary Health Care Research & Development., 24, E26. doi:10.1017/S1463423623000129
Boswell. L., Harris. J., Ip. A., Russell. J., Black. G., Whitaker. K. L (2023). Assessing awareness of blood cancer symptoms and barriers to symptomatic presentation: measure development and results from a population survey in the UK. BMC Cancer 23, 633, https://doi.org/10.1186/s12885-023-11149-x
Resources
Blood Cancer Awareness Measure (Blood CAM)
The Blood CAM seeks to increase and monitor public awareness of blood cancer and help us understand barriers and enablers to seeking medical help.
How to access the Blood CAM
The Blood CAM is free to use but we ask you to have regard to the following conditions of their use:
The Blood CAM is intended as an online questionnaire. It should only be administered electronically using a survey sampling company or an online survey tool.
Do not distribute this resource to anyone else – if anyone asks for a copy please direct them to this web page so they can download them.
If you use this resource or any part it, we would be grateful if you would please:

Acknowledge the authorship team.
Send copies of any reports/papers that are produced to Professor Katriina Whitaker at k.whitaker@surrey.ac.uk.
Let us have any comments/suggestions that you feel might improve this resource so that your experience can be incorporated into subsequent updates.
Research groups and centres
Our research is supported by research groups and centres of excellence.