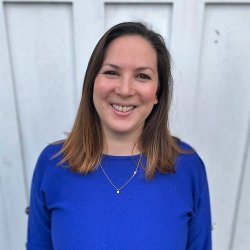 Dr Joanna Moss
---
Lecturer in Developmental Psychology
Biography
I completed my PhD at the University of Birmingham in 2005. I then worked as a research fellow at the institute of Psychology Psychiatry and Neuroscience and then at the Cerebra Centre for Neurodevelopmental Disorders, University of Birmingham before joining the University of Surrey as a lecturer in 2019. My research is primarily focused on understanding the prevalence, profile and social-cognitive mechanisms underpinning the development of autism and related characteristics in individuals with genetic syndromes.  My research and related impact activities has been funded by the British Academy, Baily Thomas Charitable Fund, Leverhulme Trust, Newlife Foundation for Disabled Children, Economic and Social Research Council, Cerebra and Cornelia de Lange Syndrome Foundation. Please visit my research lab website for more information: www.ndevresearchlab.com 
Research
Research interests
My research is primarily focused on understanding the prevalence, profile and social-cognitive mechanisms underpinning the development of autism and related characteristics in individuals with genetic syndromes.  My work combines detailed behavioural description with in-depth profiling of social-cognitive abilities. This combination of 'real world' behavioural observation of clinical populations alongside the evaluation of social-cognition skills presents a novel research approach within the behavioural phenotypes and social-cognition literature.
My research to date has spanned a wide array of rare genetic syndromes using a broad range of methodologies: large scale survey, direct observation, eye tracking, EEG, cognitive and behavioural assessment, experimental functional analysis, diagnostic assessment, genotype-phenotype correlations and qualitative methodology.
I am Co-Chair of the Scientific and Clinical Advisory Team for the Cornelia de Lange Syndrome Foundation UK and Ireland and a member of the Scientific Advisory Committee for the International Federation for Cornelia de Lange Syndrome. I have also previously held the roles of executive committee member of the Society for the Study of Behavioural Phenotypes (SSBP; 2005 to 2015) and member of the ASD-UK research committee (2016 to 2018).
My research has been funded by the British Academy, Baily Thomas Charitable Fund, Leverhulme Trust, Newlife Foundation for Disabled Children, Economic and Social Research Council, Cerebra and Cornelia de Lange Syndrome Foundation.
If you are interested in studying for a PhD with me please get in touch.
My teaching
I teach on the Developmental Psychology modules of the Undergraduate Psychology course.