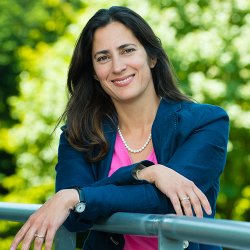 Dr Lada Timotijevic
---
Associate Professor; Head of Department of Psychological Sciences; Deputy Director of the Food, Consumer Behaviour and Health Research Centre
BSc, PhD, AFBPsS, CPsychol
About
Biography
Having completed my PhD in 2000 (University of Surrey) in the area of identity processes in the context of social and cross-cultural mobility, I have subsequently worked within the advertising industry (J. Walter Thompson).
I joined the Food, Consumer Behaviour and Health Research Centre (FCBH) at the University of Surrey (Department of Psychology) in 2002, a multidisciplinary research centre which brings together skills and expertise from across the University in order to address research questions on food related policy, consumer behaviour and public health. Since my arrival, I have played an instrumental role in the success of the Research Centre, working on research projects of substantive theoretical and applied relevance.
I work within the critical public health framework and my empirically-oriented work has focused on understanding the role and nature of public and stakeholder engagement and dialogue in policy and science, risk perception and governance, and science-policy interaction. Policy relevance is a key theme across my research projects, and my work is aimed at both understanding the processes of policy making, and contributing evidence on which to base policies. I am particularly interested in public health nutrition, sustainable diets and illness prevention.
Areas of specialism
public health policy (food, nutrition, health);
stakeholder and public/user engagement;
consumer studies ;
social psychology
University roles and responsibilities
2018- present: School Research Committee, School of Psychology, University of Surrey

2013-2015: Health and Well-being Research Group Lead, School of Psychology, University of Surrey

2010-2014: ESRC South East Doctoral Training Centre Psychology Lead/Coordinator, University of Surrey

2009-2012: School of Psychology Research Committee Deputy Chair, University of Surrey
Affiliations and memberships
British Psychological Society
Associate Fellow and Chartered Psychologist
Research

Research interests

Risk perception and governance

Risk is arguably the most common concept through which policy makers, clinicians and scientists have come to understand the role of new technologies in society. Risk concepts have provided the framework for developing policies as they pertain to a range of domains, from food, health to climate change. My research in this area, whilst applied, has focused on the issue of risk governance and the way in which it can affect publics' perceptions of risks (e.g. the role of precaution) or can act to frame a problem in a way that systematically excludes certain perspectives.

Digital health and innovation 

My most recent interests are relevant to the current international efforts to establish new scientific and data governance regimes, to enable scientists' access to high quality, linked and harmonised structured and unstructured (big) data. Of particular interest is the issue of ethics and legitimacy of the processes of big data harvesting, curating and re-purposing. Across my most recent projects I have led the work packages to address the issues of ethics and user perspectives, whilst managing the development of products (e.g. clinical mHealth decision-making tools) and systems (e.g. research infrastructures) to enable linked data for the purpose of research or clinical practice. 

Responsible research and innovation, and public/stakeholder engagement

Public and stakeholder involvement in science and policy has gained a significant traction in the past 20 years, during the period of "participatory turn" in the processes of developing policies and setting trajectories of science and innovation. It is thought that public and stakeholder engagement are requirements both in terms of enhancing democratic legitimacy and improving valorisation and impact of scientific outputs. Over the past 15 years I have been investigating the role of public and stakeholder engagement and contributed to the development of concepts in this domain. 

Policy interventions and policy development

I have evaluated a number of policy interventions to change behaviour, inform about risks or alleviate psychological distress. I continue to seek projects that will be provide critical evaluation of the theoretical and methodological approaches to behavioural and social change. In addition, I have focused on understanding the processes of policy options development that may not be directed at behaviour change but may create contexts and conditions for social/behaviour change.

Research projects

COMFOCUS aims to harmonise methodologies and concepts within food consumer science, in order to integrate and facilitate trans-disciplinary research in the domain of food consumption. COMFOCUS aims to harmonise measures (such as socio-demographics variables, self-reported cognitive, affective and motivational measures and behavioural measures) which are commonly used in the food science community. It will create ontologies and methods for integrating disparate data-sets and connecting research infrastructures around which food consumer science community will be established. A set of digital services (the COMFOCUS Toolbox) will be developed for data search, data validation, protocol search, visualisation of data, and scientific analysis, made available to all researchers in academia and industry to ensure that resources are made FAIR through the central access point of the COMFOCUS Knowledge platform. This will facilitate optimal virtual access to data on food consumer science, optimal use of data, networks and facilities, thus bringing the food consumer science community to its next level. New standards will be designed to ensure that the new approach is not only FAIR but adhering to RRI principles.

2021-2022 Innovative solutions for a resilient and sustainable local/regional food system: creating the University of Surrey Institute of Food Citizenship (HEIF SF, £151,00, Surrey PI)

The project aims to create a network of local/regional food system partners and development of a new, collaborative research initiative on resilient and sustainable food system, with an initial focus on food waste. The fund will support establishment of a cross-university research cluster bringing together the centres of excellence across the three faculties in the following domains: AI and computer science; food, nutrition, health; sustainability; hospitality; food governance. The partnership will co-ordinate the development of the University-led hubs as part of a new initiative towards the University of Surrey Institute of Food Citizenship, to act as a catalyst for large scale research and development projects that benefit local and regional communities.  The initial focus on food waste will be broadened to include the issues of local/regional food partnerships that will be explored for inter-dependencies across the food-related domains of agriculture, value-chain (including waste), distribution and consumption, and food governance.

The University of Surrey and  GlobalHome Group (http://www.globalhomegroup.com/ ) have recently been awarded £4million by Innovate UK to carry out a pilot demonstrator project to develop and evaluate smart home modular housing (https://gtr.ukri.org/projects?ref=106168). This innovative building project will provide a modular, re-configurable, digitally-enabled home that can be integrated into the smart cities and communities of the future efficiently and for low cost. The University of Surrey has a dual role in this project: a) it is providing the infrastructure and enabling service provision for this development; b) it is a partner in the Innovate UK research project responsible for the evaluation of the innovation from both technology and user perspectives.

2019-2020 Innovate UK led by GlobalHOME (£100,000, Surrey CI)

The SWEET project has been designed to i) identify and address the barriers and facilitators to the use of sweeteners and sweetness enhancers (S&SEs) and ii) examine the risks and benefits of using S&SEs to replace sugar in the diet in the contexts of health, obesity, safety and sustainability. Industry experts will integrate technological, health and sweetness databases to provide a platform on which new and emerging S&SEs can be selected for inclusion in food products. The behavioural and physiological impact of specific S&SEs will be examined in acute and repeated dosing studies and natural population differences (by age, region, gender etc) in sweetness perception established. A sensory profile will be developed and genetic determinants assessed. The core randomised controlled trial will adopt a whole diet approach to examine the impact of prolonged sugar replacement on weight control, appetite and energy intake. Underlying mechanistic effects of S&SE use, alone and in combination, will be evaluated using the technology platform developed in acute studies. Outcomes relating to safety and overall health risks will be i) measured in acute and chronic studies and ii) investigated in secondary data (long term interventions, prospective cohorts). The preferences for and perceptions of S&SEs within European consumers, and the barriers to their acceptance, consumption and use will be determined. The environmental cost and sustainability of replacing sugar with S&SEs will also be modelled. Consumers will be engaged to inform research design, and stakeholder driven exploitation and impact plans will be developed to communicate and disseminate project objectives and results to i) address the role of sweeteners in weight control for target audiences (consumers, health professions, scientists, policy makers, regulators) and ii) move effective products nearer to market. A gender action plan will be developed and implemented to promote equity across all research activities.

PROSO is the short name of a project called Promoting Societal Engagement in Research and Innovation. The major goal of the PROSO project is to provide guidance on how to encourage engagement of citizens and third sector organizations, like non-governmental organizations (NGOs) and civil society organizations (CSOs), in Europe's research and innovation processes. This guidance shall help in moving towards Responsible Research and Innovation (RRI), the European Union's approach to good governance in research and innovation (R&I). Societal engagement in R&I is an important element of the EU's RRI approach. In PROSO we developed guidance in form of a policy and practice guide. The guide was based on the results of PROSO's in-depth analysis of the barriers and incentives for engaging third sector actors and citizens in publicly funded research and innovation. We investigated barriers and incentives through various approaches, in dialogue with a wide range of stakeholders, including science/technology policy makers, research funders, academics, industry/businesses, third sector organizations and citizens, and in relation to three areas of research and innovation. The three areas are nanotechnology, food and health, and bio-economy.

Making "the healthy choice the easy choice" requires knowledge about our dietary habits. This knowledge comes from analysing different types of information such as: What food and drinks are we buying, preparing and eating? Where? Why? How? With whom? In what social and physical context? New ICT technologies bring opportunities for researchers to monitor and collect information on these behaviours. Every day, consumers and businesses generate "big data" – large volumes of information, that offer detailed descriptions of behaviours, including time and place (e.g. using GPS). If these data-rich sources could be linked and analysed, they have the potential to contribute greatly towards answering key questions to respond to societal challenges regarding food and health (e.g., obesity, cardiovascular disease, sustainability). RICHFIELDS aims to design a consumer-data platform to collect and connect, compare and share information about our food behaviours, to revolutionise research on every-day choices made across Europe. RICHFIELDS seeks to determine what facilities, resources, and services can support research to learn more about what we choose to eat, and how and why we make those choices.

Parkinson's is a complicated, individual disorder that many patients live with for many years/decades. For this reason, a multidisciplinary disease management, involving several professions working together (neurologists, physiotherapists, speech and language therapists, occupational therapists, dietitians), is important to ensure that the patient retains his/her independence and continues to enjoy the best quality of life possible. The objectives of the PD_manager project were to: a) model the behaviors of intended users of PD_manager (patients, caregivers, neurologists and other health-care providers); b) educate patients, caregivers and healthcare providers with the focus on occupational and speech therapies; c) propose a set of unobtrusive, simple-in-use, co-operative, mobile devices that will be used for symptoms monitoring and collection of adherence data (smartphone, sensor insole, smart pillbox, wristband with several sensors for acceleration, heart rate, etc.).

Improving health through lifestyle, food and nutrition can help combat such issues but high quality research to design effective strategies is required. EU-wide research collaborations and innovations are essential to improve the efficiency of the, mainly public, research resources and will provide competitive advantage at the global level. To support this, EuroDISH assessed the current needs for food and health research infrastructures in Europe. Research infrastructures are facilities, resources or services which support the scientific community to conduct top-level research. EuroDISH was a three year project funded under the EU 7th Framework Programme. It focused on the integration of existing food and health research infrastructures, as well as the development of new ones. It considered the needs of different stakeholders, such as EU and national policy makers, and researchers from a range of disciplines in both the public sector and industry.

Health claims and symbols on food labels are aids to help consumers identify foods that are healthier options, but little is known about their impact on consumer understanding, choice and consumption. CLYMBOL aimed to determine how health-related claims and symbols were understood by consumers, and how they affected purchasing and consumption. Researchers took into account the individual differences in needs and wants and country-specific differences with regard to the use of health claims and symbols. CLYMBOL produced a set of methods for policy-makers and the food industry to assess the effects of health claims and symbols on food labels as these appear on the market, and recommendations on how health claims and symbols can be used to strengthen informed choice, healthy eating and industrial competitiveness. The project drew heavily on the involvement of stakeholders from the whole food sector to ensure results with high practical relevance.

The overarching objective of INPROFOOD was the promotion of bottom-up concepts (processes and structures) of societal engagement in food and health research. INPROFOOD objectives were: a) to investigate current processes and structures of research programming in the area of food and health is to bring further insight in existing gaps and potential possibilities for improvements; 2) the development, implementation, and subsequent analysis of stakeholder engagement and mutual learning exercises at national and European level shall bring valuable directions for future research programming in food and health; 3) to develop an Action Plan addressed to policy makers will be issued to stimulate the uptake of concrete initiatives of societal engagement in food and health; 4) to evaluate the methodology implemented during the project in relation to its objectives and expected impacts to show possible areas of improvement in future Mobilization and Mutual Learning Actions. Finally, INPROFOOD has set out to keep the targeted audiences and the wider interested public informed about the progress and dynamics of the project and to support and to complement the FP7 research programmes KBBE and HEALTH by establishing cooperation with approved projects and implementing joint activities.the overarching objective of INPROFOOD was the promotion of bottom-up concepts (processes and structures) of societal engagement in food and health research. INPROFOOD has been designed to meet the following objectives. 

Plant food supplements, or botanicals, have high acceptance by European consumers. Potentially, they can deliver significant health benefits, safely, and at relatively low costs. New regulations and EFSA guidance are also now in. However, concerns about safety, quality and efficacy of these products remain, and bottle-necks in risk and benefit assessments need to be solved. PlantLIBRA (PLANT food supplements: Levels of Intake, Benefit and Risk Assessment) aimed to foster the safe use of food supplements containing plants or herbal extracts, by increasing science-based decision-making by regulators and food chain operators. PlantLIBRA was structured to develop, validate and disseminate data and methodologies for risk and benefit assessment and implement sustainable international cooperation. International cooperation, on-spot and in-language capacity building are necessary to ensure the quality of the plants imported in the EU.
Supervision
Postgraduate research supervision
Christina Sadler: Understanding consumer perceptions of processed foods – to support informed healthful choices. Doctoral College Studentship Award (2018-2022).
Mark Wherry: Decision-making process in genetic screening for BRCA gene. University of Surrey Funded PhD studentship. (2016-2019).
Dr Sarah Whitson (PsychD Clinical Psychology): "The Relationship Between Body Weight and Psychological Distress: Exploring the Mediating Role of Physical Self-Concept" (2015-2017).
Dr Mary Yasemin Hirst: "Non-participation in screening for the inherited conditions in the young: A systematic investigation of decision-making processes." ESRC Case Studentship (2011- 2014).
Dr Reem Shafiq (PsychD Psychotherapeutic and Counselling Psychology): "A qualitative exploration of how civilian survivors of armed conflict construct the meaning of 'justice: Palestine (Gaza), Syria and Iraq." (2013-2015).
Teaching
Applied Psychology and Public Policy, FHEQ Level 6 (Year 3), module convenor - 2015 - present
Applied Psychology and Public Policy, FHEQ Level 7 (Masters Module), module convenor - 2018 - present
Contemporary Health Psychology and Professional Practice, FHEQ Level 7 (Masters Module) - 2017 - present
Social Change and Influence, FHEQ Level 7 (Masters Module) - 2010 - present
Animals and Society Module, FHEQ Level 5 (Year 3) - 2015 - 2016
Public Health Nutrition, FHEQ Level 7 (Masters Module) - 2008 - 2013
MSc dissertation supervision.