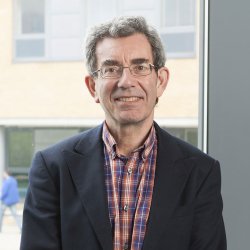 Professor Nigel Gilbert
---
Professor of Sociology
CBE PhD ScD FREng FAcSS FRSA
Biography
Nigel Gilbert read for a first degree in Engineering, initially intending to go into the computer industry. However, he was attracted into sociology and obtained his doctorate on the sociology of scientific knowledge from the University of Cambridge, under the supervision of Michael Mulkay. His research and teaching interests have reflected his continuing interest in both sociology and computer science (and engineering more widely).
His main research interests are processual theories of social phenomena, the development of computational sociology and the methodology of computer simulation, especially agent-based modelling. He is Director of the Centre for Research in Social Simulation.
He is also Director of the University's Institute of Advanced Studies and responsible for its development as a centre for intellectual interchange.
He is the author or editor of several textbooks on sociological methods of research and statistics and was the founding editor of the Journal of Artificial Societies and Social Simulation.
Further details about Nigel Gilbert may be found in Wikipedia
Research
Research interests
Computational social science, sociology of science and science policy, innovation, sociology of the environment, energy policy, the use of models in the policy process.
Research projects
The Centre for the Evaluation of Complexity Across the Nexus, a £3m research centre hosted by the University of Surrey, brings together a unique coalition of experts to address some of the greatest issues in policy making and evaluation. Nexus issues are complex, with many diverse, interconnected factors involved. This presents a major challenge to policy making because changing one factor can often have unexpected knock-on effects in seemingly unrelated areas. We need new ways to evaluate policy in these situations. CECAN will pioneer, test and promote innovative evaluation approaches and methods across nexus problem domains, such as biofuel production or climate change, where food, energy, water and environmental issues intersect. The Centre will promote 'evidence based policymaking' by finding ways for the results of evaluation to both inform policy, and reflect back onto future policy design. Embracing an 'open research' culture of knowledge exchange, CECAN benefits from a growing network of policymakers, practitioners and researchers and a core group of academic and non-academic experts.Whole Systems Energy Modelling Consortium (WholeSEM)Energy models provide essential quantitative insights into the 21st Century challenges of decarbonisation, energy security and cost-effectiveness. Models provide the integrating language that assists energy policy makers to make improved decisions under conditions of pervasive uncertainty. Whole systems energy modelling also has a central role in helping industrial and wider stakeholders assess future energy technologies and infrastructures, and the potential role of societal and behavioural change. Our contribution to this major four-year EPSRC funded project is to develop models of household energy demand.
HomeSense will develop and demonstrate how digital sensors can be used to advantage in social research. The project is a collaboration between the Centre for Research in Social Simulation (CRESS) and the 5G Innovation Centre. Drawing on recent developments in the use of fixed and mobile sensors to measure location, movement, noise levels, air quality, temperature, energy use and a range of physical states, the project team will trial the use of such sensors in a sample of UK households. Households come in all sorts of configurations and they vary in their ways of organising the use of rooms, household devices and energy sources, as well as in the extent of communications amongst household members and the purposes for which members spend their time at home. Observations of households to-date have relied on self-reporting and on-site observations. With HomeSense we will demonstrate how to collect data from fixed and mobile sensors, and how to manage, technologically and responsibly, the intensive measuring of state, location, activity and interaction. We will show how this method affects respondent burden, consent, privacy and data security, and how the data can be converted into meaningful descriptions of socially relevant activities in conjunction with time-use diaries, questionnaires and walking interviews/observations.
Supervision
Postgraduate research supervision
Nigel Gilbert is interested in supervising doctoral students wishing to study innovative ways of using computational models in the social sciences, and interdisciplinary topics bridging engineering (especially computer science) and the social sciences. For more more details about PhDs in CRESS, please go to: https://www.surrey.ac.uk/department-sociology/study/postgraduate-research