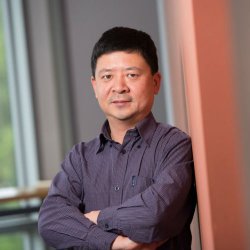 Professor Ning Wang
---
Professor in Networks
Ph.D, SMIEEE
Biography
Prof. Ning Wang received his B.Eng degree in computing from Changchun University of Science and Technology, China in 1996 and M.Eng degree in electronic engineering from Nanyang Technological University, Singapore in 2000 respectively. He obtained his Ph.D degree in electronic engineering from the Centre for Communication Systems Research (CCSR, currently known as the Institute of Communication Systems - ICS), University of Surrey, UK in 2004.
Areas of specialism
5G Networking;
Future Internet design;
Mobile content delivery technologies;
Network and service management;
Internet of Things and Smart Grid Communications
Research
Research interests
Since 2009 Prof. Wang has been the principal investigator for both EU, UK EPSRC, InnovateUK (DCMS) and Royal Society research projects, covering the technical areas of Future Internet design, network intelligence, networked content, and smart grid communications etc.. Till now Prof. Wang has published more than one hundred and thirty research papers and he has also been actively engaged in International standardisation activities including IETF, 3GPP, ITU-T and ETSI. Since 2012, his work on network management and 5G mobile video delivery featured IEEE ComSoC Technology News (CTN) for three times:
Current Projects
Industry funded Project on Network 2030
DCMS Worcester LEP (WLEP) on 5G testing
Royal Society NewTRIP (New Transport-layer Intelligence and Protocols) Project
EPSRC NG-CDI (Next Generation Converged Digital Infrastructures) Project
EU H2020 5GPPP SAT5G (Satellite and Terrestrial Networking for 5G) Project.
Previous Research Projects
DCMS 5GUK Testbed Hub 1 Project
EPSRC KCN (Knowledge Centric Networking) Project
EPSRC/ChistEra CONCERT (A Context-Adaptive Content Ecosystem Under Uncertainty) Project 
FP7 C-DAX (Cyber-Secure Data and Control Cloud for Power Grids) Project
Industry-funded Information Management Project
FP7/IRSES EVANS (End-to-end Virtual Resource Management Across Heterogeneous Networks and Services) Project
FP7 COMET (Content Mediator Architecture for Content-aware Networks) Project
FP7 UniverSelf (Realising Autonomics for Future Networks) Project
EPSRC Mobile VCE Flexible Networks Project
FP7 4WARD Project
FP6 EMANICS (European Network of Excellence for the Management of Internet Technologies and Complex Services) Project
FP6 Enthrone-II (End-to-End QoS through Integrated Management of Content, Networks and Terminals) Project
FP6 AGAVE (A Lightweight Approach for Viable End-to-end IP based QoS Services) Project
FP5 MESCAL (Management of End-to-end Quality of Service in the Internet at Large) Project
FP5 TEQUILA (Traffic Engineering for Quality of Service in the Internet, At Large Scale) Project
My teaching
EEEM023 (Level M): Network and Service Management and Control - module coordinator
Engineering Professional Study (EPS) modules for Euromaster students
Undergraduate tutor