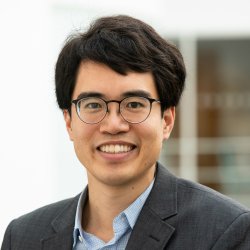 Dr Richard Tee
---
Associate Professor (Senior Lecturer) in Innovation and Entrepreneurship
About
Biography
Richard Tee is an Associate Professor (Senior Lecturer) at Surrey Business School, where he is a member of the Department of Digital Economy, Entrepreneurship and Innovation and the Centre of Digital Economy (CoDE).
Before joining the University of Surrey he held academic positions at LUISS University in Rome, at EPFL in Lausanne, and gained his PhD at Imperial College London. His research focuses on how technologies and industries co-evolve and how firms can adapt to and influence these dynamics. He has focused in particular on the role digital platforms and the ecosystems that surround them. His research has been published in Research Policy, Industrial and Corporate Change, Complexity, European Management Review, and the International Journal of Management Reviews, as well as in various edited academic volumes on innovation and ecosystems.
He has won best paper awards at the Academy of Management (AOM) and Strategic Management Society (SMS) conferences and was a finalist for the European Group for Organizational Studies (EGOS) / Grigor McClelland Doctoral Dissertation Award. Using qualitative and quantitative data, he has examined a variety of settings including IT, telecoms, infrastructure, mobility, and construction. He has presented and organized symposia at leading academic conferences including the Academy of Management, DRUID, Schumpeter, and the Strategic Management Society. Before moving to academia he worked at an IT research and consulting institute in the Netherlands and at a digital startup focused on natural language search technology.
Areas of specialism
Strategy, Innovation, Entrepreneurship;
Industry Lifecycle and Dominant Designs;
Digital Platforms;
Business Ecosystems;
Modularity and Technological Architecture
My qualifications
PhD in Management
Imperial College London
Master's Degree in Science and Technology Studies - Cum Laude (highest honor)
University of Maastricht
Drs (MSc equivalent) in Information Science
University of Amsterdam
Affiliations and memberships
Academy of Management
Academic Member
Strategic Management Society
Academic member
Research

Research interests

My research is situated at the intersection of strategy, innovation and entrepreneurship, focusing on technological innovation and how this strategically shapes firm and industry level outcomes.

(1) Business Ecosystems and Digital Platforms

Increasingly, firm activity takes place in what has been referred to as "business ecosystems", where value is created and captured through a value proposition that arises out of complementary inter-firm activities. This raises many strategic issues, such as where value is created, and which firm(s) are best positioned to capture value that the ecosystem creates. Ecosystems are often underpinned by digital platforms. Companies such as Facebook, Uber, and AirBnB are well known examples of digital platforms that have both created tremendous economic value, while also creating many challenges for a variety of stakeholders. My research focuses both on the firm-level opportunities and challenges these create for new entrants and incumbents. I am also interested in the broader issues raised by digital platforms, including public policy/regulation and broader geo-political trade-offs. 

(2) Collaborative Innovation and Digital Transformation

Innovation is a key concern in fast moving industries. Given the high degree of complexity and uncertainty in such environments, such innovation is often pursued beyond the boundaries of a single firm. I am therefore interested in these forms of collaborative innovation, which include both alliances and other types of inter-firm collaboration, as well as project-based industries that bring together a wide variety of actors. Using qualitative and quantitative data, I focus on both opportunities and challenges brought about by these dynamics. My thesis on this theme was a finalist (one of three) for the EGOS/Grigor McClelland Doctoral Dissertation Award, which recognizes innovative scholarship in management and organization. My work has focused on a variety of settings (smartphones, cloud computing, hard disk drives, telecoms, construction) and am involved in several other projects that examine industries affected by digital technologies (healthcare, media, legal services, transport, mobility), including the ways in which digital technologies can be harnessed to address sustainability and climate issues.

(3) Technology and industry co-evolution

I also examine the ways technologies and industries co-evolve, and the role that complexity plays. This includes work on the role of dominant designs and industry life cycles in the digital age, the role of generativity as a driver of innovation processes, and how complexity can be strategically managed in large scale complex projects.

Research collaborations

Research Grants 

Strategies for project complexity, SSHRC Canada (collaborator, PI: S. Floricel), 2018
An integrative theory of complex project development, SSHRC Canada (collaborator, PI: M. Aubry), 2018
CTI Swiss Competence Centers for Energy Research, 2014 (grant on "Architectural Design Choices and their Impact on Innovation Ecosystems in the Energy Field", with Christopher Tucci)
Swiss Science Foundation, 2013 (grant on "Technological discontinuities: firm capabilities, entry mode and market performance in the disk drive industry", with Anu Wadhwa and Christopher Tucci)
EPSRC Fellowship Grant (awarded to <1% students throughout Imperial College London), 2011

Research Awards

AOM Best Paper Proceedings (top 10% of papers accepted for AOM conference), AOM Anaheim 2016
Winner Strategic Management Society "Best Conference Paper" (with P. Ozcan), Strategic Management Society Rome Special Conference, June 5-7, 2016
Strategic Management Society - Finalist for Best PhD Paper (with B. Uzunca and D. Sharapov), 34th SMS Annual International Conference, Madrid, Sep 20 – 23, 2014
Finalist Grigor McClelland Doctoral Dissertation Award, EGOS 2013 (One of three dissertations shortlisted)
Strategic Management Society - Finalist for "Best Conference Paper" and "Practice Implications Award" (SMS Lake Geneva Special Conference, March 20-23, 2013)
Full scholarship (Innovation Studies Centre, Imperial College Business School)