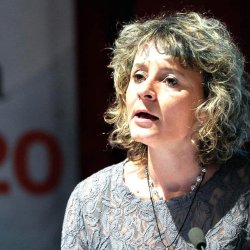 Professor Roberta Sonnino
---
Professor of Sustainable Food Systems
About
Biography
Roberta Sonnino is a respected global expert on sustainable food systems. Prior to joining Surrey in 2022, Roberta spent 19 years at Cardiff University, where she directed a Research Centre for Sustainable Urban and Regional Food in the School of Geography and Planning. In her career, Professor Sonnino has secured £28 million of research and innovation funds to support her international research on sustainable food systems, which has a particular focus on governance and urban food systems.
Roberta has an established track record of creating impact and engagement at the interface of food systems research and policy. In 2017-18, she was Vice-Chair of the FOOD2030 Expert Group, which led the development of four priority areas of the FOOD 2030 European research framework: nutrition and healthy diets; climate and environment; circularity and resource efficiency; and innovation and empowerment of communities. One year later, she was invited by UN FAO to assemble and lead a research team tasked with drafting their first Framework for the Urban Food Agenda. More recently, she was invited to act as Rapporteur of the High-Level Expert Group assembled by the European Commission to explore ways to improve food systems governance through more effective science-policy-society-interfaces.
Over her career, Roberta has produced more than 100 publications on food, some of which have been translated into French, Italian, Portuguese, Japanese and Korean. She has also acted as a commentator to print and broadcast media organizations in Italy, Finland, Denmark, Spain and the UK.
Roberta is currently principal investigator of the €12m FOODCLIC project, funded by the European Commission's Horizon Europe Programme, researching the transformation of city-region food systems in European and African city-regions.
Research

Research interests

My research focuses on sustainable food systems, with a particular focus on governance. Working across the science-policy interface, in my career I have acted as an advisor to many different bodies and organisations, including FAO and the European Commission. 

Research projects

Integrated Urban Food Policies – Developing Sustainability Co-Benefits, Spatial Linkages, Social Inclusion and Sectoral Connections to Transform Food Systems in City-Regions (2022-2027). Funded by the EC, Horizon Europe Programme. Total contract value: €12 million. Principal Investigator

FOODTRAILS

Building Pathways Towards FOOD 2030-led Urban Food Policies (2020-2022). Funded by the EC (Horizon 2020 Programme, Innovation Project). Total contract value: €12 million. Principal Investigator

TRANSMANGO

Assessment of the Impact of Drivers of Change on Europe's Food and Nutritional Security (2014-2018). Funded by the EC, 7th Framework Programme. Total Contract Value: €3,938,477. Principal Investigator

Implementing Healthy and Sustainable Catering in Scotland's Public Sector 

Funded by the Scottish Government (2016-17). Total contract value: £34,600. Principal Investigator

FOODLINKS

Knowledge Brokerage to Promote Sustainable Food Consumption and Production: Linking Scientists, Policymakers and Civil Society Organizations (2011-2013). Funded by the EC, 7th Framework Programme. Total Contract Value: €1,495,264. Principal Investigator

PUREFOOD

Urban, Peri-Urban and Regional Food Dynamics: Towards an Integrated and Territorial Approach to Food (2010-2014). Funded by the EC (Marie Curie Initial Training Network). Total Contract Value: €2,886,382. Principal Investigator

Forecast for the Future: Scaling Up the Community Food Sector

Making Local Food Work Programme, funded by the Plunkett Foundation (2010-2012). Contract Value: £39,836. Co-Applicant

ETUDE

Enhancing the Theoretical Understanding of Rural Development (2007-2009). Funded by the EC (Specific Targeted Research Project). Total Contract Value: €655,636. Co-Applicant

School Meals for Development: Creating a Virtuous Cycle

Funded by the Gates Foundation and the World Food Programme (2007). Contract value: $137,487. Investigator

Delivering Sustainability: Towards the Creative Procurement of School Meals

Funded by the UK Economic and Social Research Council. Contract value: £194,000. Co-Applicant
Teaching
I have designed and led MSc modules on Sustainable Food Systems, Environmental Policy and Food Security and Justice. I also designed and directed an MSc Programme on Food, Space and Society and contributed to teaching on Research Methods. At the undergraduate level, I have led modules such as Environmental Policies and Planning and Study Skills. In my career, I have delivered guest lectures all over the world and held visiting professorship positions at the University of Cordoba (Spain), Slow Food's University of gastronomic Sciences (Italy) and BOKU University of Vienna (Austria).