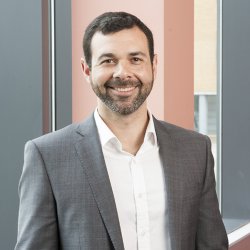 Professor Scott Cohen
---
Professor of Tourism and Transport, Head of Department of Tourism and Transport, School Deputy Research Director
BSc, MA, PhD, PGCE, PGCE
Biography
Scott Cohen is Professor of Tourism and Transport and Head of the Department of Tourism and Transport in the School of Hospitality and Tourism Management. He also serves as the School's Deputy Research Director.
Scott's research is primarily focused on societal issues in the contexts of travel, mobility and transport, with particular interests in sustainable mobility, hypermobility and in business and lifestyle travel. His research has been featured in prominent media outlets such as CNN, The Economist, NBC News, Newsweek, The Financial Times and The Telegraph. Scott has published more than 50 journal articles, across high impact business, social science and environmental science journals.
Scott has been awarded as "Researcher of the Year" by his Faculty at the University of Surrey (2015), as an "Emerging Scholar of Distinction" by the International Academy for the Study of Tourism (2013) and was co-recipient of the Journal of Travel Research's "Charles R. Goeldner Article of Excellence Award" (2015). He has been invited to give keynote speeches at conferences in Brazil, China, Portugal, Italy, Spain, Germany, Mauritius and the United Kingdom. He serves as an Associate Editor for Annals of Tourism Research and as an Editorial Board member for the Journal of Travel Research, Current Issues in Tourism, Journal of Sustainable Tourism, Journal of Travel & Tourism Marketing,Tourism Recreation Research, Journal of China Tourism Research, Anatolia and The Service Industries Journal.
University roles and responsibilities
Head of Department of Tourism and Transport

Deputy Research Director - School of Hospitality and Tourism Management
My qualifications
1999
Bachelor of Science in Biology
The University of Georgia, USA
2004
Master of Business in International Tourism Management
The University of Queensland, Australia
2009
Doctor of Philosophy
University of Otago, New Zealand
2011
Postgraduate Certificate in Research Degree Supervision
Bournemouth University, UK
2011
Postgraduate Certificate in Education Practice
Bournemouth University, UK
Previous roles
2016 -
2018
Head of Department of Tourism and Events
School of Hospitality and Tourism Management
2015 -
2016
Sustainability and Wellbeing in the Visitor Economy Research Group Leader
School of Hospitality and Tourism Management
2014 -
2016
Management Pathway Co-ordinator
ESRC Southeast Doctoral Training Centre
2014 -
2015
Faculty Director of Postgraduate Research Programmes
Faculty of Business, Economics and Law
2012 -
2014
Head of Doctoral Programmes
School of Hospitality and Tourism Management
Affiliations and memberships
Fellow
International Association for China Tourism Studies
Fellow
Higher Education Academy (UK)
Research
Research interests
Sustainable transport
Hypermobility
Business travel
Lifestyle mobilities
My teaching
Undergraduate:
Tourist Behaviour
Hospitality and Tourism Consultancy
Business Environment
Postgraduate:
Tourism Social Science - module leader
Supervision
Postgraduate research supervision
Simon Kimber – Host and guest relations of Chinese backpackers in southeast Asia destinations
Xiongbin Gao – Hitchhiking travel in China: Gender, power and bodies
Tassya Putho – Place attachment, home and belonging in the experiences of Thai retired migrants