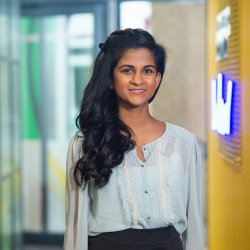 Dr Shelini Surendran
---
Associate Dean International FHMS, Associate Professor in Biosciences
BSc, PhD, PGCE, SFHEA
Personal Assistant: Carolina McGown
About
Biography
In my roles as the Programme Director for the Foundation Year in Biosciences at the University of Surrey and the former Head of Biology at Farnborough College of Technology, I have gained significant management experience while actively engaging in international research and teaching collaborations. My PhD research enabled me to work alongside global research teams, making significant contributions to the field of nutrition through nutrigenetic studies conducted in Indonesia, Sri Lanka, Turkey, Brazil, and India. Currently, I serve as an editorial board member for Frontiers in Nutrigenomics, Indonesian Journal of Medical Sciences and Public Health, and the Journal of Global Nutrition (Indonesia), further demonstrating my engagement with international academia. I am currently co-leading a guest editorial for the genetics of obesity journal (https://link.springer.com/collections/eheefhfhgh)
Throughout my career, I have demonstrated a commitment to international education and exchange opportunities. I provided guest lectures at the University of Henan in China, where I offered students the opportunity to study an introductory genetics module in English for the first time. I have experience teaching English to students in Saudi Arabia and the United Arab Emirates, as well as volunteering at English language summer camps in countries across Eastern Europe. Currently, I volunteer as an English teacher for Women's Empowerment Sri Lanka, offering classes to women from underprivileged backgrounds. Furthermore, I act as a supervisor in the Collaborative Online International Learning programme, a partnership between Surrey University and CEU Universidad San Pablo in Madrid.
I have been awarded grants for placements at the University of Helsinki in Dairy Cow Nutrition and completed two Erasmus staff mobility programmes at the University of Malmo, Sweden, and the European Innovation Academy in Timisoara, Romania. In April 2023, I embarked on another Erasmus staff mobility programme in Trinidad and Tobago to develop a COIL project related to educating primary school students about indigenous plants.
More recently, I placed 2nd in a global Hackathon by Beiersdorf, where 130 international talents competed to develop next generation skincare business solutions. This experience of working in a global interdisciplinary team led me to create a skincare startup company called Ceilán Ltd., to empower marginalised farmers in Sri Lanka, and I consequently won 'Entrepreneur of the Year' at the University of Greenwich (2022), this was the institution I had previously studied at for my PGCE.
In my current role in FHMS and more widely across the University of Surrey, I have actively sought opportunities to enhance student employability and enterprise skills. I have led and organised a Hackathon project at Surrey, which has enabled students to collaborate within interdisciplinary groups and tackle real-world problems relating to the 17 UN Sustainable Development Goals. Several industry partners, including organizations such as WWF, GRACE (gynaecological cancer) charity, Yakult Ltd, and the U.K. Environment Agency, have been involved in the project. This project not only offered students valuable experiential learning opportunities but also showcased my ability to effectively manage complex, interdisciplinary projects involving multiple stakeholders. The winning student team from this year's hackathon had the chance to travel to Ahmedabad, India, to take part in a global leadership programme.
I have also been asked to lead and organise a global hackathon and student enterprise week in Singapore in December 2021 and 2022, involving students from 18 Singaporean and British universities as part of the UKSAEI partnership.
Another aspect of my role involved transforming the hackathon into a credit-bearing Global Graduate Award in Entrepreneurship. This idea was inspired by my visit to the University of Malmo, where I encountered credit-bearing hackathons. The new module will be introduced in September at the University, having been approved by the Pro-Vice-Chancellor, Academic and Quality Enhancement Subcommittee. This innovative module promotes interdisciplinary collaboration and mentor-guided learning through hands-on tasks. Additionally, it plans to incorporate a global networking session, enabling students to collaborate on sustainability-related challenges with their peers from the UPGN partnership.
In recognition of my dedication to active learning, I received the 'Early Career Teacher of the Year' award at Surrey in 2021 and co-edited the book 'Active Learning Network Collaborative Book: 50 Ideas for Active Learning' which was created with authors around the world.
My roles:
Final year undergraduate dissertation supervisor and marker (Biomedical science BSc , Biochemistry BSc and Masters Biochemistry)
Lead for the University Hackathon project
Level 6/7 Student Staff Liaison Committee convener
Chair for the Level 3 Board of Examinations School
Supercharged group (Innovative teaching practise group) member
Foundation Year Sharing Practice committee member
Student enterprise champion for promoting enterprise activities across University
Affiliations and memberships
Fellow of the Higher Education Academy
Business, industry and community links
Research

Research interests

My research interests focus on the investigation of the physiological and molecular basis of gene variants associated with vitamin B12 status and cardio-metabolic traits (such as diabetes, obesity and hypertension), and looks at how these genotype-phenotype associations are influenced by dietary components.  Within my research, I incorporate statistical genetics, bioinformatics and molecular biology to perform detailed epidemiological and functional analyses.

My long term goal is to use the findings from observational studies which I have conducted from various populations (India, United Kingdom, Sri Lanka, Brazil and Indonesia) to carry out human intervention studies with a view of facilitating 'Personalized Nutrition' (where appropriate optimum diets can be tailored according to an individual's genetic profile). I was also the lead study co-ordinator of the first Nutrigenetics study conducted Sri Lanka, Colombo, where she focused on establishing the genetic link between vitamin B12 concentrations and obesity related traits.

 I am currently supervising 7 undergraduate research projects related to cognition and botanicals. I am also working in collaboration with the institute of A.I to develop a diabetes prediction model. I previously organised a networking event on this topic in Surrey University in June 2022: Diabetes and AI - Surrey IAS.

 

Scientific Research:

In terms of pedagogic research:

I am working on projects related to the transition of Foundation year students into higher education.
I have conducted research relating to learning through play within the Biosciences.
I am currently researching hackathon projects and their impact on the development of employability skills.
Teaching
CHE0002 Foundation Year for Chemistry
BMS0005 Foundation Year for Biosciences
Project supervision since working at Surrey University:
Supervising 5 students taking part in the Collaborative Online International Learning (COIL) project in collaboration with the CEU Universidad San Pablo in Madrid (2023 to present)
 Supervising 11 BSc student dissertation projects as primary supervisor (2020 to present)
 Supervising 1 MSc student dissertation projects as primary supervisor (2021 to present)
Co-supervising 7 MSc Nutrition student dissertation projects at the Univesrity of Altma Ata, Indonesia with Dr Arif Sabta Aji (2022 to present)
Publications
Highlights
Surendran, S., Mack, K., Bingham, N. M., Edwards, N., Frost-Schenk, J., Keshishi, N., Matos, F., Moldoveanu, J., Walsha, R., Bodman-Smith, K. (2023). The use of extracurricular hackathons to promote and enhance students' academic and employability skills. International Journal of Educational Research Open, 5, 100307. https://doi.org/10.1016/j.ijedro.2023.100307
Aji, A.S., Surendran, S., Rahayu, H.K., Kurniasari, Y., Triastanti, R.K., Ahmadah, I., Sekar Kusuma, F.H.L., Nabiella, A.D., Laila, A.A., Khoyriyah, A. and Pratiwi, S., 2022. Eating Habits and Lifestyle Changes during COVID-19 Pandemic among Indonesian College Students: Results from Indonesia Dietary and Lifestyle Changes (IDLC) Study. Malaysian Journal of Medicine & Health Sciences, 18.
Shatwan, I.M., Alhefani, R.S., Bukhari, M.F., Hanbazazah, D.A., Srour, J.K., Surendran, S., Aljefree, N.M. and Almoraie, N.M., 2023. Effects of a Smartphone App on Fruit and Vegetable Consumption Among Saudi Adolescents: Randomized Controlled Trial. JMIR Pediatrics and Parenting, 6, p.e43160.
Surendran, S. and Surendran, G.S., 2022. Using online comic strip generators to enhance the student experience in bioscience education. 100 Ideas for Active Learning.
Surendran, S. and Hopkins, S. (2022) Using online comic strip generators for formatively assessing the stages of 'respiration'. Teaching Insights, Available at: https://teachinginsights.ocsld.org/using-online-comic-strip-generators-…. (Accessed: 18 July 2023)
Surendran, S., Hopkins, S., Danielewicz, D. and Nikadon, E., 25. Using comic strips as an educational tool for learning about the stages of 'respiration'and promote team-work. Annual# creativeHE collection 2021, p.118.
Hopkins, S. and Surendran, S., 2021. Challenges and serendipities: group working under conditions of social distancing and dual modes of delivery. Journal of Learning Development in Higher Education, (22).
Surendran, S., Hopkins, S., Aji, A.S., Abubakar, S., Clayton, T., Dunuwila, T., Goss, L., Hatch, R., Horst, M.A., Rathnayake, K.M. and Rosenberg, S., 2021. Perspectives of teaching during the COVID-19 lockdown: a comparison of teaching in university bioscience programmes from around the world. Research in Science & Technological Education, pp.1-22.
Surendran, S., Qassadi, F., Surendran, G., Lilley, D. and Heinrich, M., 2021. Myrcene—what are the potential health benefits of this flavouring and aroma agent?. Frontiers in nutrition, 8, p.699666.
Surendran, S. and Vimaleswaran, K.S., 2021. A nutrigenetic approach to examine the relationship between vitamin B12 status and cardio‐metabolic traits in multiple ethnic groups–findings from the GeNuIne Collaboration.
Shatwan, I.M., Alhinai, E.A., Alawadhi, B., Surendran, S., Aljefree, N.M. and Almoraie, N.M., 2021. High adherence to the mediterranean diet is associated with a reduced risk of obesity among adults in gulf countries. Nutrients, 13(3), p.995.
Matusheski, N., Caffrey, A., Christensen, L., Mezgec, S., Surendran, S., Hjorth, M.F., McNulty, H., Pentieva, K., Roager, H.M., Seljak, B.K. and Vimaleswaran, K.S., 2021. Diets, nutrients, genes and the microbiome: Recent advances in personalised nutrition. British Journal of Nutrition, pp.1-24.
Isgin-Atici, K., Alsulami, S., Turan-Demirci, B., Surendran, S., Sendur, S.N., Lay, I., Karabulut, E., Ellahi, B., Lovegrove, J.A., Alikasifoglu, M. and Erbas, T., 2020. FTO gene–lifestyle interactions on serum adiponectin concentrations and central obesity in a Turkish population. International Journal of Food Sciences and Nutrition, pp.1-11.
Surendran S, Jayashri R, Drysdale L, Bodhini D, Lakshmipriya N, Shanthirani CS, Vasudevan Sudha, Lovegrove JA, Anjana RM, Mohan V, Radha V, Pradeepa R, Vimaleswaran KS (2019). Evidence for the association between FTO gene variants and vitamin B12 concentrations in an Asian Indian population.  Genes & Nutrition
 Surendran S, Aji AS, Ariyasra U, Sari SR, Malik SG, Tasrif N, Yani FF, Lovegrove JA, Sudji IR, Lipoeto NI, Vimaleswaran KS  (2019). A nutrigenetic approach for investigating the relationship between vitamin B12 status and metabolic traits in Indonesian women. Journal of Diabetes & Metabolic Disorders
Surendran S, Alsulami S, Lankeshwara R, Jayawardena R, Wetthasinghe K Sarkar S, Ellahi B, Lovegrove JA, Anthony DJ, Vimaleswaran KS (2019). A genetic approach to examine the relationship between vitamin B12 status and metabolic traits in a South Asian population. International Journal of Diabetes in Developing Countries
Surendran S, Morais CC, Abdalla DSP, Shatwan IA, Lovegrove JA, Cominetti C, Vimaleswaran KS, Horst MA (2019). The influence of one-carbon metabolism gene polymorphisms and gene-environment interactions on homocysteine, vitamin B12, folate and lipids in a Brazilian adolescent population. Journal of Diabetology.
Surendran, S., Adaikalakoteswari, A., Saravanan, P., Shatwaan, I. A., Lovegrove, J. A. and Vimaleswaran, K. S. (2018) An update on vitamin B12-related gene polymorphisms and B12 status. Genes & Nutrition
Bodhini D, Gaal S, Shatwan I, Ramya K, Ellahi B, Surendran S, Sudha V, Anjana MR, Mohan V, Lovegrove JA., Radha V and Vimaleswaran KS (2017) Interaction between TCF7L2 polymorphism and dietary fat intake on high density lipoprotein cholesterol. PLoS ONE