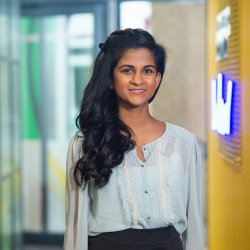 Dr Shelini Surendran
---
Programme director and Lecturer, Biosciences Foundation
BSc, PhD, PGCE, fHEA
About
Biography
I am currently a Lecturer at the University of Surrey in Biosciences. I am very interested in playful and flipped learning. I have experience teaching in primary schools, colleges, and University in the UK and China. I completed a PhD in Nutrigenetics and have a PGCE in higher education. In 2021, I was awarded the Early career Teaching Fellow of the year for the University of Surrey.  
My roles:
Final year undergraduate dissertation supervisor and marker (Biomedical science BSc , Biochemistry BSc and Masters Biochemistry)
Mentor for the Surrey Excellence in Teaching (SET) framework
Lead for the University Hackathon project
Level 6/7 Student Staff Liaison Committee convener
Affiliations and memberships
Fellow of the Higher Education Academy
Research

Research interests

My research interests focus on the investigation of the physiological and molecular basis of gene variants associated with vitamin B12 status and cardio-metabolic traits (such as diabetes, obesity and hypertension), and looks at how these genotype-phenotype associations are influenced by dietary components.  Within my research, I incorporate statistical genetics, bioinformatics and molecular biology to perform detailed epidemiological and functional analyses.

My long term goal is to use the findings from observational studies which I have conducted from various populations (India, United Kingdom, Sri Lanka, Brazil and Indonesia) to carry out human intervention studies with a view of facilitating 'Personalized Nutrition' (where appropriate optimum diets can be tailored according to an individual's genetic profile). I was also the lead study co-ordinator of the first Nutrigenetics study conducted Sri Lanka, Colombo, where she focused on establishing the genetic link between vitamin B12 concentrations and obesity related traits.

 I am currently supervising 7 undergraduate research projects related to cognition and botanicals. I am also working in collaboration with the institute of A.I to develop a diabetes prediction model. I am co-organising a networking event on this topic in Surrey University this June: Diabetes and AI - Surrey IAS.
Teaching
CHE0002 Foundation Year for Chemistry
BMS0005 Foundation Year for Biosciences
Publications
Highlights
Hopkins, S. and Surendran, S., 2021. Challenges and serendipities: group working under conditions of social distancing and dual modes of delivery. Journal of Learning Development in Higher Education, (22).
Surendran, S., Hopkins, S., Aji, A.S., Abubakar, S., Clayton, T., Dunuwila, T., Goss, L., Hatch, R., Horst, M.A., Rathnayake, K.M. and Rosenberg, S., 2021. Perspectives of teaching during the COVID-19 lockdown: a comparison of teaching in university bioscience programmes from around the world. Research in Science & Technological Education, pp.1-22.
Surendran, S., Qassadi, F., Surendran, G., Lilley, D. and Heinrich, M., 2021. Myrcene—What Are the Potential Health Benefits of This Flavouring and Aroma Agent?. Frontiers in Nutrition, p.400.
Shatwan, I.M., Alhinai, E.A., Alawadhi, B., Surendran, S., Aljefree, N.M. and Almoraie, N.M., 2021. High Adherence to the Mediterranean Diet Is Associated with a Reduced Risk of Obesity among Adults in Gulf Countries. Nutrients, 13(3), p.995.
Surendran, S. and Vimaleswaran, K.S., 2021. A nutrigenetic approach to examine the relationship between vitamin B12 status and cardio‐metabolic traits in multiple ethnic groups: Findings from the GeNuIne Collaboration. Nutrition Bulletin.
Matusheski, N., Caffrey, A., Christensen, L., Mezgec, S., Surendran, S., Hjorth, M.F., McNulty, H., Pentieva, K., Roager, H.M., Seljak, B.K. and Vimaleswaran, K.S., 2021. Diets, nutrients, genes and the microbiome: Recent advances in personalised nutrition. British Journal of Nutrition, pp.1-24.
Isgin-Atici, K., Alsulami, S., Turan-Demirci, B., Surendran, S., Sendur, S.N., Lay, I., Karabulut, E., Ellahi, B., Lovegrove, J.A., Alikasifoglu, M. and Erbas, T., 2020. FTO gene–lifestyle interactions on serum adiponectin concentrations and central obesity in a Turkish population. International Journal of Food Sciences and Nutrition, pp.1-11.
Surendran S, Jayashri R, Drysdale L, Bodhini D, Lakshmipriya N, Shanthirani CS, Vasudevan Sudha, Lovegrove JA, Anjana RM, Mohan V, Radha V, Pradeepa R, Vimaleswaran KS (2019). Evidence for the association between FTO gene variants and vitamin B12 concentrations in an Asian Indian population.  Genes & Nutrition
 Surendran S, Aji AS, Ariyasra U, Sari SR, Malik SG, Tasrif N, Yani FF, Lovegrove JA, Sudji IR, Lipoeto NI, Vimaleswaran KS  (2019). A nutrigenetic approach for investigating the relationship between vitamin B12 status and metabolic traits in Indonesian women. Journal of Diabetes & Metabolic Disorders
Surendran S, Alsulami S, Lankeshwara R, Jayawardena R, Wetthasinghe K Sarkar S, Ellahi B, Lovegrove JA, Anthony DJ, Vimaleswaran KS (2019). A genetic approach to examine the relationship between vitamin B12 status and metabolic traits in a South Asian population. International Journal of Diabetes in Developing Countries
Surendran S, Morais CC, Abdalla DSP, Shatwan IA, Lovegrove JA, Cominetti C, Vimaleswaran KS, Horst MA (2019). The influence of one-carbon metabolism gene polymorphisms and gene-environment interactions on homocysteine, vitamin B12, folate and lipids in a Brazilian adolescent population. Journal of Diabetology.
Surendran, S., Adaikalakoteswari, A., Saravanan, P., Shatwaan, I. A., Lovegrove, J. A. and Vimaleswaran, K. S. (2018) An update on vitamin B12-related gene polymorphisms and B12 status. Genes & Nutrition
Bodhini D, Gaal S, Shatwan I, Ramya K, Ellahi B, Surendran S, Sudha V, Anjana MR, Mohan V, Lovegrove JA., Radha V and Vimaleswaran KS (2017) Interaction between TCF7L2 polymorphism and dietary fat intake on high density lipoprotein cholesterol. PLoS ONE