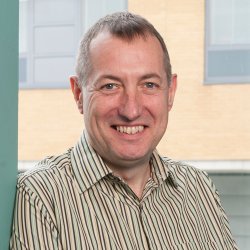 Professor Tony Myatt
---
Head of Department of Music & Media
Department Administrator: Francesca Mason
Biography
Tony Myatt is a sound artist, engineer and academic who specialises in spatial audio production - the creation of three-dimensional sound projections for sound installation art, film and live audio performances. 
He is Head of the Department of Music and Media at the University of Surrey. Tony's research and teaching focus on contemporary aesthetics in electronic and computer music; spatial sound reproduction and recording; the composition and performance of computer music and contemporary audio art.
For more than ten years, Tony has worked closely with artists Chris Watson and Jana Winderen on the creation and presentation of their spatial audio installations and performances.  Tony employs audio production and presentation techniques informed by research in human spatial perception to realise sound installations, which employ a variety of contemporary spatial sound projection technologies.
Much of his work is focused on contemporary sound art projects whose motivations and apprehension rely on convincing and immersive spatial audio reproductions of wildlife and natural phenomena.  These are often employed to promote themes relating to the conservation of species, an awareness of rare, inaccessible and threatened habitats, understanding the impacts of climate-change and species threatened by human action.
In 2008, Tony developed an object-based spatial audio system and a large body of audio works for Thyssen-Bornemisza Art Contemporary's (TB-A 21) The Morning Line sound pavilion, for the 2008 Seville Biennial, 2010 Istanbul European City of Culture, 2011-12 Schwarzenbergplatz Vienna and now permanently installed at the Centre for Art and Media Technology Karlsruhe (ZKM), Germany. 
Tony has also developed audio production and performance software for Yasunao Tone (including mp3 Deviation and AI Deviation V1 and V2), and worked on a number of spatial audio releases including Russell Haswell's IN IT (Immersive Live Salvage) (eMego 115) and Leyfðu Ljósinu (Touch TO:90) with composer and musician Hildur Guðnadóttir (Chernobyl and Joker).
He has also collaborated on spatial sound projects with: Mark Fell, Roc Jiménez de Cisneros, Jónsi & Alex, Carlos Casas, Carl Michael von Hausswolff, Lee Ranaldo, Tommi Grönlund & Petteri Nisunen, Christian Fennesz, Bryce Dessner, Carsten Nicolai, Florian Hecker, Bruce Gilbert, Peter Zinovieff, AK Dolven, Terre Thaemlitz and Finnborgi Pétursson.
Tony's work has been exhibited and performed at MoMA, New York; Tate Modern, London; Foundation Cartier pour l'Art Contemporain, Paris; GES-2 gallery, Moscow; Experimental Media and Performing Arts Center (EMPAC), Troy, NY; Arter, Istanbul; Kunstnernes Hus, Oslo; Park Ave. Road Tunnel, New York; US Embassy, Oslo; as part of Dark MoFu festival for MONA, Hobart; Kielder Forest, UK; Le Fresnoy, France; Museum of Modern Art Dubrovnik, Croatia.
In 2019, the cinema release of Tony's live-film collaboration with Chris Watson and Carlos Casas, Sanctuary/Cemetery, was awarded Prix de la Fondation Culturelle Meta, Prix Marseille Espérance and Mention Spéciale du Jury Lycéens at the Marseille International Film Festival.
Tony is the author of numerous academic papers on spatial audio, and contributed a recent chapter, titled Sound Pavilions, to MIT Press' landmark and genre-defining publication Sound Art (2019), edited by Peter Weibel.
Tony was a founding editor of CUP's Organised Sound; An International Journal of Music and Technology.
Areas of specialism
Contemporary aesthetics in electronic and computer music;
Spatial sound reproduction and recording;
The performance and presentation of contemporary audio art
University roles and responsibilities
Head of the Department of Music and Media
Previous roles
1989 -
2012
Until 2012 Prof. Myatt directed the Music Research Centre at the University of York, UK, which he established in 2004 to support research in audio and computer music. During his directorship the Centre focused on the study of independent experimental music and sound art since the mid-1990s, and on the development of spatial audio technologies. Tony led the project to finance, design and construct the £2.5M Music Research Centre.
University of York, Department of Music
My publications
Publications
Myatt, A. and Lennox, P. 2011. Perceptual cartoonification in multi-spatial sound systems, Proc. 17th International Conference on Auditory Display, Budapest, Hungary.
Myatt, A. and Malham, D.G. 2010. Audio Spatialization for The Morning Line, Proc of the 128th Convention of the Audio Engineering Society, London, UK. (Also be featured as an AES Tutorial Paper on the Audio Engineering Society web site.)
Myatt, A. et al 2010. Yasunao Tone and MP3 Disruption, Proceedings of the International Conference on Computer Music, ICMA, New York, US.
Lennox, P., Myatt, T. & Scavone, G. (ed.) 2007 Concepts of perceptual significance for composition and reproduction of explorable surround sound fields, Proceedings of the 13th International Conference on Auditory Display. p. 208-212.
Myatt, A. and Malham DG. 1995, Three Dimensional Sound Spatialisation Using Ambisonic Techniques, Computer Music Journal, Vol.19 No.4, MIT Press, Cambridge MA, USA, pp58-70.
Myatt, A. 2002. Strategies for interaction in Construction 3, Organised Sound: Vol. 7, no. 2. Cambridge: Cambridge University Press: 157-169.
Myatt, A. Lennox, P. and Vaughan, J. 1999. From Surround Sound to True 3D, Proceedings of Audio Engineering Society 16th International Conference, AES, Rovanearme, Finland.
Myatt, A., Lennox, P., Vaughan, J. 2001. 3-D Audio as an Information- Environment, AES 19th International Conference on Surround Sound, Schloss Elmau, Germany.
Selected audio works
Placentia Bay, 2013, Touch Music, London, UK.
after via gleam, 2007 WPA/Cocoran Gallery, colorfield.remix
Roundabout, 2009. Co-created with Russell Haswell. Ambisonic, with-height audio artwork.
Aldeburgh Beach Sequence, 2009 and Slide 2009, Aldeburgh LISTEN event, curated by Russell Haswell, commissioned by the Snape Maltings, Aldeburgh supported by the Paul Hamlin Trust and Loudwater Investment Partner Ltd.
untitled 3, live performance for nested sound systems (41 channels) (30 mins), premiere HFG, Karlsruhe, June 2007.
After via gleam, (7 mins) 2007, electronic composition, finalist colorfield-remix Washington US, first performed June 2007, Cocoran Gallery Washington DC. USA.
G, no B, (15 mins) 2006, electronic composition for live interactive algorithm and FM synthesis, premiere Rymer Auditorium, York 2006.
Lizard Solitude, (30 mins) 2005, sound installation to accompany the paintings of Barrie Cook, Royal Truro Galleries. Truro, Cornwall, April 2005. Also Worcester City Art Gallery 3/9/5.
L'infinitá, for computer generated electronic tape (15mins) (1999).
Chaotic Constructions (1997), installation for kinetic sculpture and computer generated soundtracks (with Peter Fluck), Tate St Ives.
Chaotic Constructions 2 (1999), for computer and kinetic sculpture (with Peter Fluck), exhibited at mobiles@RIBA exhibition, Royal Institute of British Architects, London, 16th Feb - 16th April 1999, and Kube Gallery Poole, UK.
Construction 3 (2001), for saxophone, computer and sculptural forms (with Peter Fluck), commissioned by the European Commission, IST programme under Framework 5, premiered Curt Sachs Saal, Berlin on the 9th December 2001.
The Morning Line, exhibition 2 October 2008 - 24 January 2010, Seville Biennial of Contemporary Art 2008, Centro Andaluz de Arte Contemporáneo, Seville, Spain. With Florian Hecker (De), Chris Watson(UK), Bruce Gilbert (UK), Lee Ranaldo(US), Bryce Dessner(US), Evan Ziporyn(US), Roc Jimenez de Cisneros (Es) and Mark Fell (UK), Matthew Ritchie(US).
The Morning Line, exhibition 22 May - 22 November 2010, Eminönü Square, as part of the European Capital of Culture 2010 Istanbul. Turkey. With artists Jana Winderen (NO), Peter Zinovieff (UK), Carl Michael von Hausswolff (SE), Yasunao Tone(JP/US), Erdem Helvacıoğlu(TR), Cevdet Erek(TR), Batuhan Bozkurt(TR), and Mehmet Can Özer(TR).
The Morning Line, exhibition 7 June - 20 November 2011 Schwarzenbergplatz, Vienna, Austria.With artists Frantz Pomassl (AT), Alexej Borisov (Russia), Tommi Grönlund & Petteri Nisunen (Finland), Christian Fennesz (Austria), Carsten Nicolai (Germany), Zsolt Olejnik (Hungary), Finnbogi Petursson (Iceland), Terre Thaemlitz (USA), Zavoloka (Ukraine).