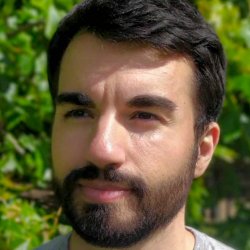 Alejandro Pozo Domínguez
"The University has a lot of societies if you're interested in them and the atmosphere on the campus and in Guildford itself is really nice."
Course
Aerodynamic and Environmental Flow PhD
Research project
Computational fluid dynamics in aircraft engines
Choosing Surrey
I've always been interested in research and Surrey had a good project funded by Rolls-Royce related to my field.
I'm originally from Spain and I'd already spent a year in England, so being based close to London, with great links to airports, was another factor that made me choose this university.
My research
I've been interested in Computational Fluid Dynamics (CFD) since the first time I saw it explained was when I was a kid watching Formula 1. Before each race, they discussed technical information about the cars. I remember they showed a graph with streamlines around the car in fancy colours.
My PhD project concerns CFD in aircraft engines. There's a common problem in modern turbomachinery where there's an undesired ingestion of hot air in certain cavities inside the engine. The idea is to predict when this happens with numerical simulations. But, due to the complexity of the physics involved, the simulations have notable discrepancies compared with experimental data.
Research goal
I aim to add a statistical analysis to take into account possible uncertainties that might affect simulation results, to obtain better insight regarding the limitations of the simulations.
Rolls-Royce, who fund my project, have been dealing with this problem for more than a decade and they're interested in solving this issue to improve engine efficiency.
Facilities
All my work is done on a computer. I prepare everything on my laptop and, when I want to run a simulation, we send the information to the Department's High-Performance Computer (HPC) that can do complex computations way faster than a regular one.
Life at Surrey
The University has a lot of societies if you're interested in them, and the atmosphere on the campus and in Guildford itself is really nice.
As a PhD student, I have a lot of work but there's also a lot of flexibility in terms of my schedule, so I can often organise social or physical activities around research.
I was involved in the Mixed Martial Arts (MMA) society during my first year. The people were very friendly and the classes were pretty crowed, so you got to interact with people from really different backgrounds. The society has close ties with an MMA gym in Guildford, so I also train there. Hitting a punchbag from time to time does wonders for stress relief!
Highlights
In my first year, we managed to publish an article with our work here at Surrey. The article is going to be presented in an international conference this in September, organised by the American Society of Mechanical Engineers (ASME).
The future
I hope to stay in a research-related job, either in industry or academia. I'm most interested in computational engineering, similar to my current PhD project.
Learn more about studying in our School of Mechanical Engineering Sciences.