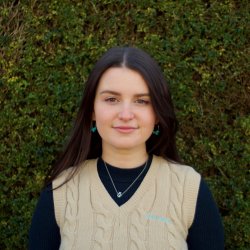 Amelia Hooper
"I've been impressed with how Surrey has dealt with the pandemic. They've done their best to keep up student morale by setting up events where they can and opening up social spaces such as Rubix lounge, The Marquee and the lake."
Choosing Surrey
I decided I wanted to come to Surrey after visiting for an open day. I felt a real buzz on campus and a strong sense of community in the Department of Music and Media. I got the impression there was always something going on and that the University had a great, inclusive Students' Union. I was studying Music Technology, Psychology and Media studies A-Level at the time and was looking forward to broadening my musical knowledge and meeting more like-minded people. Also, I already knew the Guildford area, which made moving here less daunting.
Your course
Music is such a collaborative and creative subject. You're constantly meeting new, interesting people and I love the size of the Department. You don't feel like you're lost in a sea of students and the staff take time to get to know you, which is really comforting.
I like the freedom we have in choosing modules. You can tailor each piece of coursework to your specific interests and there are always options to perform or compose instead of constantly writing essays. There are many opportunities for collaboration throughout the course, for instance, in the Music Project module you can work with students from different year groups and courses.
The staff and facilities
The music facilities at Surrey are great. There are plenty of practice rooms and three large studios where you can have your music recorded and produced by Tonmeister students. The academic staff have been especially good through the pandemic with supporting us through online teaching, tutorials and providing us with any extra help we may need.
Your life at Surrey
Due to the coronavirus pandemic, it's been harder to get involved with societies, however, last year I took part in the Musical Theatre society which was great fun. I was also a member of the chamber choir which was an amazing ensemble which benefited me socially and academically. I met some of my closest friends, worked on my sight reading and was able to perform in Guildford Cathedral on numerous occasions.
Best bits about Surrey
My favourite moment at Surrey so far has been performing at Guildford Cathedral with the chamber choir. It's such a beautiful space and a great experience and I'm looking forward to being able to perform there again soon.
Being a music student, it's great to have easy connections to London. Before the pandemic hit, I loved going to the theatre with my friends and am looking forward to going to shows and gigs when everything opens again, after lockdown.
At the moment, I spend most of my time in the Performing Arts and Technology Studios (PATS). It's nice seeing fellow students around, since face-to-face lectures have been put on hold. Before the pandemic, I'd enjoy going to the Library with my friends and getting coffee. In the evenings, we would enjoy going to Wates Bar and to Rubix, which is the club on campus.
Looking forward
The sense of independence that university provides is definitely playing a big part in my personal growth. It has made me a more mature, organised person and I've gained new life skills such as cooking and managing money.