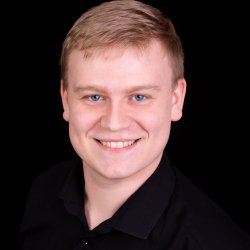 Niall Casserly
"Surrey offers an extremely diverse and versatile course which has allowed me to mould the degree to my personal and professional interests".
Choosing Surrey
My Sixth Form had arranged for a variety of universities to come and speak to us. The talk from Surrey was engaging and the speaker was friendly, immediately defining Surrey as a welcoming campus where I knew I would be comfortable.  After a tour of the University campus and facilities I was sold. The Department of Music and Media was exactly the sort of environment I was looking for, with world class facilities and approachable lecturers who wanted to help us achieve the best possible degrees.
Guildford is a wonderful place to be. The ease of having the campus only a ten-minute walk from the middle of town and train station was appealing as I commute. Not only do I have a direct route home, but also only a 30-minute journey into London which is essential for a musician who wants to work in the capital.
Your course
Surrey offers an extremely diverse and versatile course which has allowed me to mould the degree to my personal and professional interests. Along with modules that are more academic and theoretical knowledge based, as a pianist, I have taken a performance centred pathway, but if composition is more up your street, then Surrey has no problem facilitating this.
I still have the opportunity to compose, arrange and orchestrate within other modules. It really is the versatility that Surrey offers which attracted me to the course. I also enjoy how all three music courses at Surrey cross paths. We work closely with the Creative Music Technology students and those on the Tonmeister course as well.
Passion for your course
Music is not just a subject; I consider it part of me and one of the things that defines me as a person. I have played the piano from the age of four, and have aspired to become a well-rounded, experienced musician ever since. With the contacts and quality of teaching at Surrey, there is no better place to study for my undergraduate degree.
Academic staff and facilities
The academic staff are great people to work with and are always on hand for us to ask questions, book one-to-ones with, and continuously support us whether that be in a pastoral or academic way. There is generally never a right or wrong answer to academic discussions; the academic staff encourage debate and overall are just wonderful people to work with.
The facilities in the Performing Arts Technology Studios (PATS) are world class. Studio 1, our main space and concert hall, is a versatile space that holds two Model D Steinway Concert Grands. Perfect for pianists like me! There is always a practice room available and technicians on hand if we need assistance with equipment and room bookings. We also have access to a Mac Lab, equipped with software such as Ableton, Logic Pro and Sibelius. Both PATS and the Mac Lab are available to music students 24/7, which is really useful if you're someone who might want to practice in the early hours of the morning or late at night.
Clubs and Societies
During my first year at Surrey, I conducted and played Keyboard 1 for the Musical Theatre Society's autumn showcase which was a fantastic experience. This really allowed me to network with other students and I have many friends that I met here. I currently manage the Department's Chamber Choir, as well as singing in it as a Countertenor.
PATS is like a second home to Surrey's music students, with places to practice, socialise and produce high quality music in and outside of study.
Best bits so far
There are particular modules that I have enjoyed. Harmony 2 brought out the composer in me and I thoroughly enjoyed learning about jazz and extended harmony. My other favourite module so far has been the Musical Theatre topic study, where I had the chance to look at ten different musicals in detail and then choose one of my own to discuss an issue presented in it. Performance is always a joy at Surrey and singing in Guildford Cathedral with the Chamber Choir has been an honour.