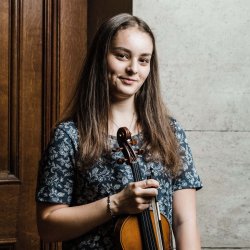 Annabel Sheridan
"For my professional training placement, I went to London to work with the National Youth Orchestra (NYO) and am now with Guildford Jazz working as a student ambassador."
Placement company
National Youth Orchestra and Guildford Jazz
CHOOSING SURREY
I was drawn to the green landscape and the lake at Surrey as I love the countryside. The proximity to London was excellent and allowed me to freelance in London without too much time spent on travelling. The community seemed very open and friendly, and I was excited to get to know the Guildford area more, as it seemed like a beautiful place to live.
My first impression was that the campus had lots of great facilities, a big library and a good music studio, which seemed new and advanced. It seemed like a place that people were happy.
YOUR COURSE
From a very young age I loved playing musical instruments and sharing performances with family and friends. I chose to study Music at Surrey as I felt that I was the best at this subject and enjoyed it the most by far. I am an experienced performer so I knew that I wouldn't have too much trouble with performance assessments. I knew that I needed to enjoy what I am studying to do well and want to work hard.
I love the modules so far and how supportive the lecturers are. They are open to tutorials and will guide you towards helpful extra reading and resources. This course allowed for lots of creativity, so I don't always have to write essays for assignments.
STAFF AND FACILITIES
The academic staff at Surrey are very helpful and friendly. They are often in their offices and will answer your questions and are happy for a quick chat. The facilities are currently being upgraded which is great, you can usually find a free practice room and the main Studio One has great acoustics and lots of space for orchestral rehearsals and seminars.
YOUR LIFE HERE
I joined lots of clubs and societies in my first year, from gymnastics to Gospel Choir. Now I am the president of the String Orchestra, which is so much fun as I get to conduct a lovely  group of people and decide on music each semester with my committee. I have gained a lot of confidence as I started out leading the orchestra, then was the treasurer and joined the committee.
PROFESSIONAL TRAINING 
For my professional training placement, I went to London to work with the National Youth Orchestra (NYO) and am now with Guildford Jazz working as a student ambassador. With the NYO I was an administrator for their NYO Inspire programme and the highlight of my time with them was being on the NYO Summer Residency, where we travelled the country performing for two weeks.
I've also been to the careers fair and open day as I'd like to do a masters course in another subject.
LIVING AT SURREY
In my first year I lived on the Manor Park campus in a flat of seven people, with my own bathroom. It was very spacious and had beautiful walks nearby, plus close to the Surrey Sports Park where I did my yoga classes. I would recommend University accommodation for at least a year, as it forced me out of my comfort zone, learnt to live with new people and share my living space.
BEST BITS
The best moment relating to my studies so far was when I joined the orchestra for the first time. This was a very exciting moment as we were coming out of the pandemic and things were opening up. It was special for me especially as I was the first violin co-leader sitting next to my teacher.
LOOKING FORWARD
I've grown in confidence and gained new friends at Surrey, as I learned what I valued in a friendship and also in relationships. I've learned how, when and where I study best and how to prioritise and not put too much pressure on myself. I have really enjoyed my time at Surrey so far and am looking forward to making many more memories here.
After I graduate, I will apply to a Psychology conversion MSc course at Surrey.