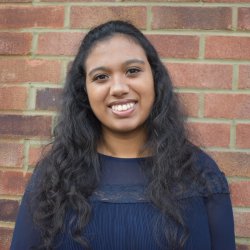 Teerna Mukhopadhyay
"The academic staff are absolutely wonderful and one element about the course that really struck me was how genuinely passionate they were about their chosen specialism."
Choosing Surrey
The main factor for deciding on Surrey was the location; the campus itself is very green with a beautiful lake and the 30-minute links to London were perfect as I didn't want to be too far from home. Also, the community-based, family friendly vibe, particularly from the university applicant day and open day made everyone seem so kind and supportive, you could tell that the Music students we talked to genuinely loved the course.
From a young age, I have always been passionate about music. I remember my parents would always play Vivaldi CDs in the kitchen, which was a favourite of mine growing up!
When it came to researching potential courses for my further education, I noticed that there were a lot which solely focused on classical music. With the Surrey BMus, you could learn about a range of different genres, including jazz, popular music and musical theatre (one of my personal favourites!).
Your course
One thing I love about my course is definitely the wide range of assessment options, from the more academic side of things, such as writing coursework essays, to the more practical coursework assessments such as a performance recital or composition portfolio. The course definitely offers the opportunity for flexibility, which meant that I could play to my strengths and what I enjoy.
Staff and facilities
The academic staff are absolutely wonderful. One element about the course that really struck me was how genuinely passionate the staff were about their chosen specialism. In general, they are always incredibly supportive, and if I ever have an academic related or personal issue, they are always there no matter what to support me. The facilities here in the Performing Arts Technology Studios (PATS) are truly second to none as well, boasting state of the art practice rooms, recording studios and edit rooms.
Your life at Surrey
I am a member of the University of Surrey Voices Choir, a pop acapella group which was ratified this year. The society itself is open to everyone, regardless of background and musical experience, and I have been fortunate enough to have met some lovely people during the weekly sessions too.
The best thing about life in the Department of Music and Media at Surrey is that there is such a lovely tight-knit community. Everyone here is so kind, supportive and friendly and I've been so lucky to have been surrounded by amazing people!
Professional placement
During my time on placement, I worked at Eboracum Baroque, a classical music ensemble that aims to promote classical music to the younger generation all over the UK.  My responsibilities included working in the promotion of concerts through a mailing list that members could access, social media marketing and securing sponsorship for musical workshops in places that sadly, do not have many music workshops due to financial barriers.
I would 100% recommend a professional training placement to others. The opportunities and networking skills that you acquire during your time on placement really is second to none! I have grown so much on both a personal and professional level.
How have you changed since you started at Surrey?
I've grown so much as a person since starting university, becoming much more confident, changing my perspective on life and developing the way I think about music. Surrey has completely changed my life for the better and I've made so many lifelong friends since I came here. It has been absolutely wonderful studying here! Surrey and the people in it, whether I've known them for four years or just a few months, will always have my whole heart.