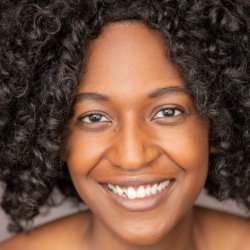 Asya Toney
"I really loved the fact that no matter what your skill level was, the instructors tried to find the best ways to teach us all individually."
"Musical theatre performance has been my passion since before I could walk. I have always felt that the stage is where I truly belonged. I also knew that I wanted to study abroad and Surrey's Guildford School of Acting (GSA) offered the best programme for my needs. I am passionate about musical theatre because it allows one to create, discover, entertain, and educate all at the same time. It can give a voice to the voiceless and help to connect different communities of people.
What I enjoyed the most were the integrated classes where we were able to combine the skills that we were being trained in. I felt that this was the best application of our training as it's what would be expected of us in the industry. I also really loved the fact that no matter what your skill level was, the instructors tried to find the best ways to teach us all individually. We were not being mass produced to look, sound, and move the same, each of our unique traits were used to enhance our performance aesthetic.
The staff were amazing. Each of my instructors were actively working in industry, and could therefore offer real-life experience.
They are all extremely knowledgeable on many aspects of the industry and were more than willing to share any advice they had, or to gather information that we were curious about.The facilities were also great - having our own building allowed us to have more space to work in a creative environment. When they turned one of the tutorial rooms into a quiet space, it really showed just how much the faculty cared about our mental wellbeing.
I am most proud of making a positive name for myself at GSA as well as receiving agency interest at the end of my studies. But perhaps my greatest achievements came when I was moved up in my ballet set and made significant improvement in tap. Both areas of dance were my weakest when I arrived, but I now feel fully confident in them. This is largely due to the amount of support my classmates and instructors gave me. I was never made to feel bad about my abilities or mistakes, and was praised for even the smallest of improvements. This helped me gain the confidence I needed to push myself even further, and it reminded me that I was not in competition with my peers, but rather with myself.
I have enjoyed getting to experience and learn about the immense amount of history that is here. Surrey is truly beautiful and England as a country has such a long and interesting history, so there is always something new to  discover.
My plan is to return to the States for a while before making the big move to either New York or London. I definitely feel that I am much more prepared for the industry now that my studies are complete. I have gained valuable knowledge and honed my skills so much so that I am now fully confident in my abilities."
Discover more about our theatre and performing arts courses, including our Musical Theatre MFA.