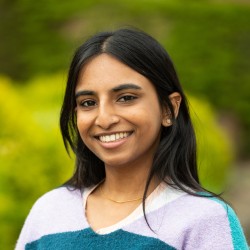 Athavi Jegatheeswaran
"I have never found a team that is as supporting, encouraging and caring than my fellow peers and tutoring staff."
Course
Nursing Studies (Registered Nurse Adult Nursing) With Foundation Year BSc (Hons)
Why I loved my course
Being in healthcare is tough but there is nothing more rewarding than working as nurse. I have had personal experience when being cared for by nurses and I wanted to do the same for others. I loved being at Surrey; I have never found a team that is as supporting, encouraging and caring than my University peers and tutoring staff.
Why I appreciated the facilities at Surrey
The simulation facilities at the Kate Granger Building are among the best learning experiences and opportunities that we could have had as healthcare students. To be able to practise clinical skills as though we were on placement, with the use of different tools, equipment and with the help of sim actors, tutors and peers: there's no place that prepares you better than Surrey.
My placement experience
All healthcare students complete 50% theory and 50% practice. As an adult nurse I spent half my university career on placement, whether that was at an acute care setting, community services or private care settings. My clinical placement was based in Guildford with the Royal Surrey as my main placement area. But I also worked with a district nursing team and a hospice as part of my training in the Surrey area.
During placement, I was considered an essential member of the team who would be involved in every aspect of patient care. I was heard and respected like any other member of a multidisciplinary team. Looking back on my placement training, I'm amazed at how much I have grown as a healthcare professional not just with clinical skills but holistically too.
University of Surrey Nursing Society 
I was part of the Nursing Society at Surrey and we worked collaboratively with many other societies to bring fun and a chance to get away for our members. It is a community within a community where you can be yourself with like-minded people, and relax and take a break from theory and placement blocks.
Life at Surrey
Surrey is great for someone who wants to experience being at a university campus with a good mix of green space and urban vibes. There is something for everyone.
Transport services are always available to get from one spot to another. And it's not too far if you ever fancy a day trip to London, there are regular trains which means that you have flexible timings to plan days out.
Looking back and looking ahead
Being at Surrey was an unbelievable and memorable time for me. I left with so many stories and memories that I recall fondly. Every interaction, whether it was with my tutors in sessions, getting through assignments with my peers, or simply relaxing and enjoying myself with friends on campus in places like the Nest, was great; there wasn't a moment I regretted.
I felt nervous about leaving Surrey and the comfort it provided in the years I spent there, but I knew that I was ready to take the next step in my nursing career. And I know that I will always have a space to come back to whenever I want. I greatly enjoyed my time at Surrey.
Find out more about our Nursing Studies (Registered Nurse Adult Nursing) With Foundation Year BSc (Hons).