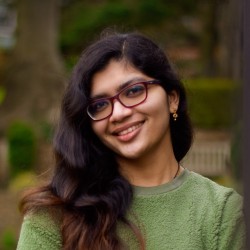 Bhavyasree Sasindra
"I've had so many amazing experiences... winning the Autumn Star Employability Award 2022 has been one of my greatest moments and made me recognise how far I've come."
Why did you choose to come to Surrey?
I was immediately drawn to Surrey for lots of reasons: the fact that I could do a masters with a placement year, the University's cutting-edge research in big data and data science, and the stunning campus that immediately felt like a second home. Being from a region in India with abundant greenery, I found Surrey the ideal blend, offering a peaceful and serene setting but close to London – one of my dream cities.
Why are you passionate about data science?
It's a dynamic and constantly evolving field that has the potential to revolutionise the way we live and work. The ability to extract insights and knowledge from large datasets has endless possibilities in fields ranging from healthcare to finance to social media. Data science can help individuals and businesses make better-informed decisions, discover hidden patterns, and gain new knowledge.
What are the best things about your course?
I like the combination of theory and practical lab sessions. This comprehensive approach is used across a wide range of topics such as analytics, machine learning and software development, and is designed to simulate real-world scenarios.
The academics are approachable and constantly motivate you to go beyond your comfort zone, and I've also found the 24-hour access to labs useful, especially while working on my dissertation.
And what do you do when lectures finish?
There's so much to do at Surrey! I've been a member of the Ballroom and Latin Dance Club, and also tried my hand at archery, salsa, Mixed Martial Arts, dodgeball and yoga.
For one academic year I was social media and communications officer for the Post-Graduate Society, which gave me the opportunity to meet people from all over the world and gain valuable transferable skills like organising events and creating content. This experience led to a part-time opportunity with Student Enterprise on campus.
What have been your best moments at Surrey so far?
I've had so many amazing experiences, it's hard to choose. Winning the Autumn Star Employability Award 2022 has been one of my greatest moments and made me recognise how far I've come. And competing in the 60th Inter Varsity Dance Championships at the Winter Gardens Blackpool is a moment that I will cherish for the rest of my life.
Tell us about your placement.
I worked at Nila Technology Ltd, an award-winning food tech start-up based in London. The company has launched an app called 'Gaston' which creates personalised dietary options for users. Working with a start-up enabled me to get involved with every aspect of the business, not just the data science part. One of my biggest achievements there was optimising the company's annual business strategy using data analysis.
How have you changed during your time here?
My time at Surrey has not only enhanced my technical knowledge but also contributed to my personal growth. The tips and guidance I've received from Surrey's peer support and library teams have been invaluable in helping me prioritise my work and also taught me the importance of self-care. Surrey has equipped me with the skills and confidence needed to thrive in any situation.
Discover our courses in computer science, including our Data Science MSc.