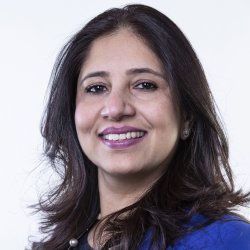 Dr Anusha Shah
An MSc in Water and Environmental Engineering at Surrey set Anusha Shah on the path towards her current role as Senior Director, Resilient Cities, at Arcadis.
What first sparked your interest in civil engineering?
I'm from Kashmir in India and grew up surrounded by the natural world – mountains, rivers and waterfalls. I wanted to do something related to the environment and at first aimed for architecture. However, while I passed the analytical tests, I failed the drawing test because I wasn't very good at drawing! This was the best thing that ever happened to me, as it landed me in civil engineering which I found a perfect fit as it deals with solving problems for the entire built environment.
Why did you decide to study for an MSc at Surrey?
While I was working as a project engineer with a Consultancy on the Dal Lake Conservation Project in New Delhi for a project in my hometown in Kashmir, I realised I needed another qualification in water and environmental engineering in order to hone my skills. I was fortunate enough to be one of the two people globally to get a Department of International Development scholarship to study at Surrey.
Tell us about your experience at Surrey
It was fantastic. I loved the beautiful green campus and the Centre for Environmental and Health Engineering, where I was based, was like a family. The best thing about the course was the relationships I built with people from all over the world. We were a diverse group with lots of international students: learning about each others' cultures, backgrounds and languages was invaluable.  
The course gave me a solid foundation and technical knowhow. I also benefited from the Netherlands Tour to Delft University, Rotterdam Reservoir and other site visits, and guest lectures from industry leaders which provided an insight into real world application.
What did you do after you course?
I initially worked as an environmental engineer on the Dal Lake project, this time on the client side but – while it was a 'plum' government job – I didn't want to get complacent and also the political situation in Kashmir was not stable. I mentioned to one of my tutors at Surrey that I wanted to get more experience on the ground and he suggested I come back to the UK and get chartered – which I did, while working for Black and Veatch.
And since then?
I've worked on numerous water and environmental projects across India, Saudi Arabia and the UK. Alongside this I've had voluntary roles with the Institution of Civil Engineers (ICE) and Thames Estuary Partnership. I'm proud to have been the first female and youngest Chair for ICE London Regional Committee and am currently Vice-President of ICE and (subject to council elections) set to be the third woman and first person from ethnic origin to be the President of the ICE in over 200 years. I am also a Non-Executive Director at the Met Office and visiting professor at a number of universities.
In 2016 I felt that the industry was moving too slowly on climate change so I made an overnight decision to set up my own consultancy, Plan for Earth. During this time I was also chairing the board of Thames Estuary Partnership, a charity working towards sustainable development of River Thames. One of our members was Arcadis and, having got to know about this company's strong Dutch heritage in water management, and its ambitions on climate change and sustainability, I joined them as their Director of Resilient Cities in 2019.
What is your remit at Arcadis?
We're in a climate and nature emergency, and I am fortunate to be working in a role where we are aiming to make communities, organisations and businesses resilient against climate change and its effects such as flooding, heat stress and water scarcity. I also represent Arcadis on the 50L Home Coalition which envisions a future where 50 litres of daily water use per person and zero carbon living is an irresistible aspiration for all.
What's your advice to people considering a career in civil engineering?
There's never been a better time to be a civil engineer because we're facing huge environmental and societal issues. This is our moment! It's vital that we keep people and the planet at the heart of the solutions we create.
My advice is to remember that everyone has a unique contribution to make. Keep learning, gain knowledge, be inclusive, network extensively, build relationships, stay curious and push yourself to gain new experiences. Above all, be humble and have fun!
Discover our courses in civil and environmental engineering including our Water and Environmental Engineering MSc.