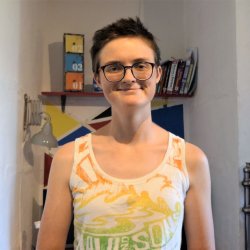 Eve Pitt
"As I grew up I became interested in maths and physics and paving a path to become an engineer. However, when looking at universities I realised I was specifically more into the technical side of film."
Course
Film Production and Broadcast Engineering BEng (Hons)
Why did you choose to come to Surrey? 
The main pull was its focus on employability. Surrey provides career advice, a year in industry and my course syllabus is tailored to what industries want new recruits to learn. Out of all the universities I had looked at, Surrey was the only one where I felt comfortable.
Why did you choose your course?
This course is not for people who just want to create videos and film at university, but for people who want to create videos, films, TV series and/or live broadcasts for the rest of their lives. This course is full of skills to stretch your mind creatively and technically.
What are the academic staff and facilities like on your course?
The academic staff are one of the highlights of the course. Smaller class sizes mean I'm not afraid to ask questions and can go to any one of my lecturers at any time and ask for help. Surrey's broadcast equipment and studio is professional standard but not overcomplicated.
Are you part of any clubs or societies?
The main society I'm involved in at Surrey is StagTV (our student TV station). It has made my experience at Surrey even more fulfilling as it links in with my course. There so much flexibility; in one year I've been a camera operator, presenter, editor, producer and now I'm on the committee.
How do you think your time at Surrey has impacted your employability once you graduate?
The course I'm studying has been tailored to what companies in this field would like in an employee, so I believe this course is teaching me the skills to enter this industry with confidence after graduation.
Do you think you've changed since you started at Surrey?
I've gained a huge amount of confidence in the skills I have and feel happier taking responsibility over projects and people.
My collaboration skills have also improved but the main reason I love being here is the incredible course I am on. I've learnt a huge amount from people I respect and trust and sometimes feel as though this course was made for me. 
Eve has recently won joint first place and a cash prize for the Procarton Student Video award 2021. In her film, a character crafts a natural environment which includes a waterfall, rocks and trees, out of used cartons, introducing the idea that small changes can have a big impact on the environment. Watch the wining film here.