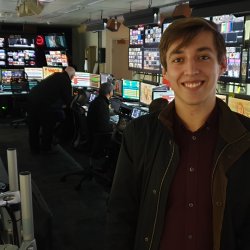 Francis Cousins
"I've learned an unbelievable amount through covering the General Election, by relaying live pictures and communications from one point to another."
Course
Film Production and Broadcast Engineering BEng (Hons)
I had first seen the Film and Video Production Technology course in my first year of A-Levels, and it fit with everything I had been interested in leading up to that point. The course seemed technically and academically challenging whilst also offering plenty of creative opportunity. I had been making films in my free time and was excited about the prospect of working in the film and TV industries – the course seemed like an obvious stepping stone in the right direction.
The content of the course itself was the main attractive aspect, as very few universities offer the diverse combination of engineering and creative skill building that FVPT does. The university is extremely close to my family home and I was initially worried that I wouldn't get the full 'uni experience', however - I was able to happily develop my independence in student accommodation and I can't think of anywhere I'd rather be the amongst the friends I've made on campus.
My favourite part of the degree is working with my course mates to develop finished videos. Whether TV of Film, the process of developing and building an idea and then seeing it become reality provides a great sense of achievement. The lecturers are incredibly supportive and help take our ideas and develop them into working projects – the commitment and dedication they have shown towards us is out of this world. I genuinely don't believe that I could receive this level of education and tailored support anywhere else.
Very few universities offer the  diverse combination of engineering and creative skill building that FVPT does.
I'm part of StagTV and Surrey Stage Crew. Most of my friends outside lectures are in these societies and we have great fun making simple TV, films and music gigs. The highlight for me is helping to televise Strictly Come Surrey, the University's annual dance competition, where students and lecturers compete together.
University accommodation in my first year was great. I made some strong friends and it's great fun living with a group of people from a wide variety of courses and having flatmates that you could chat to if you were feeling down or homesick. The rooms on campus are decent and affordable and set me up really well for moving into a rented house in second year.
I'm currently in the middle of my placement at ITN as a trainee engineer, making ITV and Channel 4 News programmes from both the Master control rooms and satellite trucks. I've learned an unbelievable amount covering the General Election by relaying live pictures and communications from one point to another as reliably as possible.
The PTY year helps build an understanding of a professional workplace and has definitely made me feel more confident about graduating with a rewarding career. What I've learned in the past six months complements the course perfectly and really enriches what I'm learning. Wrapping Strictly Come Surrey in my first year has been the Surrey Highlight for me so far - we had worked incredibly hard for a number of weeks building the show and installing the technology to make it all happen.
I strongly feel like Surrey has built me as a person – it has helped me to find myself and the direction I want to take in life. The experiences I've shared with my friends and course mates have really positively impacted my life and I feel I've built an amazing network of talented friends and future colleagues. When I graduate, I would love to continue working with ITN and pursue a career in television and potentially high-end film production down the line.
Discover more about our Music and Media courses, including Film and Video Production Technology Bsc.