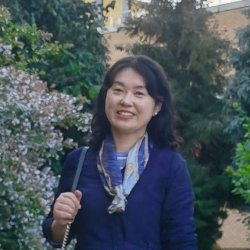 Fengmei Zhu
PhD student, Fengmei Zhu, is based in the Surrey Institute of Education, carrying out research to improve students' abilities of understanding, giving and receiving, as well as acting upon feedback to assist learning. Fengmei has conducted part of her research in the UK and is in China gathering more data. Here she explains her experience of studying as a PhD student at the University of Surrey.
I've been teaching English in higher education for 18 years in China, as well as looking after students' academic affairs. In that time I had become curious about how students engage with their courses and how they learn from feedback given by their course leaders. I soon discovered that little academic attention had been given to it.
When the pandemic came, the devastating impact of it made me realise life is so fragile and we should seize the time whilst we are healthy and alive. This was the impetus I needed to act on my interest in improving students' outcomes so began my search for a place to research pedagogical reforms in student feedback literacy.
Why the University of Surrey?
The University of Surrey was my first choice; it was no contest. At the Surrey Institute of Education there is a world-leading team of academics dedicated to investigating assessment and feedback – such as Professor Naomi Winstone and Dr Emma Medland. It was my only and sole choice!
I found that Surrey provides a rigorous research culture for academics and this appealed to me. My supervisors (Dr Emma Medland, Dr Anesa Hosein and Dr Kieran Balloo) are brilliant – they inspired me and gave me the courage to design new ways of measuring and validating student feedback literacy – which I did! My supervisors are so easy going and they offer me new perspectives and ways of exploring new possibilities. They are generous with developing my skills as a research academic as well as being considerate of my wellbeing. It's such a lovely and relaxing atmosphere: we have inspiring discussions and they give timely and constructive feedback.
Impressions of the University of Surrey
It is so beautiful! I'm impressed by the beauty – the grasslands, park, the cathedral, the lake. The skies over Surrey are stunning! People say the weather in the UK is awful but when the sun comes out, the skies are glorious – the colour and the different shapes of the clouds! The people here are lovely too, so smiley. I'd visited the UK before so I knew what to expect and it was easy to fit in. My fellow postgrad students are so friendly and all academics (not just my supervisors), are supportive and offer me help.
Advice to future PhD students
I started my PhD in my 40s and I think this helped me in defining what I wanted to study. I would advise anyone considering a PhD to find your own intrinsic driving force as you'll be far more effective. Know what you're doing and – this is good advice for all – avoid procrastination! Once you have an idea, just go for it!