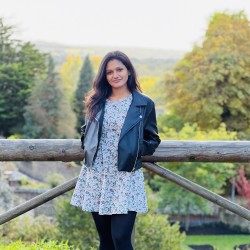 Ganguli Jayaratne
"The University embraces and adapts to new technologies and that impressed me."
Course
Communications Networks and Software MSc
Choosing Surrey
One of the main reasons I chose Surrey was that it had a course in the field of telecommunications engineering, which incorporated software too. It was the only university that met all my requirements. It's also got a good reputation for its communications research so that was an advantage.  
The breath-taking beauty and calm of the campus captured my heart from the moment I arrived. I liked that Surrey was close to London, but still had its own character; it's fairly urban but it's also a peaceful and beautiful area to live in. I was really impressed with the facilities, state-of-the-art research centres, teaching methods and academic staff. The University embraces and adapts to new technologies and that impressed me.  
My course
I've always had an affinity for telecommunications engineering because my father was in that profession. My passion grew when I did an internship at a leading mobile network operator during my undergraduate studies.   
The MSc Communications Networks and Software is a well-balanced course in terms of the modules offered. We are equipped with sound knowledge in all the subfields of the area we are studying, and having lab sessions as well as lectures gives us good hands-on experience. 
My best moment at Surrey so far was the day my first-semester results were released. After a lot of hard work and dedication, knowing that I'd done well brought me a lot of joy. 
"Postgraduate study is a lot of work. Make sure you select a field of study that you are passionate about because it requires a vast amount of dedication, courage and discipline."
My life here
I'm living in student accommodation at Manor Park. It's the most convenient place to live while studying as it has modern facilities and is walking distance from the University. Moreover, having a hospital, a sports park and a major supermarket on your doorstep, and being close to the town centre, makes life so much easier. 
Life at Surrey is great because there's so many activities to get involved in. Surrey Sports Park is open seven days a week and is equipped with facilities for any type of sport you would like to do, as well as scheduled classes. I'm part of the Surrey Women in Engineering Society (WES) and the Salsa and Bachata Society, which has been great for making friends from different courses. Taking part in society social events has improved my confidence significantly.  
During my free time, I tend to go to Hillside Café to enjoy a good latte although, when the weather is nice, I like to hang out by the lake. I spend a lot of time in the library when I'm in need of solitary time to get work done without any distractions.  
Looking ahead
I'm so glad that I chose Surrey and I'm forever grateful to the University staff for granting me the opportunity to study here. I'd like to continue my studies as a doctoral student here, so I will be looking into what opportunities are available. 
Life at Surrey has been so wonderful; it's exceeded my expectations.