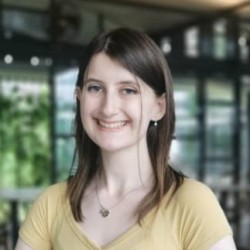 Jodie-Lee Boyle
"I wanted to take advantage of the fact the University offers a placement year to you; to get out there, get some experience and make a name for myself."
Placement company
International Law Book Facility (ILBF)
Why did you decide to participate in the professional placement year programme?
I thought a placement year would be a good way to get some industry experience under my belt before I graduate, and to get some real-world experience and make some connections, so that when I graduate, I know which direction I want to go in. 
I wanted the experience of working in a company, and to fully understand what it means to hold a role and the responsibility you get from it. Having an opportunity to make a role my own, grow and develop it and myself, and to gain confidence in myself and my abilities was so important.
What did you do on your placement role?
I worked for the International Law Book Facility (ILBF), which collects and distributes legal textbooks and resources across the world.
While my role was Shipping Coordinator, the title does not do it justice. I was dealing with imports, exports, anti-bribery forms, charitable registrations; everything you can imagine involved in the shipping of textbooks to different countries such as Nigeria, Uganda, Papua New Guinea to name but few.
I had hands-on involvement and responsibility for the whole system from the beginning, ensuring the process was as streamlined and organised as possible. My line manager was so supportive and trusting, she gave me the help, support and confidence I needed to take on this new role. Throughout the year I had many networking opportunities and insight experience days, I met so many different people and was exposed to many areas in the legal  sphere. That was so beneficial. 
Did undertaking the placement role make you more employable?
It has, but perhaps in ways I did not necessarily anticipate. The organisation itself is something I can talk to potential employers or those in the legal sphere about; it helps initiate conversations and let others know what they could be doing to improve access to justice. It isn't just the role that is important, but the organisation I was representing.
It was not just having the work experience that helps, it's what I learnt and how I have developed. It was a demanding role in which I had to adapt to quickly, and I learnt a lot about myself. Understanding how to plan and manage my own time, how to prioritise tasks and demands, and have those conversations with my line manager were things I learnt and developed throughout the course of my placement year.
The whole experience of applying for a placement was also so beneficial. From creating a CV, to the interview experience itself; it's all so valuable for the future.
Why would you recommend undertaking a placement to other students?
Absolutely. Before you graduate, you can gain experience in your chosen industry, or figure out what does not work for you.  In future interviews you have real experience to reference and talk about.  The confidence it gives you, and the confidence in your skills is so valuable.
If you could sum up your placement experience in one word…
Growth!