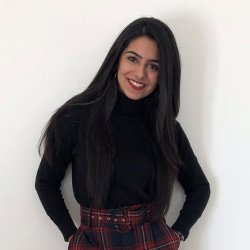 Juhi Chatlani Daswani
"The past four years have been the turning point in my life, and I would not have it any other way."
Why Surrey?
My reasons to come to Surrey are endless. I would rank diversity of the entire community as my top reason. Ranging from the choice of modules you can choose to study – allowing you to truly personalise your degree, to the different kind of variation available within clubs and societies. Having 140+ clubs and societies was definitely a big sign of diversity in my view.
"The idea of being around different people (including both students and staff) from all around the globe is what makes Surrey attractive. Not to mention the astonishing campus, with its abundant greenery and lovely lakeside area."
And the final element that really got me exciting when choosing Surrey was the thought of how close I am to London without enduring the living expenses of a major well-known city.
Whilst I joined in my second year, my previous institute did not offer a Professional Training Year (PTY) which was a pull factor towards Surrey. This scheme was very important to me since I wanted to get a first-hand experience in the corporate world at a very early stage. The University was (and still is) very well known for its placement scheme as it has ample network connections with reputed employers and a dedicated department to support students who wish to choose to do a PTY.
First impressions
I was in awe with the campus and the friendliness of everyone who is part of the community. The warm welcome from students and the staff was very much unexpected. From having a full-on freshers week to many opportunities regarding my program, I truly felt that I was in the right place.
Your course
I really enjoy how my course is practical. The instant exposure in exploring real-time data to understand concepts taught in a classroom setting really enriches the knowledge. Some of the knowledge acquired has been very insightful, to build conversation with employers. Moreover, I have been able to take this learning into my PTY – solidifying the knowledge.
What are the academic staff like?
"The answer is simple: caring, interactive and knowledgeable."
I have learnt that having intangible assets such as staff is so much more valuable to my programme. When the teaching staff share their personal experience regarding the subject, it greatly helps to think about the subject further. It acts like a supporting mechanism to spring life on the topic/subject which makes it all the more fun to engage with.
In my three years of higher education experience, never have I ever seen the academic team so excited and elated to have us back on campus for Semester 1 teaching (post-COVID). The joy they had was a clear indication that they really love their subject and it is what makes studying Business Management at Surrey so different from other institutions.
Also, having a dedicated building (Surrey Business School) makes studying seem very professional and having such an environment really enables me to feel connected with my degree.
Clubs and societies
Being part of ISA, Bollywood and Hispanic societies has been an eye-opening exposure and opportunity to opening up many doors for myself as it encouraged active involvement. Having left dance at the age of 12 and coming back to it after 7 years has shown me that there is no such concept of 'impossible'. Performing for Surrey iGala as part of the One World Week has translated my persona into a passionate individual. Furthermore, by being part of these societies not only have I learnt about flourishing and bright cultures, but gained an insight on time management - a useful quality for my future career.
Looking back
As a transfer student, I genuinely feel I have done the best thing so far: to come to Surrey. I look back on September 2018 and think that it was not long ago since I had this smooth transition; being highly involved makes it seem as if I joined university yesterday. I am grateful to all staff and friends who I have met on this journey and make this path mesmerizingly beautiful.
However, mostly I am proud about re-joining dance again. It has given me a sense of purpose to my life. Thanks to ISA and Bollywood societies and the union, I have been able to perform live on stage at the iGlala (just like old times).
Looking forward
Surrey has shaped me into a better self in both aspects: personal and professional. The past four years have been the turning point in my life, and I would not have it any other way.
"The practical experiences gained from Surrey have become a daily mantra in my life. The richness of my thoughts has come from the diversity of students and the range of staff supporting my degree whilst at Surrey."
These past years have immensely transformed and shaped the person I will become tomorrow and there is no other place than Surrey I'd choose to learn more about myself. I believe to have moulded into a confident and knowledgeable young individual; with a drive to strive in life. Surrey has been a great stepping stone that I will cherish forever.
Find out more about undergraduate study at Surrey Business School.